Holy Week
During Holy Week the children in Y3 Beech enjoyed acting out the Stations of the Cross and participating in Collective Worship.
Y3 Beech and Y3 Willow have settled into the Juniors with ease and have enjoyed a busy Autumn Term. Some of the highlights of the term have been Funky Feet, studying the Ancient Egyptians, Rivers and starting their preparation for their forthcoming Sacrament of Reconciliation.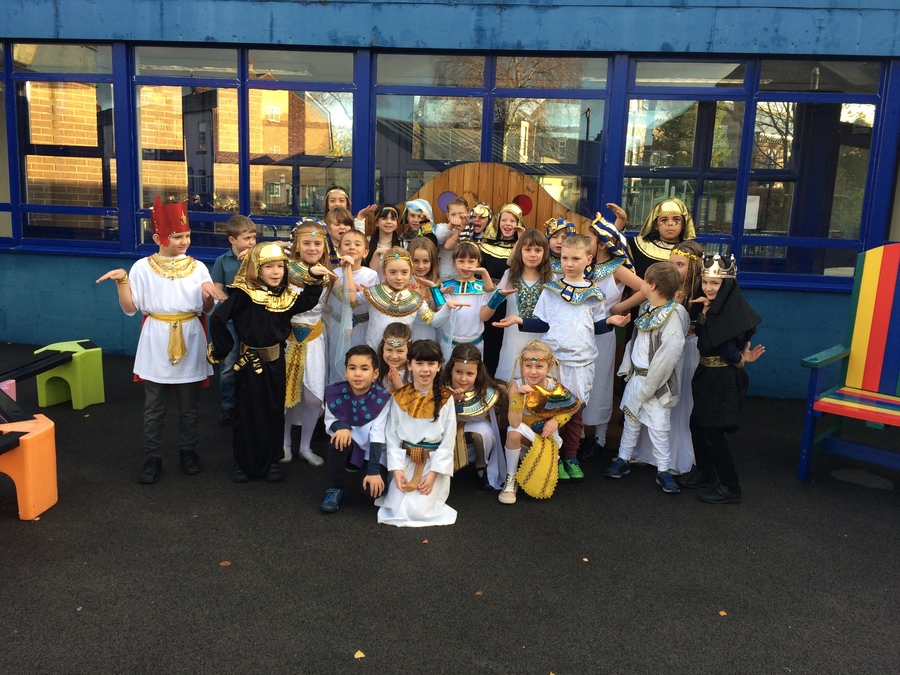 Recently, we have been combining our Geography topic 'Rivers' with our Literacy, DT and Art.
Year 3 are now making preparations for Advent and rehearsals for their Lower Key Stage 2 Christmas Concert are well underway!
Coin Challenge and Fun at Hockey
The weather was kind to us, as a result St. Joseph's school Sports Day took place. The Year 3 teams competed hard in 4 different sports and much fun was had! The PTA arranged a coin challenge. The classes were incredibly competitive and generously brought in literally a bucket of coins. Y3RB commendably won the whole school competition, with Y3SC closely behind.
Year 3 have carried out topic and science work to try and answer the question, 'Are bugs important?' We studied the different groups of animals and had a visit from Zoolab, where we could test our understanding and knowledge on the different animals brought. We also studied flowering plants, and carried out a number of science investigations to show ideal conditions for germination, dissected a flowering plant to identify the parts and functions of the flowering plant and carried out an experiment to show how water is transported around a plant.
During the second half of the Spring Term, Year 3 studied the Stone Age to the Iron Age. They examined a number of different artefacts and understood the different materials and processes used to make tools from stone, bronze and iron. The development of houses and settlements were also studied. The children enjoyed the various Art and Design & Technology activities where they created; teeth necklaces, Mesolithic huts and a variety of cave paintings.
Year 3 organised a toy sale for the school, to raise money for the Cafod, 'Make a Splash' campaign. All Year 3 children made a confession with Father and also reflected on other ways they could show mercy during Lent in this Year of Divine Mercy. The children made chaplets and came together for a collective worship.
Year 3 enjoyed learning about the Maya through our interactive workshop. We practised our economics by trading cocoa beans for food, explored how the Mayans lived and tried on various Maya clothes. We all got to 'enjoy' some traditional Maya food and drink cocoa!
Let's go on an adventure to Guatemala!!
The start of another busy half term for Year 3. During the first half of the Spring Term, Year 3 are excited by their new topic! After finding out initially about the geographical features of Guatemala, we are now researching into the ancient Mayan life!
During the second half of the Autumn term, the children studied, 'Where Does Electricity Come from?' Year 3 children enjoyed making circuits and determining which circuits worked and the reasons why some did not. They also used magnets, batteries and copper wire to make their own homopolar motor and bulbs to make Christmas Cards that light up!
Year 3 visited the Manchester Museum to enrich their Ancient Egyptian topic work. The highlight of the day was the afternoon session, where the children got to handle real artefacts, tried to determine what the objects were used for and then learned facts about them. We were set challenges within the gallery to find objects for certain uses and even saw and learnt about Azru one of the Egyptian Mummies on display. We ended the afternoon, by completing a timed challenge to build a pyramid, and were told that St Joseph's Year 3 achieved a very creditable 1 minute 52 seconds, which put us onto the leader board!
Year 3 are adoring their Ancient Egyptians Topic! The teachers transformed the entrance to the classes into King Tutankhamen's Tomb! We are enjoying learning about Ancient Egypt, Howard Carter, the Creation Myth and especially the art and DT where we have made tablets of stone, hieroglyphics on papyrus paper, necklaces and canopic jars.
YEAR 3 Celebrate Queen Elizabeth II Becoming The Longest Reigning Monarch!!
On 9th September 2015, Year 3 celebrated that our Queen became the longest reigning monarch! Year 3 celebrated with a tea party, eating cakes kindly donated by the PTA, singing the National Anthem and waving Union Jacks! Y3SC even had their own Queen!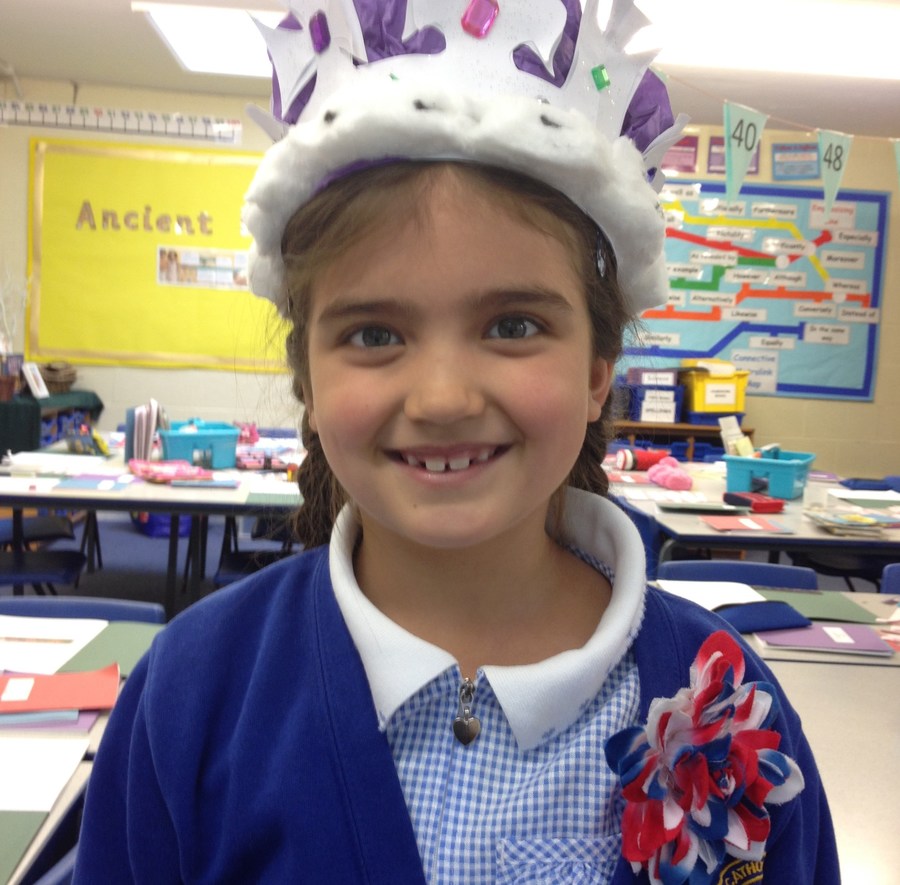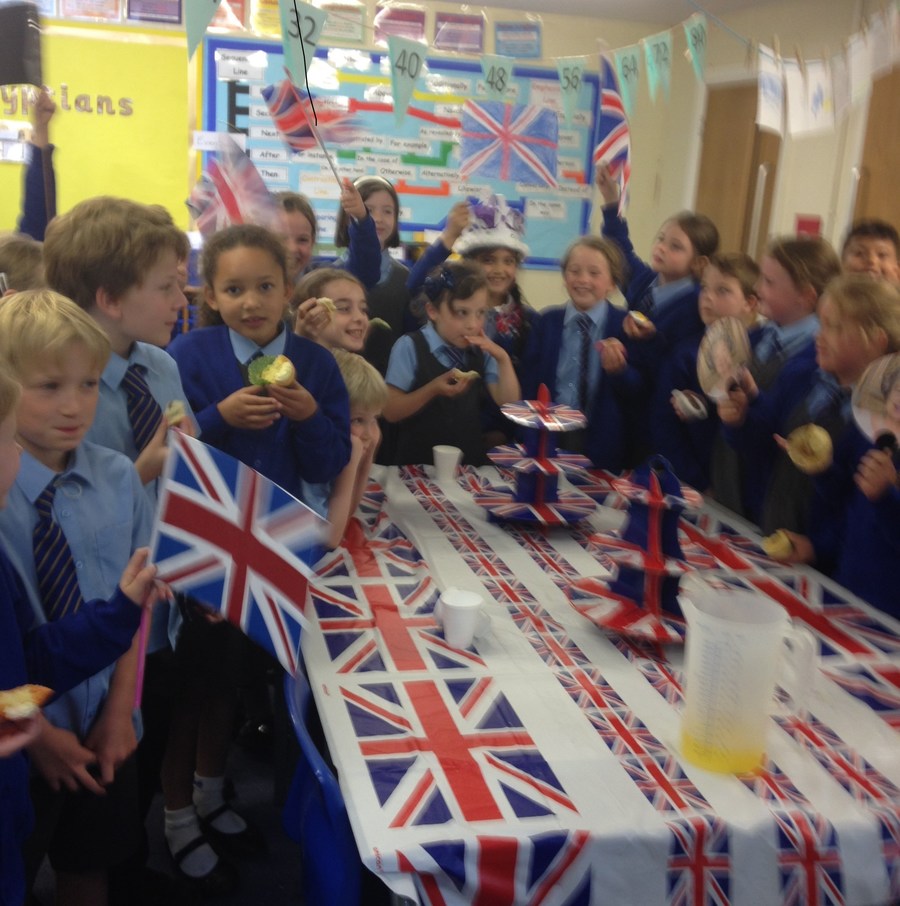 Welcome Year 3 2015-16
Thank you for a wonderful year!
Nature's Den School trip
As part of the year 3's recent topic - 'Are bugs important?' we went on a school trip to Nature's Den. We all had great fun bug hunting, building dens, making bug hotels, toasting marshmallows on a camp fire, hide and seek in the woods and many more exciting activities!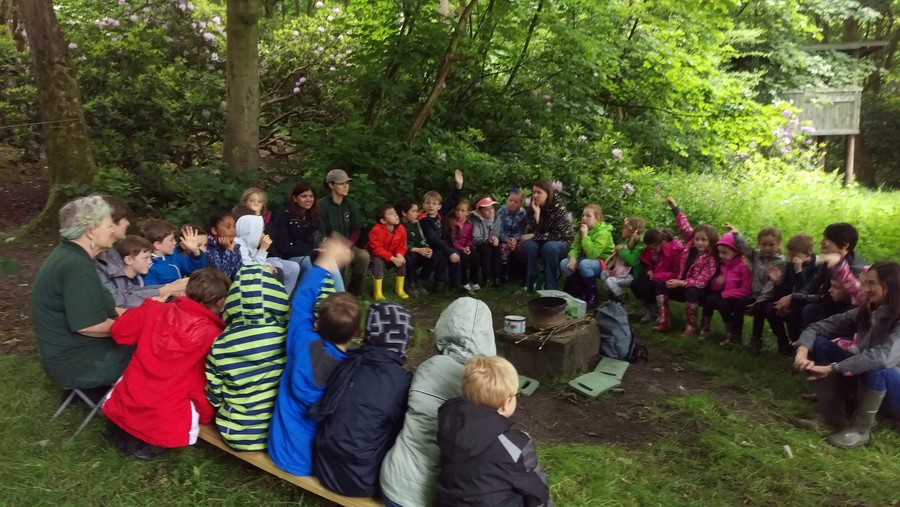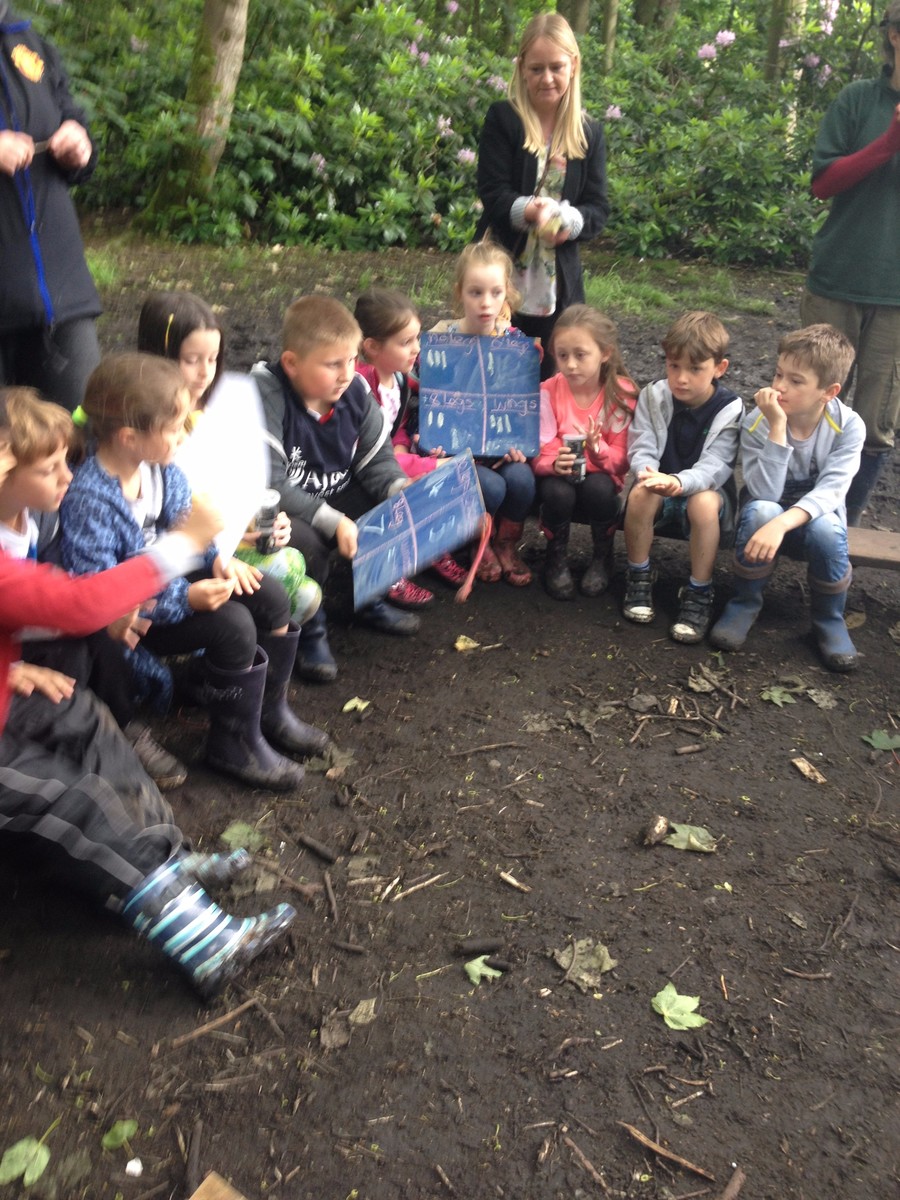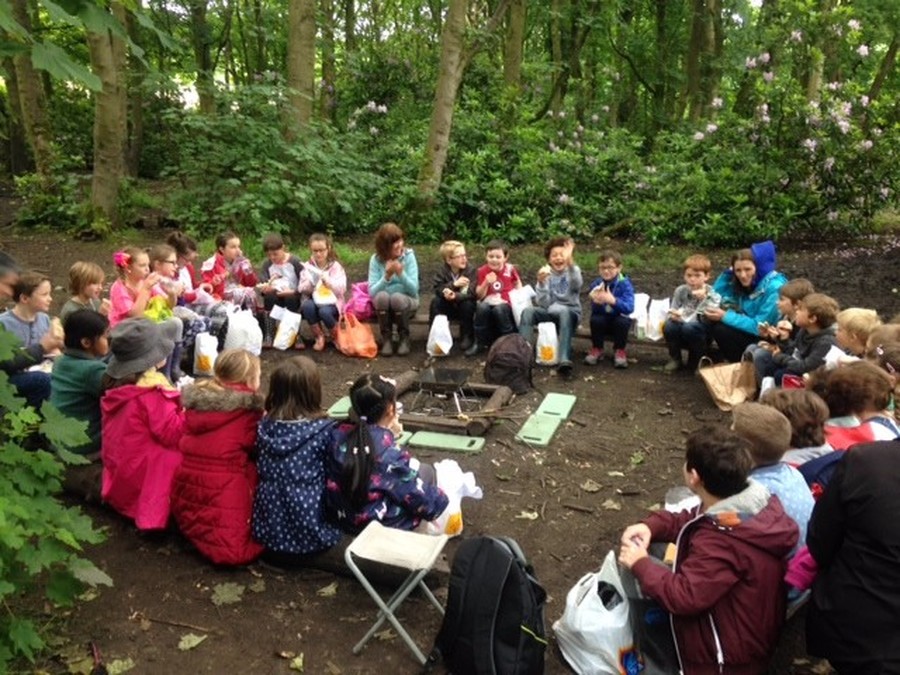 First Holy Communion
Year 3 celebrated their First Holy Communion on the 16th May. It was an extremely special day and the children were a credit to our school. We hope you enjoy looking at the pictures below of the memorable day.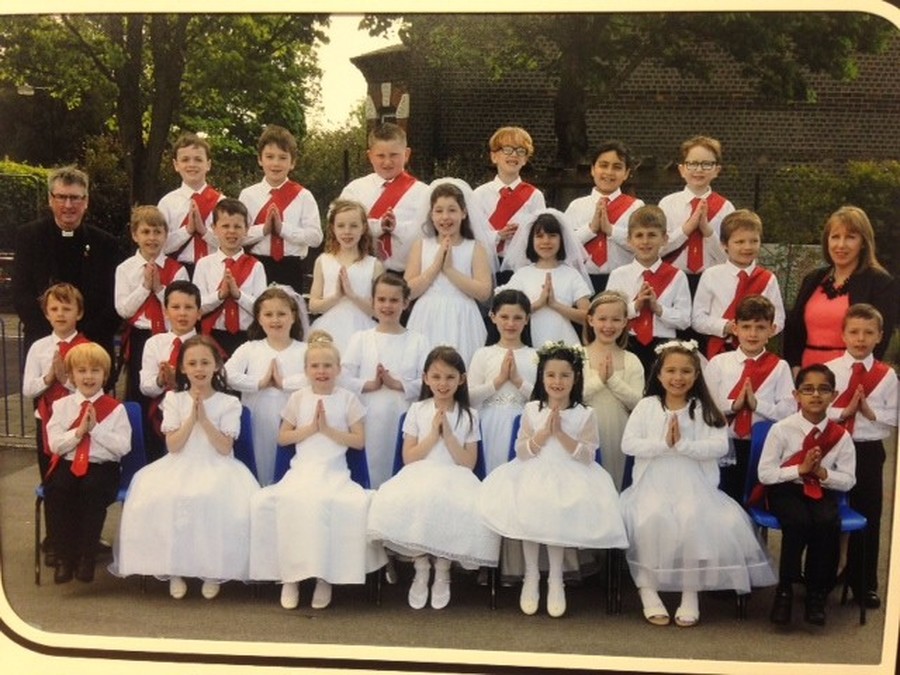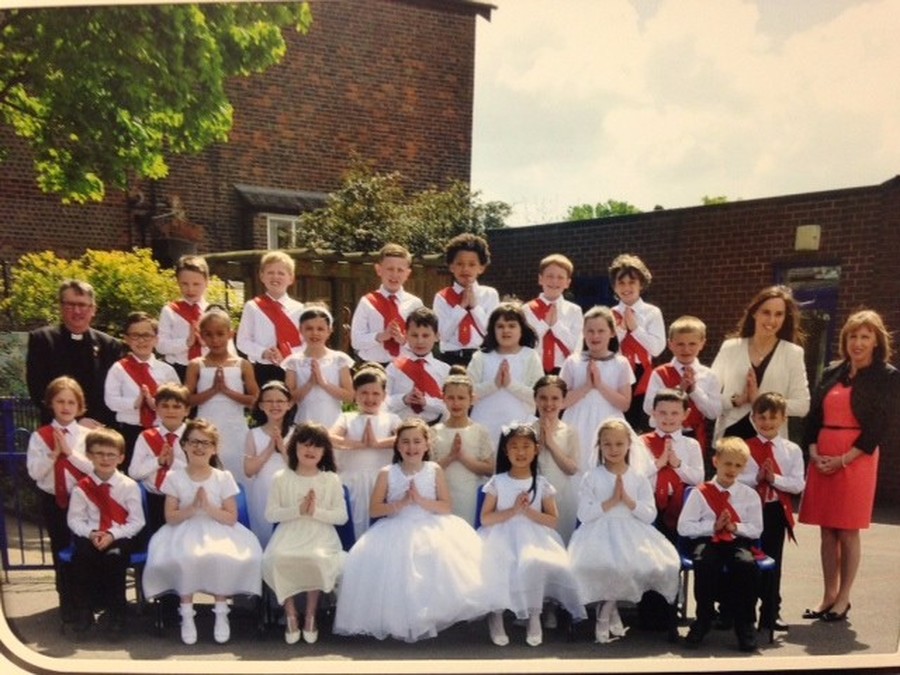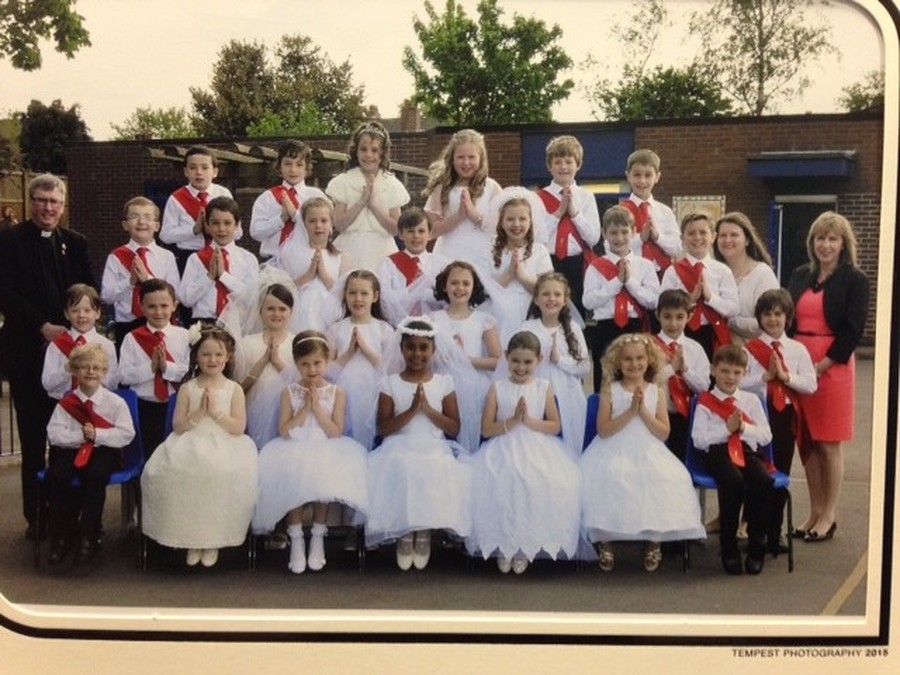 Guatemala
This half term the children have enjoyed learning about Guatemala and have discovered the secrets of the ancient Mayans, they have designed and created their own mythical puppet and improved their geographical knowledge of the area.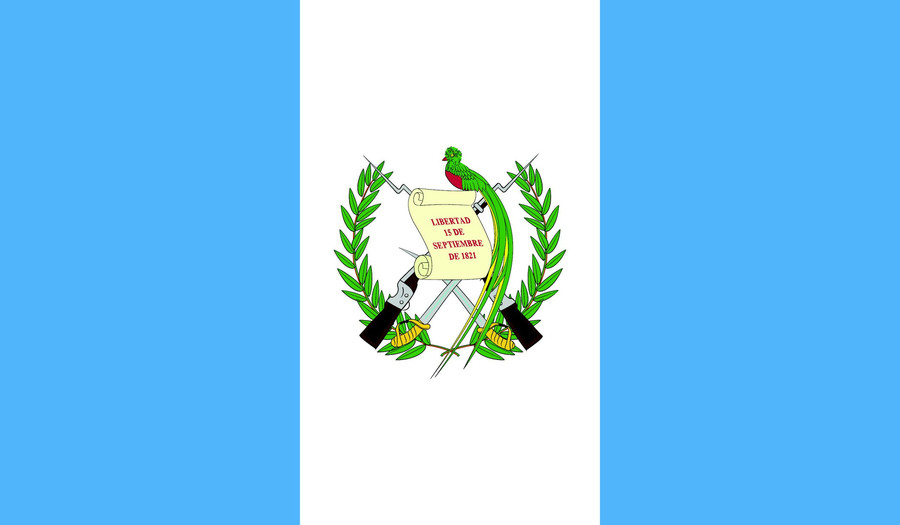 Our Mythical puppets
Here are some photographs of year 3 with their very own mythical puppets which they creatively designed and created and even used in a puppet show!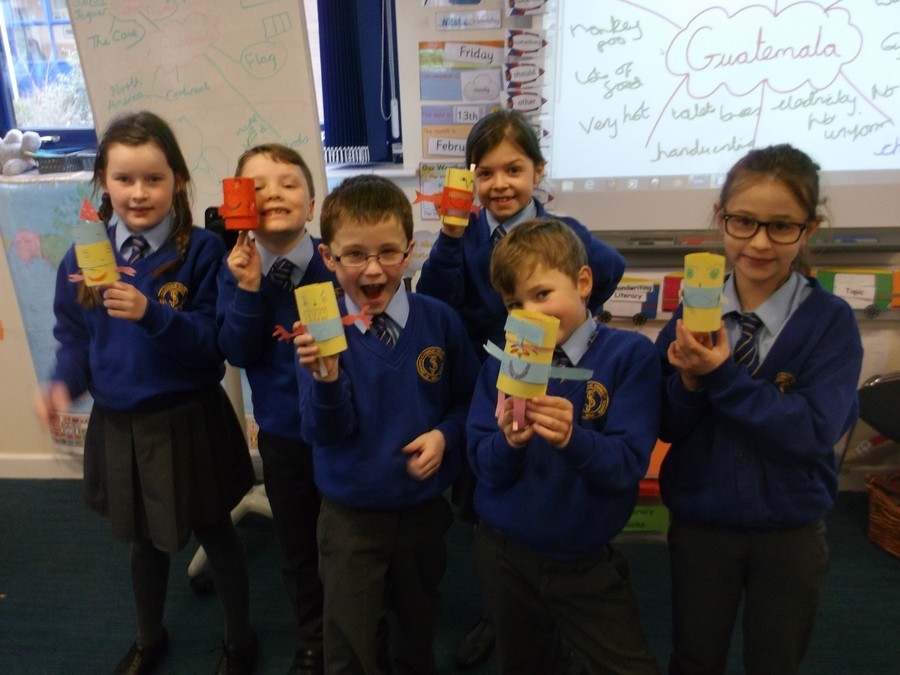 Our faith journey
2015 has been a very busy and exciting start for Year 3. They have taken the next step on their faith journey and received the sacrament of reconciliation and have enrolled onto the First Holy Communion Programme. Recently they have enjoyed a visit to the Marist Centre where they learnt about the different stages of the Mass and created their own service. A reflective day was had by all!
Welcome to Year 3
Year 3 have settled in well to the Juniors. They have been working hard in all areas and are particularly enjoying our electricity topic. They have begun their 'I Belong' books and have started the Sacramental Programme.
This half term we have been lucky enough to take part in a Help for Heroes activity day, where we experienced what is what like to be a wounded hero! I hope you like our photos. It was an amazing day and the weather was on our side...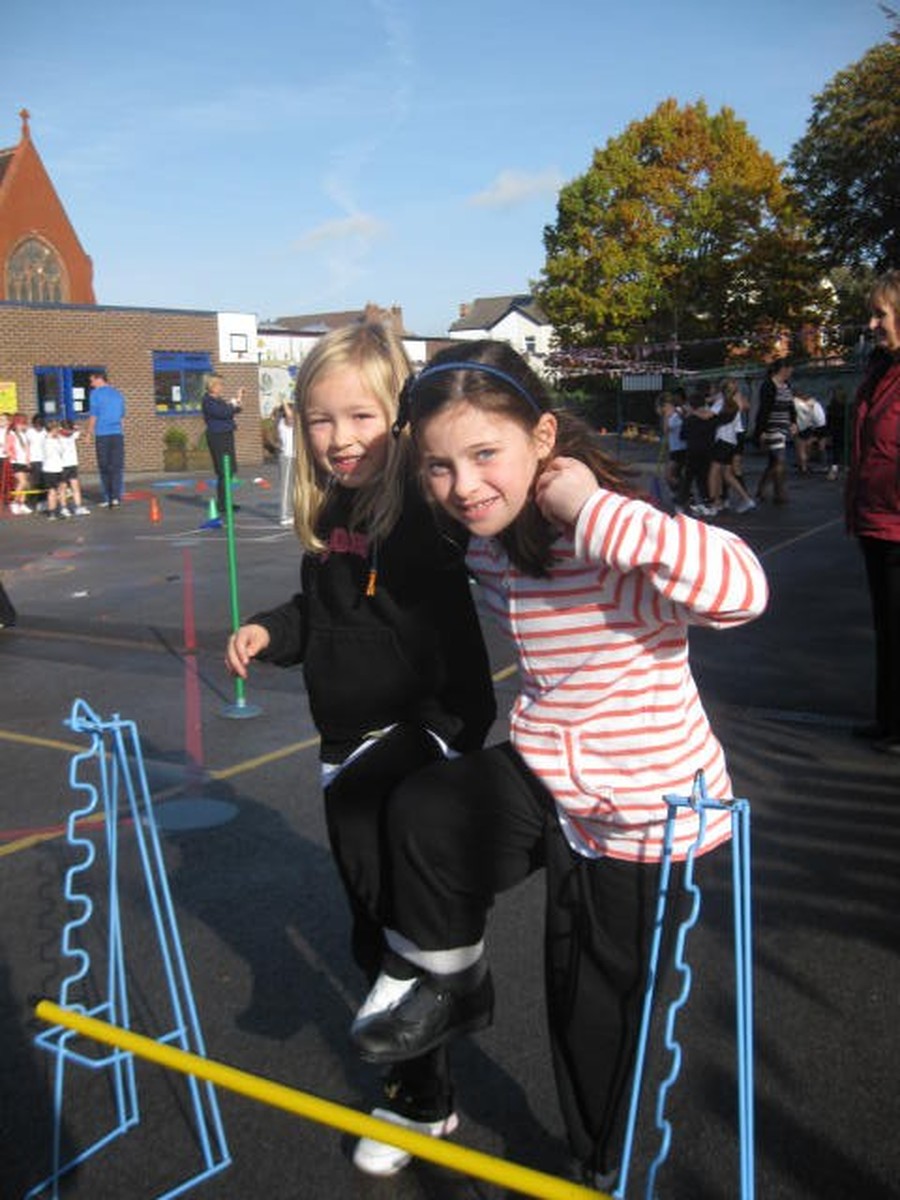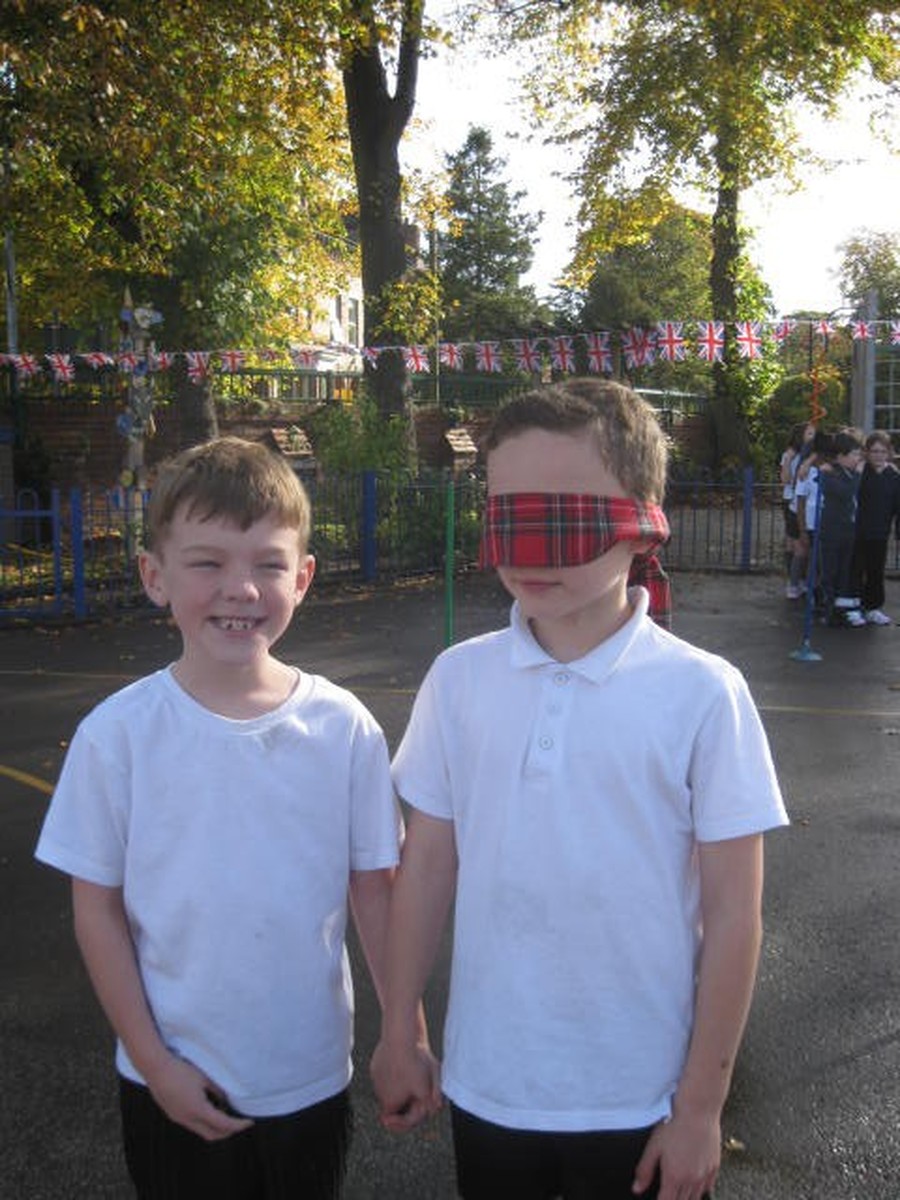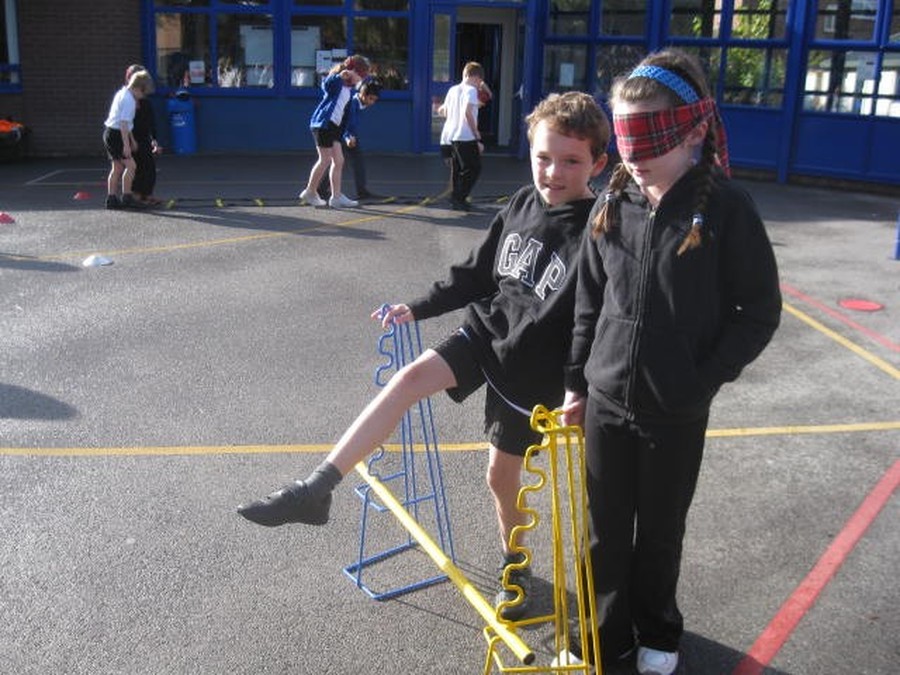 Welcome to Year 3
2014-15
Holy Communion
The Year 3 children made their First Holy Communion on Saturday 17th May 2014. It was an extremely special day for all those who were involved.
The Exciting Egyptians are really inspiring the children. We had great fun following instructions on how to make a mummy. A clear favourite was pulling out the brains through the nose with a hook!
Fun with Food
In year 3, we are talking about healthy eating and how to look after our teeth. We have agreed that jelly is not good for the teeth because of the amount of sugar it contains. However, we decided to have some fun with jelly in our Science lesson. Here are some of the year 3 children timing each other to see how many cubes of jelly they could pick up with chopsticks in one minute. They then added oil to the jelly and tried again. We had great fun and the children explored several different ways of making the test fair.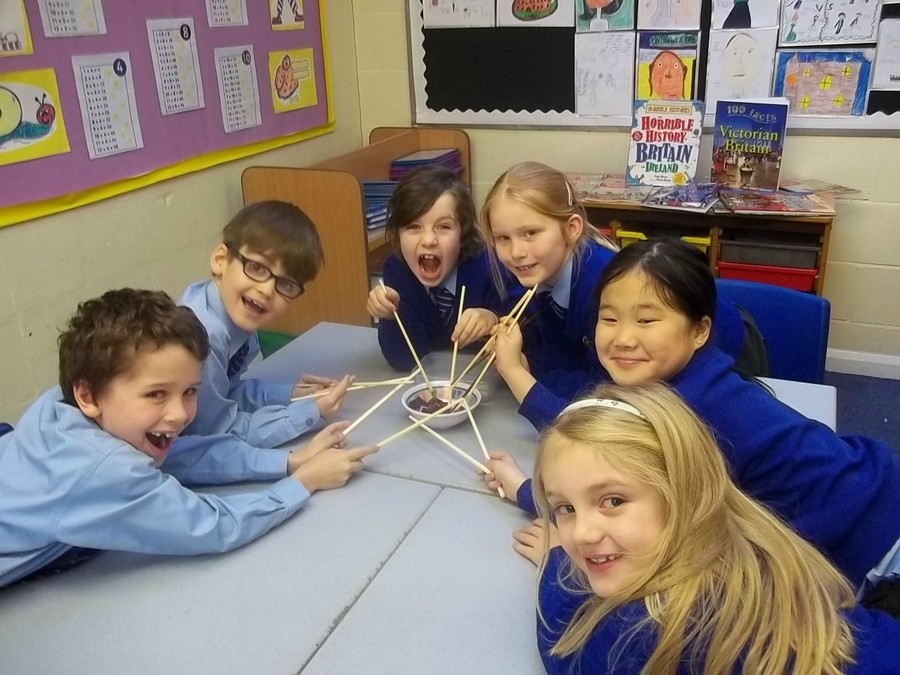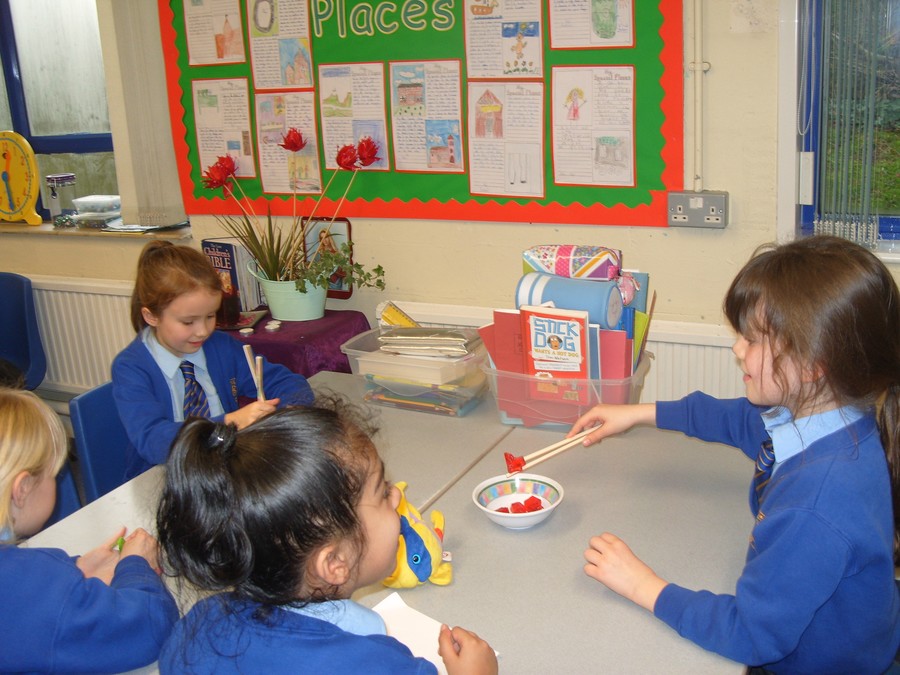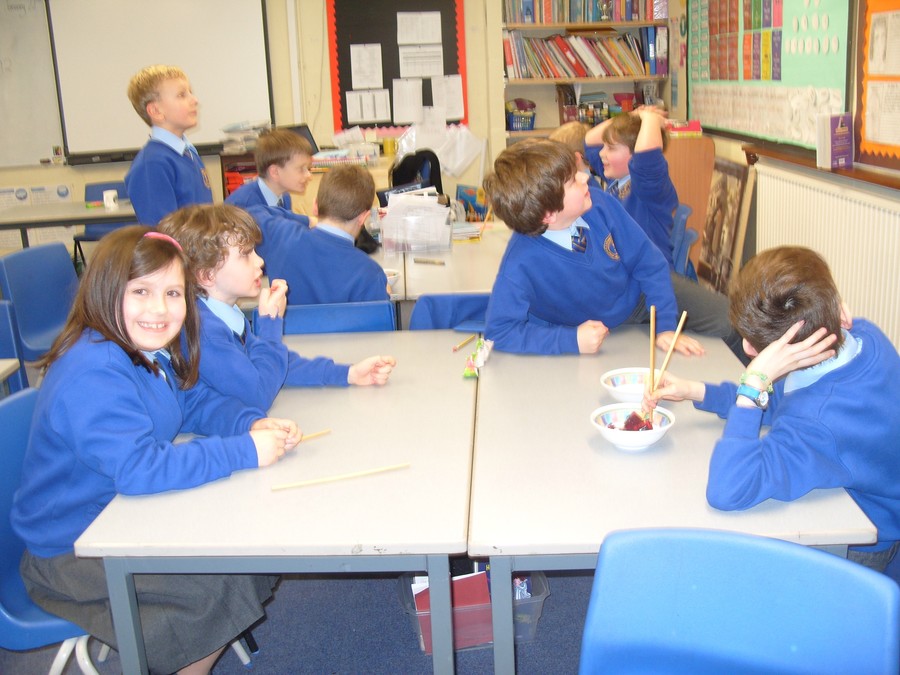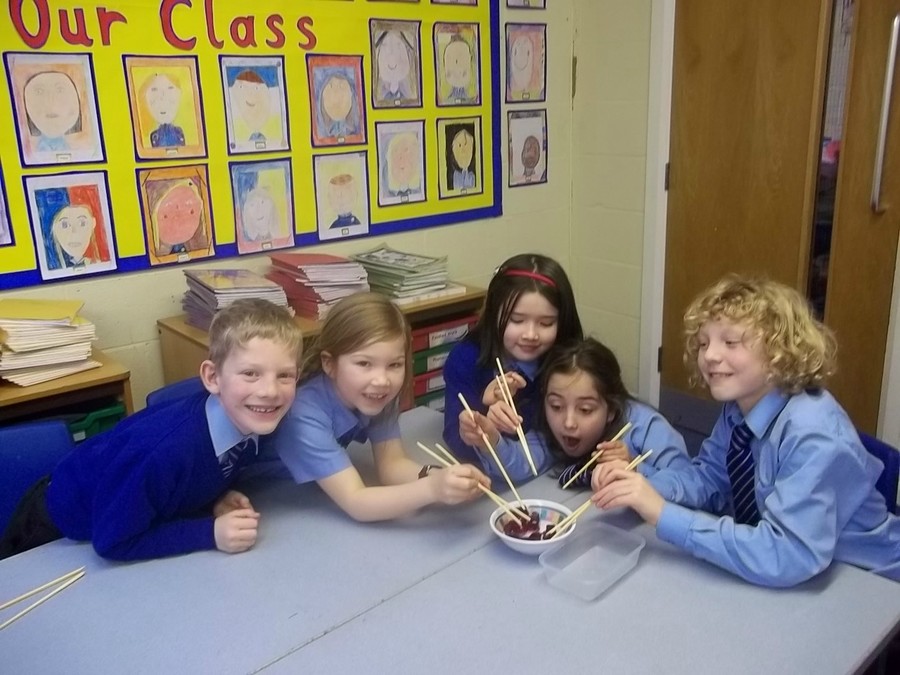 Year 3 have settled in well to the juniors. They have been working hard in all areas and are particularly enjoying our Romans topic. They have begun their 'I Belong' books and have started the Sacramental Programme.
This half term we were lucky enough to experience what it was like to be a Roman Soldier during a trip to Chester. It was an amaziing day and the weather was on our side... We hope you enjoy our photographs of the day.