History Day
Year 4 loved their Victorian Day as they learnt lots about the era, dressed up and Y4Yew even showcased their knowledge in their fantastic assembly! Enjoy the photographs below which capture the great memories they made ...
Sports Day
In the beautiful sunshine, Year 4 loved their Sports games day where everybody competed in various fun games whilst encouraging each other. Enjoy some of the photographs from our sport event ...
Victorian Day
Year 4 loved their journey back to 1842 where we all got in role as Victorians - even the teachers! Year 4 Yew entertained and taught many key stage 2 children in their Victorian assembly - well done!
Easter Cards
Using water colours, the children have created such beautiful, holy Easter cards ready for the Easter celebrations!
Delightful Danish Pastries!
Wow - Master Chef eat your heart out - delicious Danish pastries made by the skillful Year 4 bakers.
Below are photographs of the Year 4 Maple class enjoying baking ...
Below are photographs of the Year 4 Yew class enjoying baking ...
Year 4 Flute Rehearsal and Concert!
Year 4 have loved learning the flute and many enjoyable songs and thoroughly entertained their audience when showcasing their musical talents!
Learning about writing Instructions
To begin, we have followed, ordered and corrected some instructions to see if we were able to make paper hats ... thankfully we could.
Below are some photographs of us with our hats on ordering and improving the steps!
Lenten Bookmark Sale
Year 4 thoroughly enjoyed selling their beautiful, creative, handmade bookmarks to all the children in our school where lots of money was raised for CAFOD's 'Turn Big Fish into Little Fish' campaign.
Year 4 Maple enjoying their bookmark sale ...
Year 4 Yew enjoying their bookmark Sale ...
Viking Day
Year 4 enjoyed travelling back in time to the Viking era. Here we are looking ready for battle ... beware!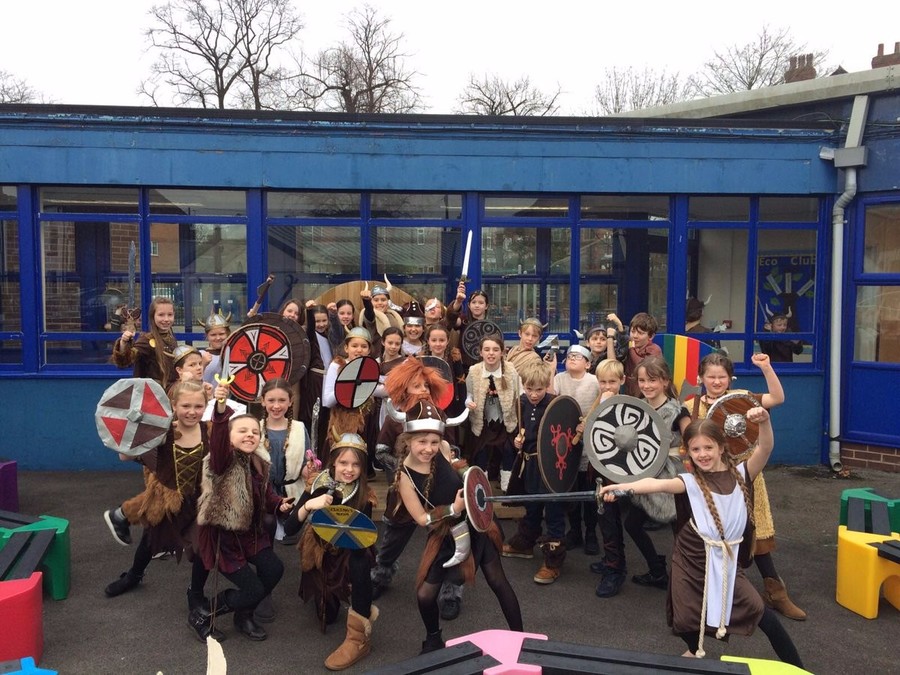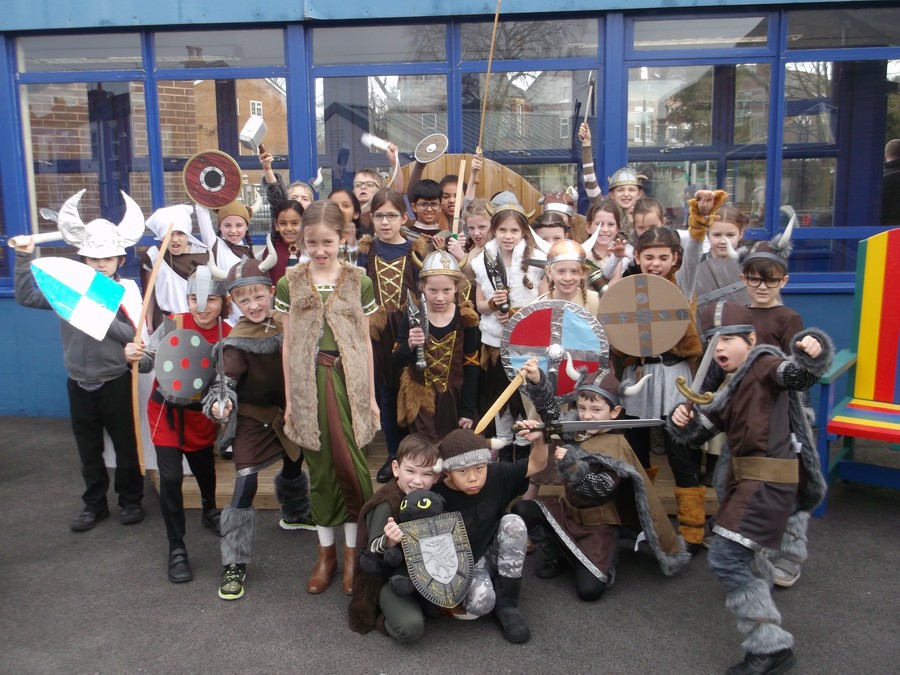 We are all enjoying our Saxophone lessons
Below are some photos of the children in Y4RM enjoying learning to play the Saxophone in preparation for a class performance.
Y4AR Presented
Y4AR presented a wonderful assembly on the VIKINGS!!!! They entertained us with songs, poems and dances and taught us lots about their history topic. Here is a video of Y4AR singing their VIKING song.
Science - The digestive system!
This half term in year four, our science topic is all about the human body and we have enjoyed learning about the many body parts included in the digestive system. Below are some photos of us in our first science this half term.
Festivals around the world!
As part of our topic, 'Festivals around the world', one of the festivals we learnt about was the Hindu festival named Diwali. We all made a beautiful Diwali tea-light holder by painting and decorating jars with Rangoli patters. I hope you like the pictures of them below!
Y4RM's Diwali tea-light holders
Y4AS' Diwali tea-light holders
Y4RM received a letter from the Queen
They were all very excited to receive this letter from the Queen after in reply to their recent letters congratulating her on being the longest reigning Monarch. Below is a scanned image of the official letter we received.
Our trip to the Dewa Roman Experience, Chester
Yesterday's trip was amazing and so interesting as we all learnt something new about the Romans. All the year 4 children loved cheering on the teachers in their mini gladiator fight in the Amphitheatre whilst feeling relieved they were plastic swords and shields!! Marching through the Roman gardens in Chester with our own Roman soldier was a fantastic experience; one we will never forget!
Inside the Dewa Roman Experience, we really felt like we had gone back in time as the experience was so realistic. For lots of the children, their favourite part was pretending to be a real archaeologist where they were able to use paintbrushes to reveal hidden Roman artefacts beneath the sand.
What an amazing experience had by all!!
Y4RM's Photos from the school trip ...
Y4AR's photos from the school trip ...
Y4AS's Photos from the school trip ...
The Romans
Year 4 are enjoying learning about the Romans and whilst we wait for our exciting trip to the Dewa Roman Experience Chester this half term, we have had a visit from a Roman artefacts loan box where we got to hold the artefacts. The children were all very good at identifying which of the artefacts were real and which were replicas - great job year 4!
September 2015-16
Thank you for all your hard work this year!
York 2015
As part of Y4's topic 'Battle for York' we took a trip to the historical city itself. Over two days we visited three museums and York Minster, where we learned all about the invaders and settlers who fought for this famous city. Here are some of the photos from our visit to the Yorkshire and Castle Museums.
After our Anglo-Saxon fighting drills we were in great need of a rest... and what better place to take a break than Betty's Tearooms! We enjoyed a delectable afternoon tea and felt thoroughly spoilt by the staff who attended to our every need!
Keep calm and make chocolate...
Year 4 have started the Spring term by learning all about chocolate and the amazing journey from bean to bar! In geography we have been learning about the countries that export cocoa and the conditions needed to grow cocoa trees. In Design Technology we designed our own chocolate biscuits and had lots of fun making the prototypes!
Queen and Empire
As part of our topic 'A view from a railway carriage' Year 4 have been exploring some of the key changes that took place during Queen Victoria's reign. In Art we have been learning about the miniature portrait and how wealthy Victorians carried around small portraits of their loved ones. We sketched some of our own, in the image of Queen Victoria herself!
Year 4 become Stomp
Year 4 enjoyed their percussion workshop using recycled materials to make instruments. They explored how to change the pitch and volume of their instruments and loved performing as an ensemble at the end of the session. Well done to all of our musical maestros!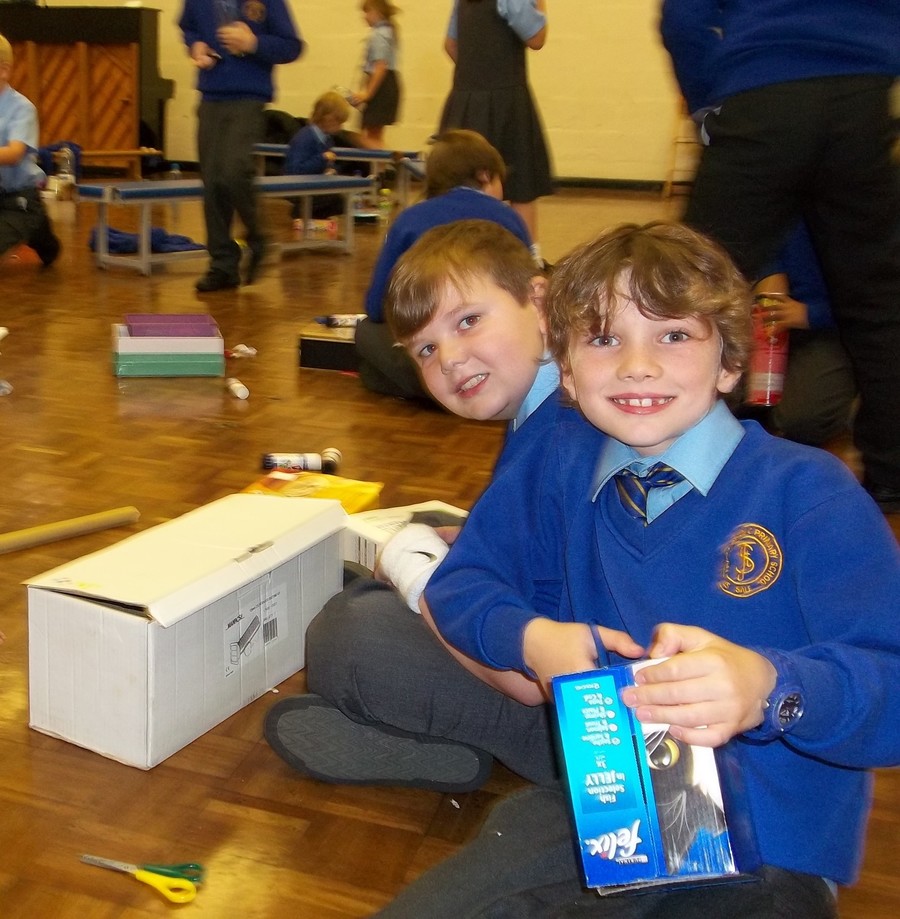 Year 4 investigate!
As part of our topic 'How do I see? How do I hear?' Year 4 have been investigating materials that help to block light or sound. Here, we were learning about opaque and transparent materials.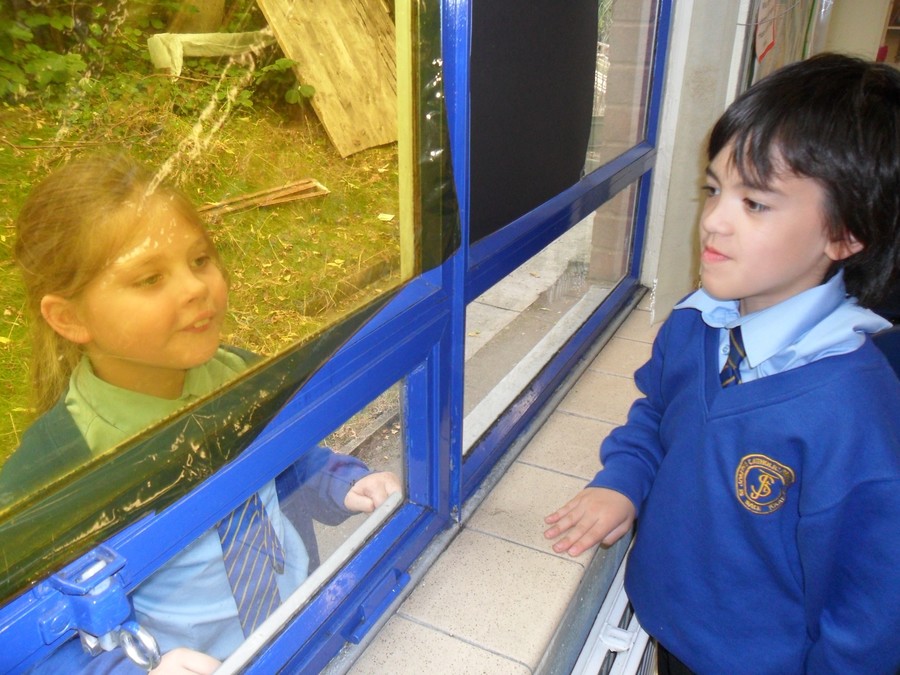 Year 4 2013-14
The Y4 children enjoyed performing the Clarinet.
Year 4 World Cup Banquet
To celebrate the end of the World Cup and our topic on this theme, we brought in food from most of the 32 participating countries. We enjoyed splendid sushi, mouth-watering pineapple, delectable piri piri chicken and a huge variety of food from around the world. A huge thank you to all children and parents for sharing your culinary delights with us.
St George's Day celebrations
As part of the St George's Day celebrations, Year 4 learnt some old English songs: Greensleeves, Early One Morning and Scarborough Fair. We sang our hearts out and were proud of our English culture!
"What's in the News" we researched news stories from around the world, around the UK and around our own locality of Sale. We located each news story on a map. This helped us improve our knowledge of world, UK and local geography. Here Y4AR are researching their news stories on the laptops. It is great for the children to be able to have more opportunities to use ICT across the curriculum using these laptops which can be taken on the trolley to any classroom.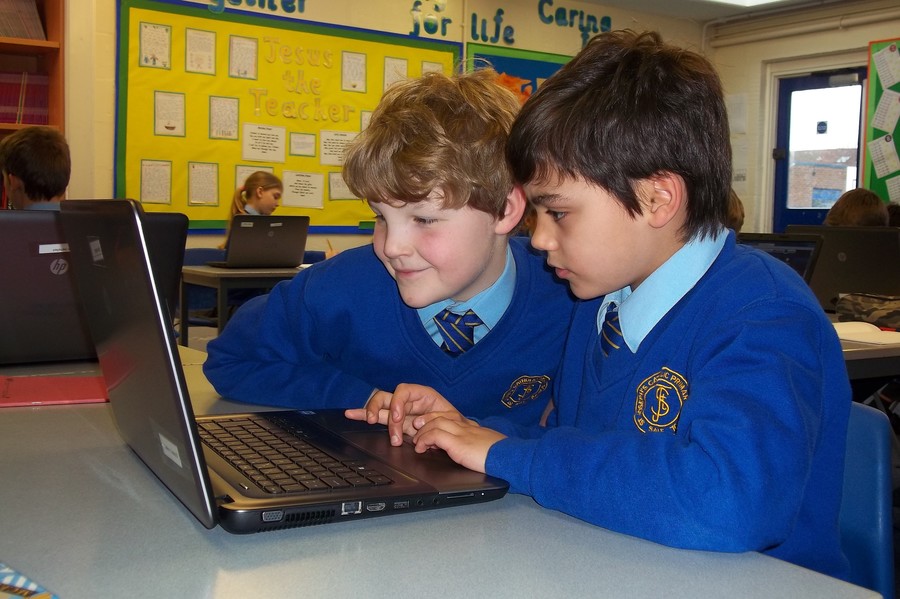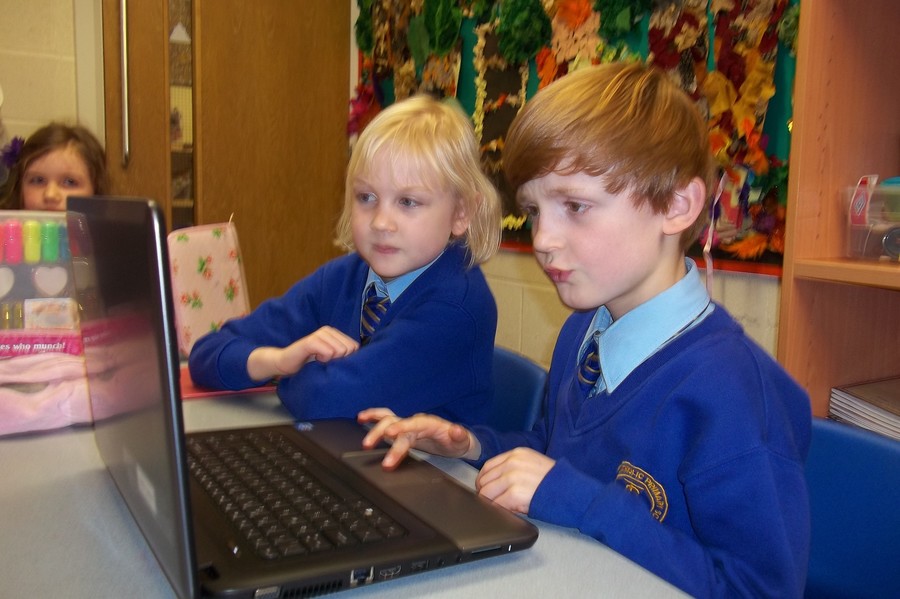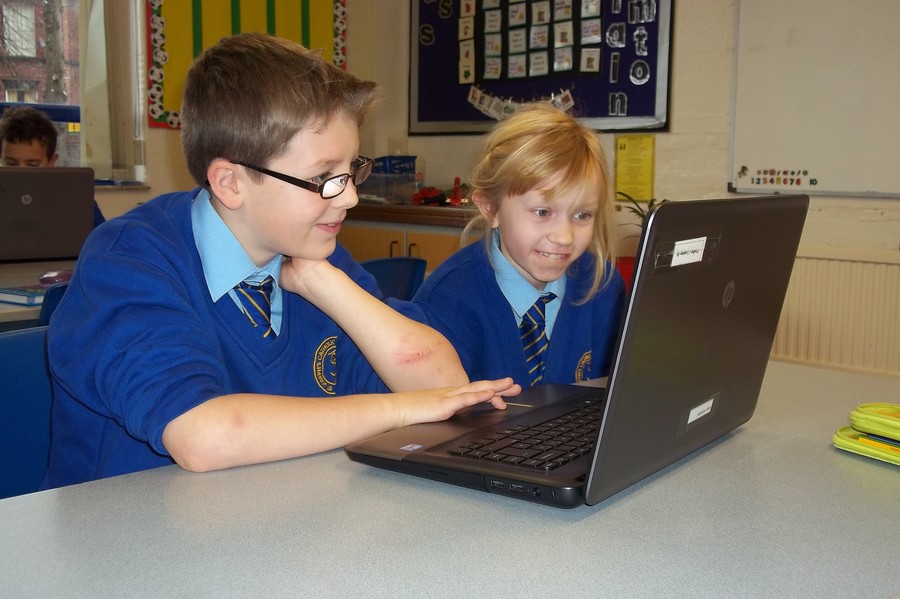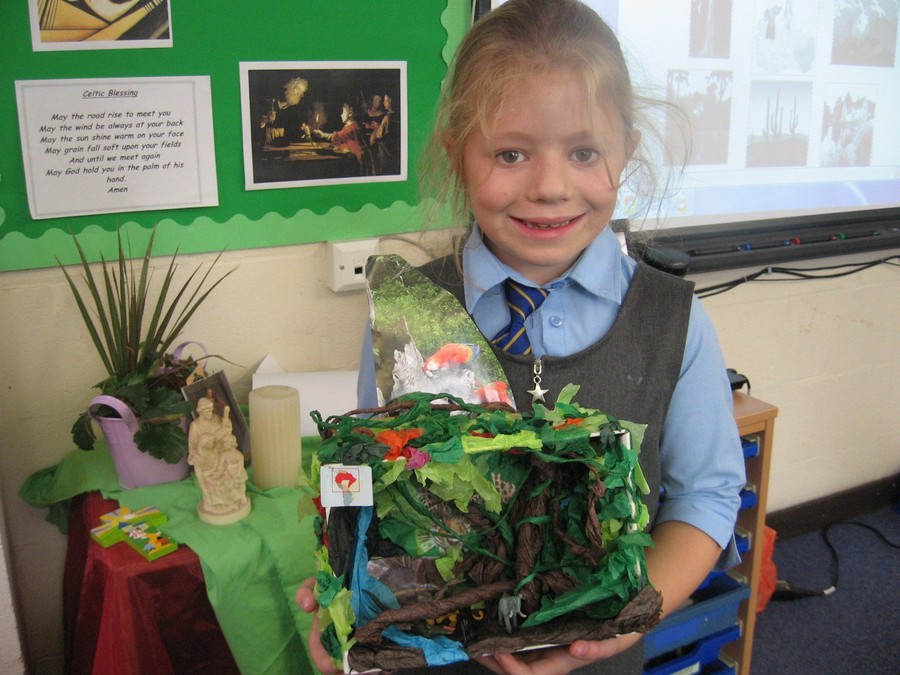 Here is Ita proudly showing us her Rain Forest habitat she made at home when we looked at Habitats. She is rightly proud of a super model. Well done Ita!
We looked at the properties of 2D shapes. We worked in groups looking at different ways we could sort shapes using properties such as the number of acute internal angles, the number of parallel sides, the number of lines of symmetry, the number of sides etc. Here we are discussing our sorting criteria.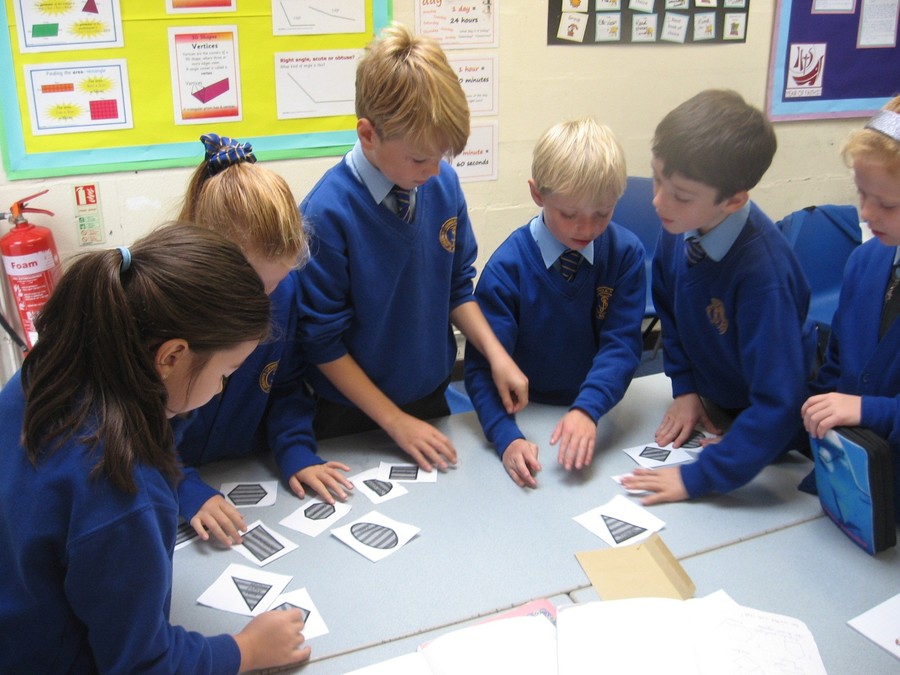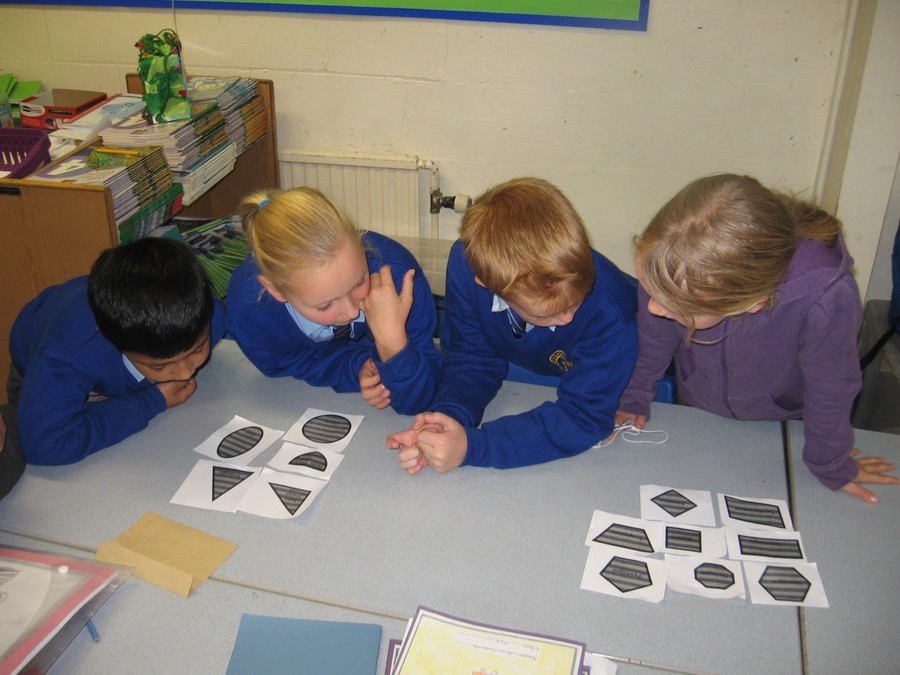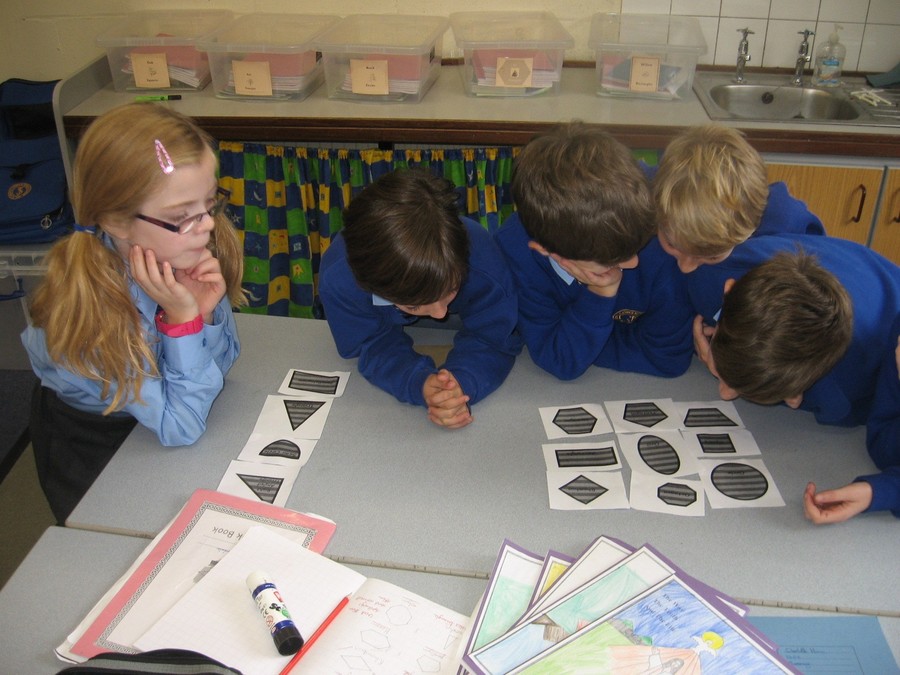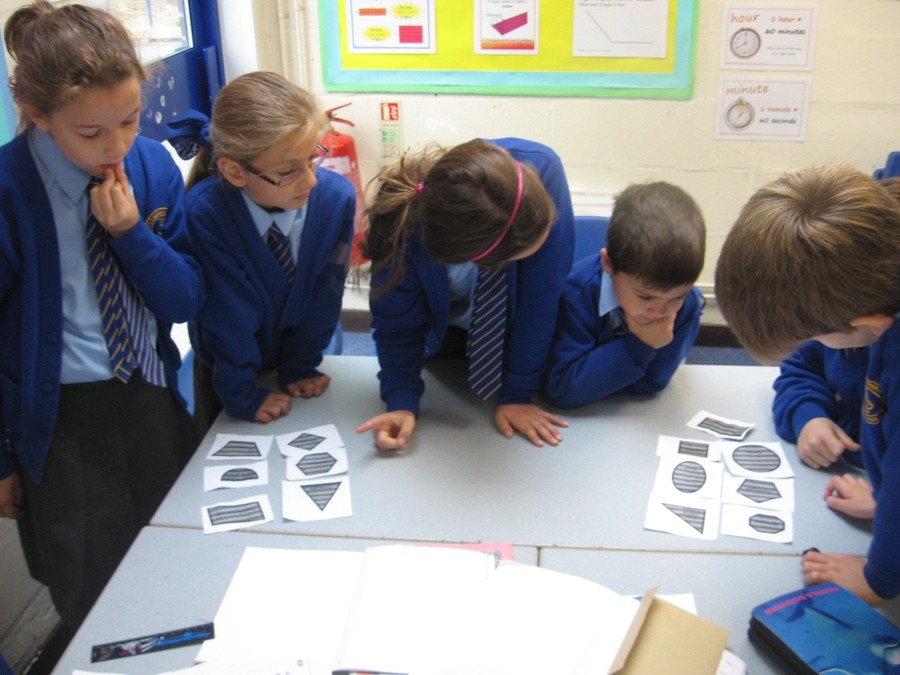 OUR BRILLIANT GEOGRAPHY TRIP TO DUNHAM MASSEY
Y4 Class Visit to Dunham Massey
We had a gorgeous day for our visit to Dunham Massey. We looked at some of the features of a village and compared some aspects with that of Sale.
We loved looking at the impressive mansion.
We looked closely at the saw mill which was set up for cutting trees and powered by a magnificent water wheel.
We stood on one of the main roads through Dunham Massey to conduct a traffic survey. We also used data loggers to measure the levels of sound and light, and to record temperatures. We will record similar data in Sale so that we can compare the two localities.