The Owl and the Pussy Cat
The children have thoroughly enjoyed their topic this half term, having studied 'The Owl and the Pussycat' poem by Edward Lear. Using a range of writing, Drama, Music and Art, take look at how busy Year 2 have been over the last 6 weeks. The highlight for the children was a visit from Artists who worked with them to produce masks and screen prints which looked extremely professional! Well done children!
Bar Models
In Year 2 we have been looking at some tricky Maths problems recently. Luckily the children have learnt how to use bar models to draw the problem and help them decide which kind of calculation they will need to find the answer. By working together with their friends, they have worked through each question carefully and have really impressed their teachers with their new skills!
Chill Factore!
After working so hard this half term, Year 2 visited the Chill Factore for a fabulous afternoon of snow-filled fun! The children enjoyed playing in the snow with their friends and teachers, and laughed their way down the Downhill Donuts, Luge Slip 'N' Slide and Sledge O'Mania.
Our Local Area
Year 2 have been learning all about their local area this half term. We walked around Sale town centre spotting different types of homes, shops and other buildings, and discussing what their purposes are. In Tesco, we were extremely lucky to have a 'Behind the Scenes' tour. As well as learning about many different types of fish and cheese, we played the 'Rainbow Game' in the fruit and vegetables department, explored inside the cold fridge and tasted some delicious healthy snacks. After that we visited Sale Library where two librarians showed us how we can use the library to access many different books and how to use the machines to borrow books. What a busy morning we had!
Harvest Mass
Year 2 Fir were lucky to have the pleasure of reading in the very important Harvest Mass this year. We prepared for this by finger painting all different fruit and vegetables. Well done Year 2 Fir - what a beautiful mass!
Funky Feet Marathon
Wow - these children have a lot of energy! Well done to all of the children across the school who took part in our Funky Feet Marathon to raise money for our school. We had fun and we loved your selection of funky socks!
Our First Day in Year 2
Welcome to Year 2! Mrs Timmins, Mrs McMonagle, Mrs Ward and Mrs Hilton are excited to greet the new year 2 children and they are all looking very smart in their winter uniform.
Welcome to Year 2 at St. Joseph's! 2017-18
St Joseph's Day
The ice cream van arrived to deliver a special treat to all of the children at St Joseph's who work very hard every day.
Palm Sunday Assembly
The children told the story of Palm Sunday in a beautiful assembly in front of their grown-ups. They worked very hard to learn the words and sign language for the songs in their performance.
We are Musicians!
This term we have been learning to play the ukulele with Miss Conlan from Trafford Music Service. We have loved our lessons so far and can't wait to share what we have learnt when we perform in a concert for the grown-ups just before the holidays!
Science Week
The children very much enjoyed Science Week in the Spring Term. We had a special 'Mad Science' assembly, then completed two different experiments in class - making slime and creating foaming monsters! We couldn't decide which was our favourite but we certainly learnt lots about materials and how they can change.
The Owl and the Pussy-Cat
This half-term we have been learning the poem 'The Owl and the Pussy-Cat' by Edward Lear. The children were able to perform the poem by heart and we had a special visit from two artists who helped us to make screen prints and masks.
Year 2 Christmas Play
For our Nativity this year, the children performed in 'Baubles!' which told the story of the first Christmas. The children worked so very hard to learn their lines, song words and acting parts and we were extremely proud of them. Wishing you a very Merry Christmas and a wonderful New Year from all of us in Year 2 at St Joseph's.
We are Party Planners!
The children thoroughly enjoyed their Design Technology project 'Party Planners'. We looked at the importance of a balanced diet to keep our bodies healthy and chose some healthy party snacks to make for our Christmas Party. In the end the children decided on ham and cheese wraps, fruit kebabs and apple juice - delicious! We also designed and made our own Christmas Party hats.
Our Walk Around Sale
The children in Year 2 had a great time visiting Tesco in Sale for their 'Farm to Fork' Workshop! We were lucky enough to see what happens behind the scenes of the supermarket, learn what you can buy from the different sections, look inside the huge fridges and even sample some of the food!
After that we went to the Library where the Librarian, Julie, told us all about the Great Fire of London. Julie was very impressed by how much the children knew about the events in London during 1666.
Welcome to Year 2 at St. Joseph's! 2016-17
Salt Dough Animals
To complete our topic, all of the children worked hard to mould an animal that they had seen at Knowsley Safari Park. They carefully squashed, rolled and added details to their snakes, giraffes and elephants.
Knowsley Safari Park
As part of our topic this half term 'All Creatures Great and Small', Year 2 had a fantastic day out. We started off our day at Safari School where an animal specialist taught us all about the different habitats that animals have adapted to live within. We used our little fingers to stroke some very tiny creatures including hissing cockroaches and leaf insects, before we met a royal python! We also went on a walking safari where we met elephants and fed giraffes, as well as the cheeky meerkats who were taking it in turns to be on the lookout for predators. The highlights of the day for many of us were the Sealion Show, where we saw Arthur and Roger perform some very clever tricks with hoops, and the Birds of Prey Show, where some huge birds swooped right over our heads! Finally, we were very lucky to have a guide on board our coach to teach us about all of the different animals around the safari park.
Sports Day
Another hugely successful day for St Joseph's as the children enjoyed working in teams, representing a continent, to compete in different sporting challenges around the school. Thank you to all of the family members and friends who came to support the children!
Our own pets
We have been wondering what all living creatures need in order to survive. After carrying out our own research on the computers, we then adopted our own pet eggs and built them a home. We made sure they had something to eat and drink, as well as somewhere to keep them warm and dry, where they would feel protected from predators whilst they sleep.
How much liquid?
This week we were learning about capacity in Maths so we had to very carefully work on the scale on these jugs and other containers. We were surprised to discover that some of the tall containers actually held less liquid that the shorter containers, because of how thin they were!
Space Week
During Space Week the children were very excited to learn all about the first living creatures to reach outer space as well as watch Tim Peake (a British astronaut) deliver a Science lesson from within the International Space Station! We then designed and built our own space rocket in our classroom, and even visited the Space Dome to discover all about the planets in our solar system.
Mrs Armitage's Vehicles
This half term we have been reading all about the crazy Mrs Armitage who enjoys inventing new gadgets for her vehicles. We designed and made our own vehicles, just like Mrs Armitage. We each started with a box, two axles and four wheels, before adding the detail to make these fabulous vehicles with moving wheels.
Violin Project
Our young musicians have enjoyed a violin project taught by Trafford Music Service. Each week they have learnt to sing new songs and rhymes, as well as learn how to play the violin. They showed us their skills in an Outstanding Violin Concert. Very well done Year 2!
St Joseph's Day
Here are the children celebrating St Joseph's Day with delicious cakes and juice.
Decorating Pelly
This afternoon Pelly paid us a flying visit. The year 2 children used Pointillism to decorate Pelly's back with a rainbow pattern.
The Owl and the Pussy-cat
In Year Two this half term we have enjoyed learning about the poem titled 'The Owl and the Pussy-cat' by Edward Lear. We worked with our friends to learn and practise a verse of the poem. Then we used drama and freeze frames to perform for the rest of our class.
Artist Workshop
We were very lucky to have two talented artists visit us in school to undertake Artwork linked to 'The Owl and the Pussy-cat'. Screen printing was our first challenge of the day. First we had to cut out star-shaped stencils before we used a squeegee to press paint through a screen onto a piece of fabric, leaving gaps of paint where we had carefully placed our stars. We then repeated this process to add a moon and finally a cat or an owl to our fabric. The results were very impressive!
Our next task was to create a mask of a character from the poem using collage techniques. We made owl, cat and pig masks, which we then wore in a drama activity where we had fun re-enacting the poem. We had a fantastic day!
It's Party Time...
Our Party Planning this term was complete... Wearing our party hats, we made our own healthy wraps and fruit jelly, and enjoyed celebrating. We sang along to Christmas songs with our friends and enjoyed this festive time of year.
Blessing of the Crib
The Year 2 children represented St Joseph's and did us proud, singing beautifully as Father Stephen blessed the crib in Sale.
Christmas Hats
Designing and making our Christmas hats has been one of our favourite challenges this term.
Christmas Dinner
Turkey, sausage, roast potatoes, carrots and sprouts on the menu today... delicious!
The Innkeeper's Cats
A stunning performance from our extremely talented Year 2 children. The innkeeper's cats told the very important story of what happened that night in the stable. Well done to our narrators, singers, dancers and actors.
Building our own Adventure Playgrounds
We enjoyed researching different ideas for adventure playgrounds, before designing our own. Thinking carefully about the materials and equipment we needed, we then built our models for our dream adventure playground.
We were very lucky to have a visit from two firefighters, who arrived in their fire engine to tell us all about the important job they do. They gave us lots of advice about keeping safe this autumn and we practised how to do 'Stop, Drop and Roll' in case of an emergency.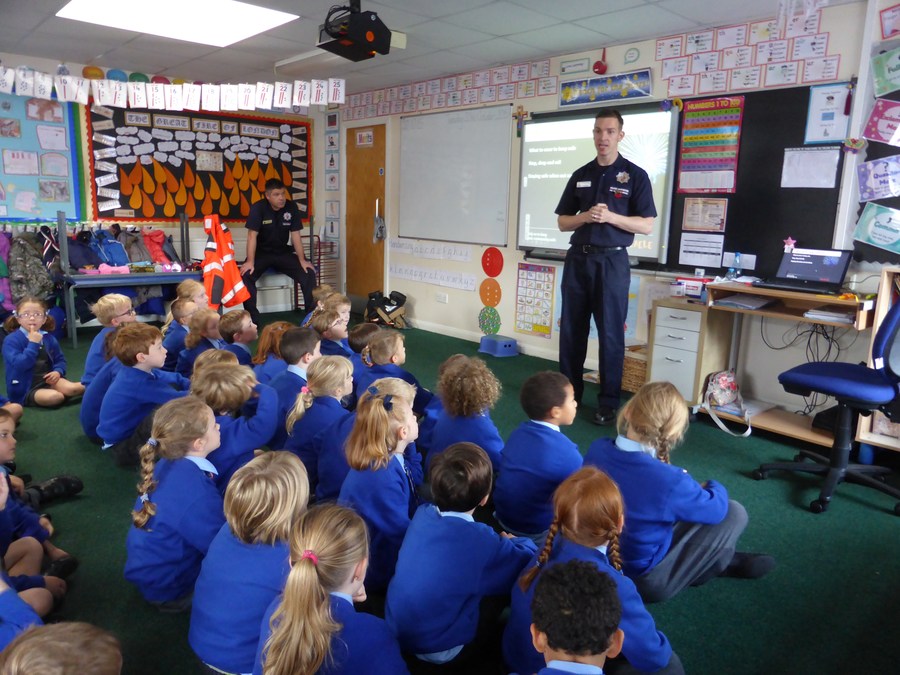 From Farm to Fork
Year 2 enjoyed a walk around Sale, where we realised how lucky we are to have so many different services and facilities right on our doorsteps. We visited Tesco to learn about where our food comes from, as part of their Farm To Fork scheme. The children thoroughly enjoyed going 'behind the scenes', where the customers can't even go! We shivered in the huge fridge full of our dairy products, before visiting the bakery to warm up, where we peeped into the ovens baking hundreds of baguettes. Excitingly, our tour even involved tasting some fresh produce and watching a fish monger at work. Thank you to everyone at Tesco Sale for such a warm welcome!
Shape
In Maths we have been investigating the different faces we find on 3D shapes.
Harvest Mass
The children of Y2ST were privileged to be leading the Harvest mass this year and were overwhelmed by the generosity of St Joseph's families, who donated food and essential items to support a local charity, Cornerstone. Thank you for your very kind donations!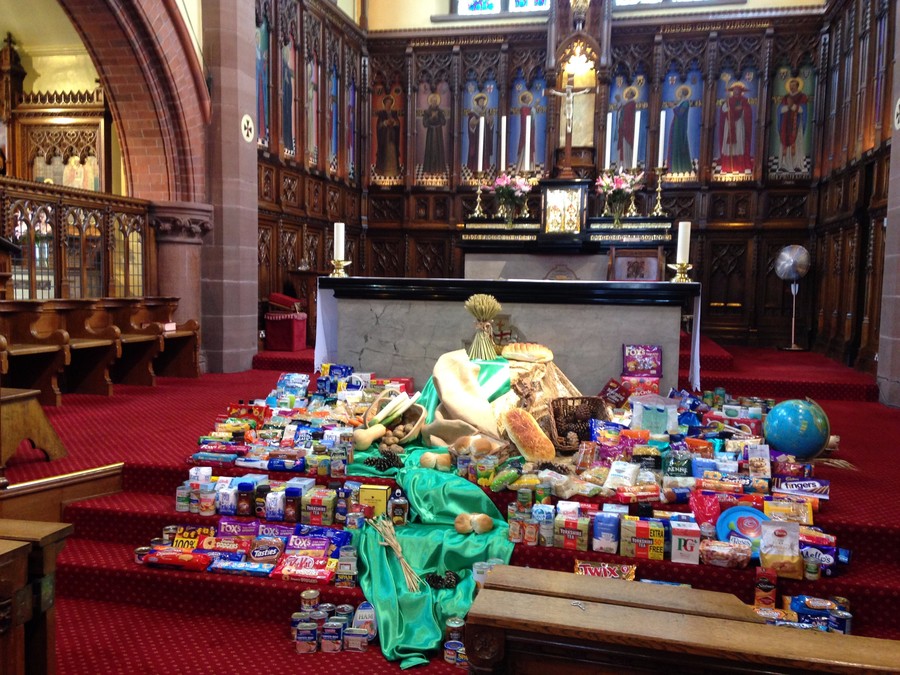 Instructions
This week we have been learning how to write instructions. We listened carefully to instructions our teacher read out, in order to accurately make an origami hat. Later in the week we wrote instructions to make a paper pizza, using time words and bossy words. We had a lot of fun!
A Royal Event
Queen Elizabeth II became the longest-serving monarch in British history on Wednesday 9th September 2015. We marked this event with a service in the playground, before learning all about our queen and enjoying an afternoon tea in our classrooms.
Number Fun
We love to have fun in Year 2 and what better way to begin the year than with some maths games to get our brains working hard again!
September 2015-16
Welcome to the new Year 2 children! Here they are on their first day back after the Summer holidays, looking very smart.
Year 2 2014-15
Thank you for a fantastic year!
Chester Zoo
All of our super year 2 children did us proud on our trip to Chester Zoo. The children demonstrated exemplary behaviour and manners, and were extremely enthusiastic throughout the day. We walked all around the zoo and saw a huge variety of animals, from the cheeky monkeys to the fluttering butterflies, and the children learnt a lot about the different species and habitats, before hopping on the monorail to begin our journey back to school.
Our Pet Eggs
We each had the responsibility of looking after our own pet eggs and ensuring we created a home that they could survive in. When designing and making our pet egg homes, we made sure that they had somewhere warm to sleep, something to eat and drink, and some even had windows and toys to play with!
Art Workshop
Our year two children had a brilliant day undertaking art projects, with the guidance of two very talented artists. Their first task was screen printing, which involved cutting out shapes to use as stencils. Children then used a squeegee to push paint through a screen and onto their piece of fabric. By visiting the printing station several times, they built up layers of different colours, using different stencils each time.
Take a look at the Art page for more pictures of our exciting day!
Based on the poem we have become very familiar with this half-term, 'The Owl and the Pussy-cat' by Edward Lear, the children made an animal mask. They used collage techniques to build up layers on their masks, which began to look very realistic! At the end of the session, the children used their masks to re-enact the poem. What a fun day we had!
Christmas Play
Well done to all of our year 2 children, who worked very hard learning their lines, songs, dances and actions, and performed an outstanding production of 'Hey Ewe'.
Science Trip
We visited Sale Grammar to learn more about healthy eating in preparation for our Christmas party, for which preparations are well under way. We found out which types of food are in each of the food groups and what each of these does to help our bodies to be healthy. With the support of incredibly helpful sixth form students and parents, the Year 2s enjoyed testing different food samples for starch and fat. We remembered to keep our safety goggles on, to make sure we didn't get iodine near our eyes!
Local Area Trip
As part of our Geography topic, we walked around our local area with the help of our amazing, supportive parents. We looked out for different types of houses and different buildings around Sale. We discussed what the different buildings are used for, what they sell or do for us and how often we visit them. We even had chance to stop off at the library where we enjoyed reading with our friends.
Instructions
In Literacy lessons we have been learning about instructions. First we listened carefully to follow instructions to make a hat. We learnt that the instructions had to be in the right order, as well as being clear and specific, otherwise our hats didn't look much like hats! Afterwards we made our own paper pizza, writing our own instructions for a friend to follow.
Maths Fun
Here we are practising our addition and subtraction skills by playing treasure and minibeast games.
We practised our number bonds to 10 using our fingers! Look at us with either red or yellow fingers, making 10 each time.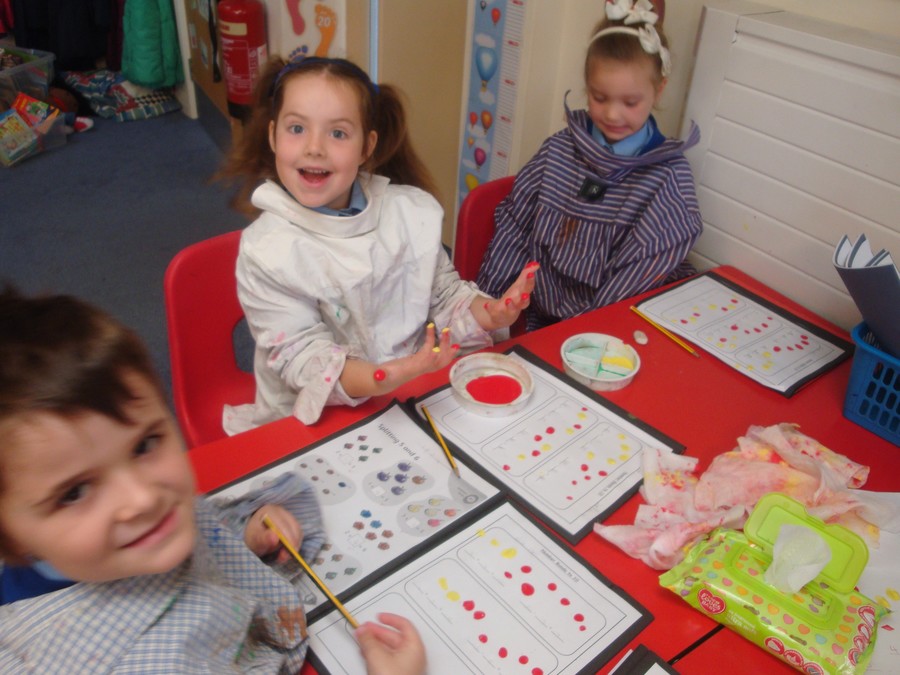 Here we are checking all of our friends know their number bonds to 10 off-by-heart! It is very important that we all know these, to help us with our mental maths in the juniors!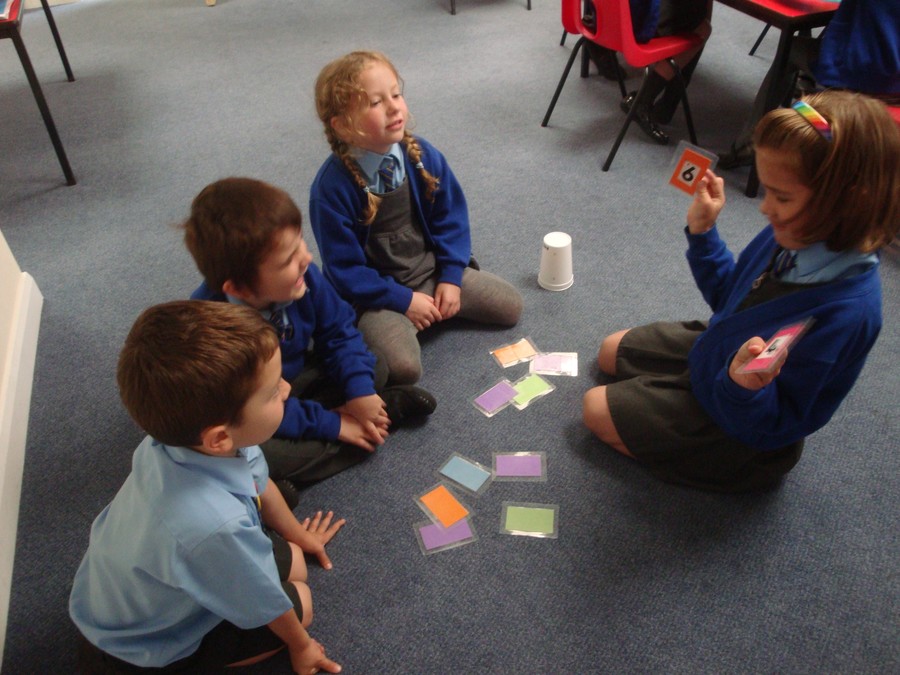 Year 2 - 2013-14
Carnival dancing.
As part of our topic we have been looking into the cultures and traditions of people in Brazil. In PE last week we learnt our own dance for the rio de janeiro carnival. We loved it and hope you do to!
Click on the picture below:
Our work in progress...
In our DT project this half term we are making our own rainforests. Step 1: Design our rainforest, step 2: Gather materials from home and step 3: Lets see if you can guess what we are doing.....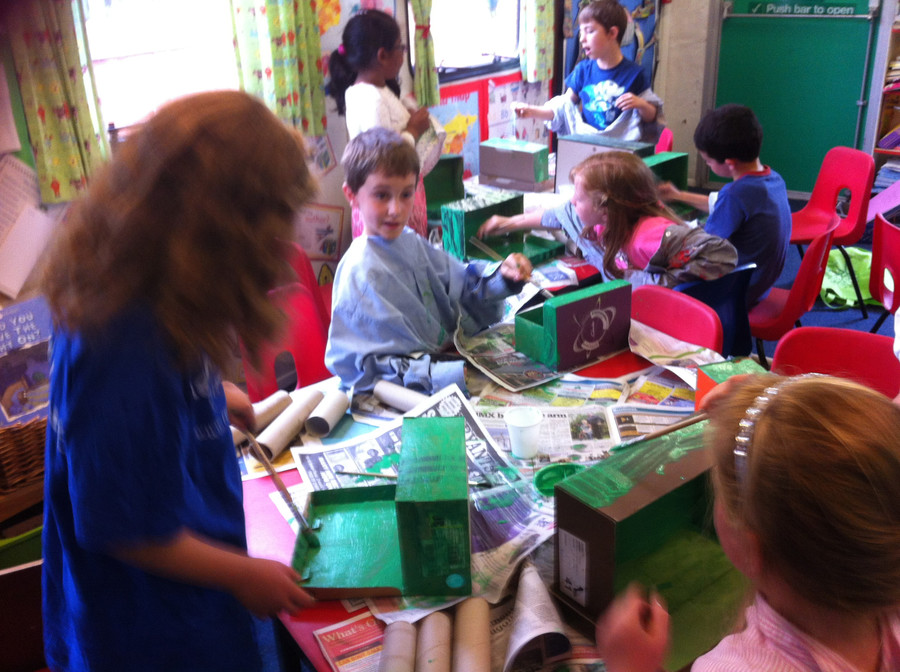 Our adventure into space.....
Year 2 have been learning about space this half term and we decided we were ready to go on an adventure there! We went inside the dome of discovery and learnt all about the planets, constellations, sun and moon. The children even watched a video of the moon landings and space buggies exploring. Now we all want to go into space for real!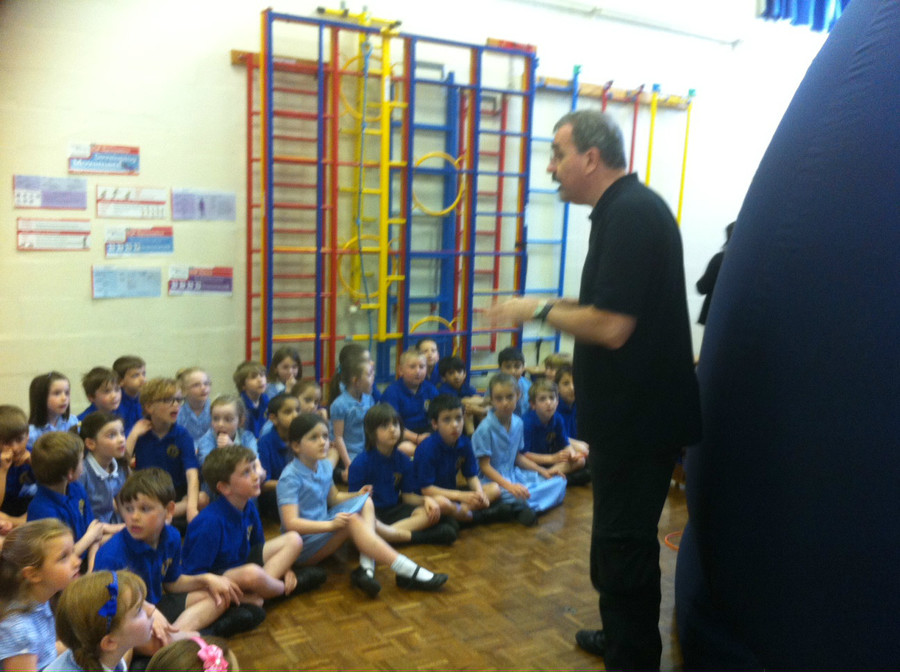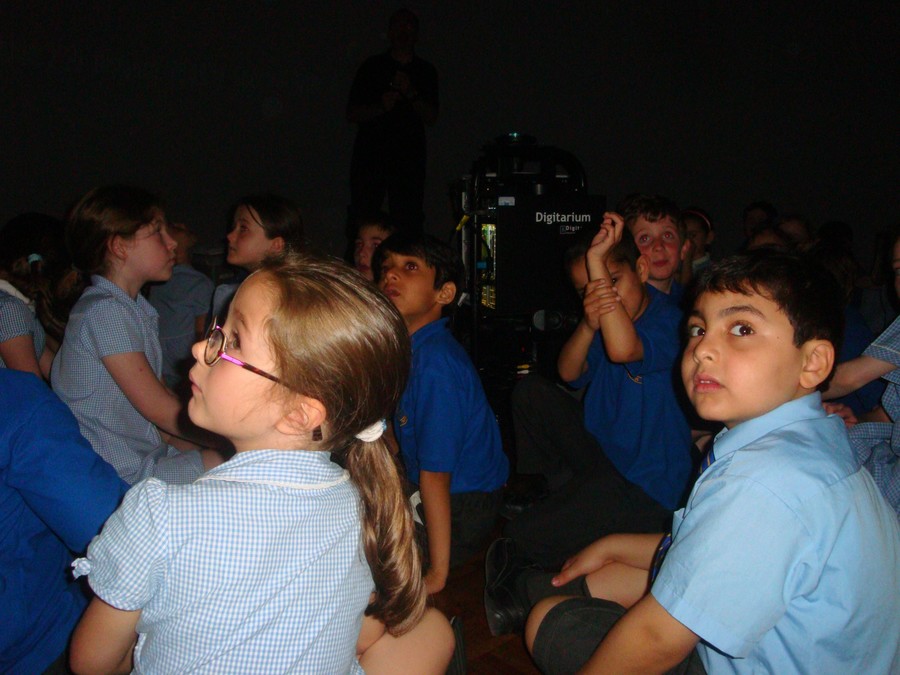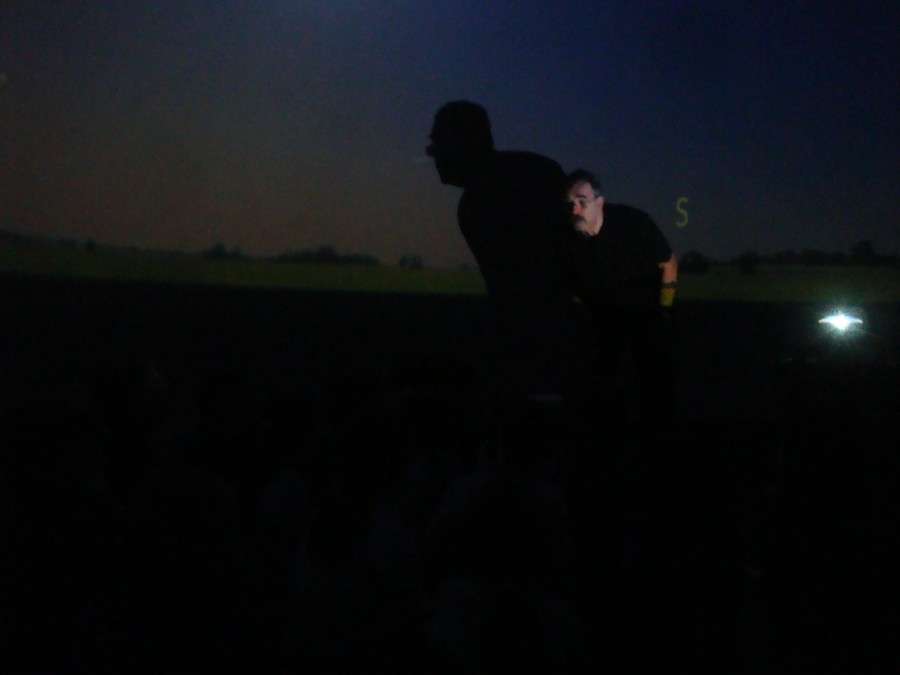 Year 2 Wax Works!
In Year 2 we love any opportunity to investigate in Science. The company Shell came into school to teach us about wax. We were reminded how to stay safe, how wax is made and in class we each made our own colourful candle and took it home. We had lots of fun!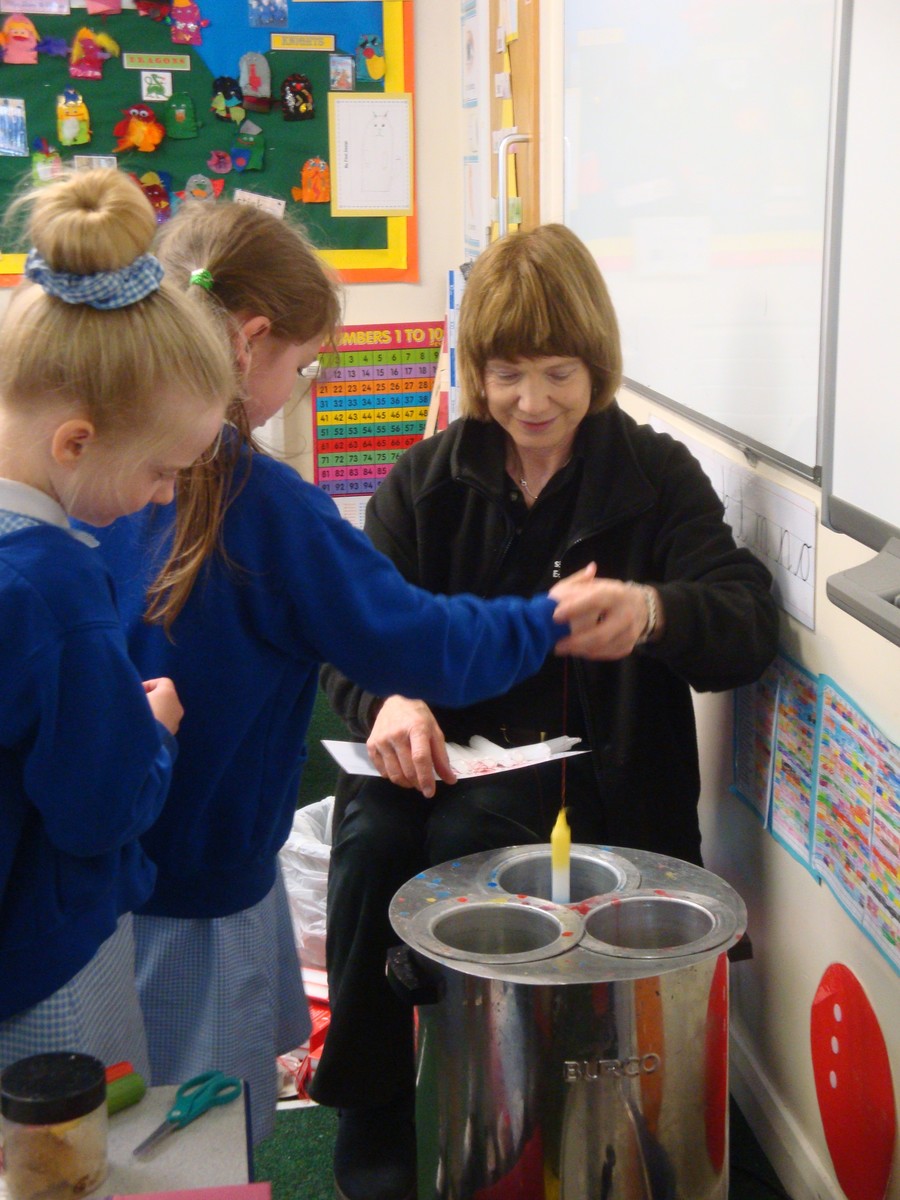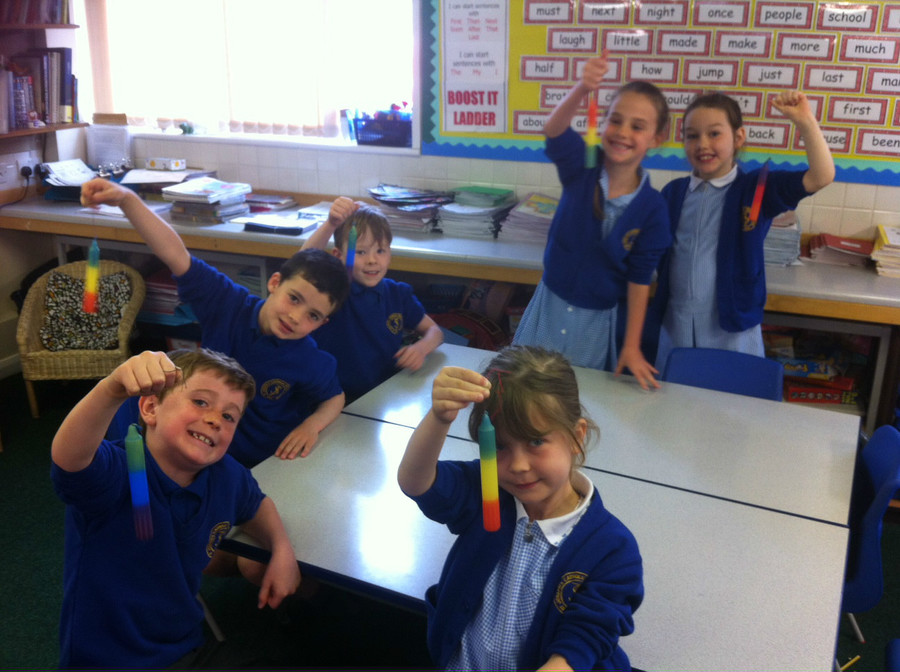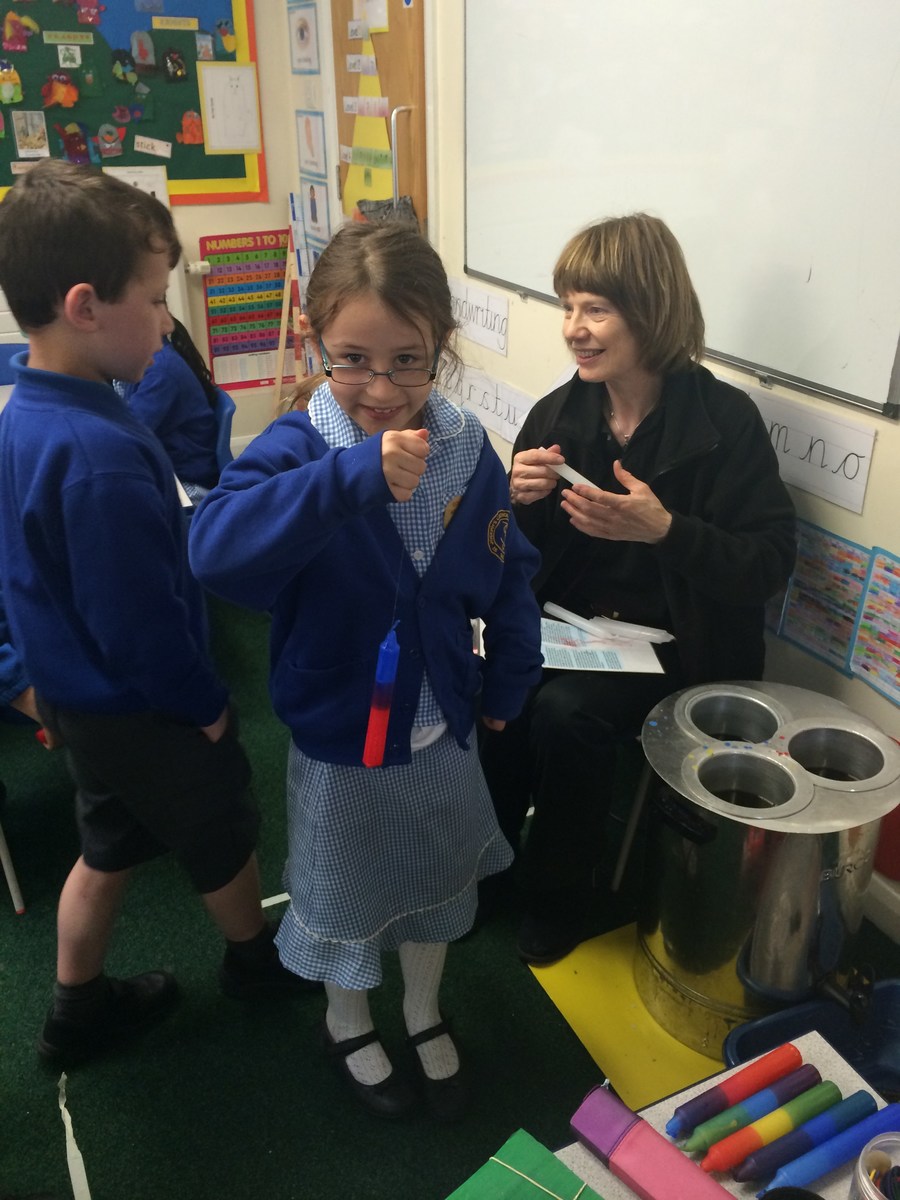 Easter Egg Hunt
The children enjoyed searching the playground for Easter eggs. Look at our smiley faces when we found them!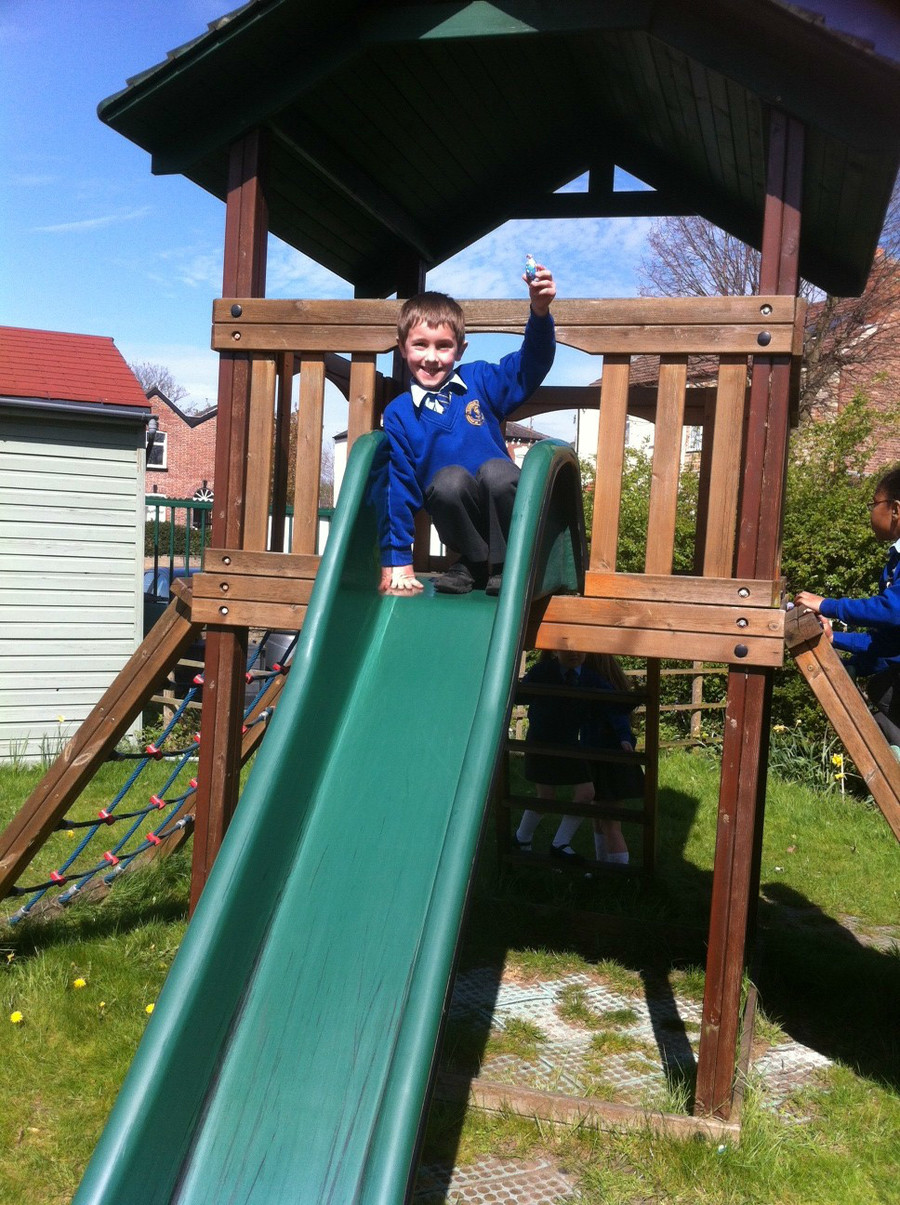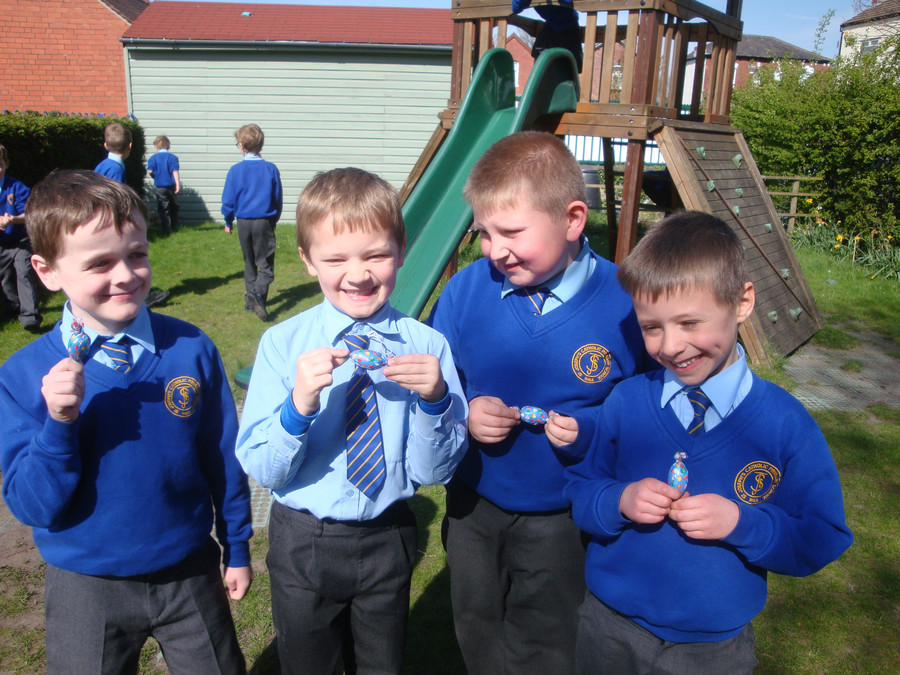 Bug Hunt
As part of our minibeast topic the children learnt all about different insects and where we could find them. We all went on a bug hunt to find out where the different minibeats live in our school grounds. We were very good at this hide and seek game!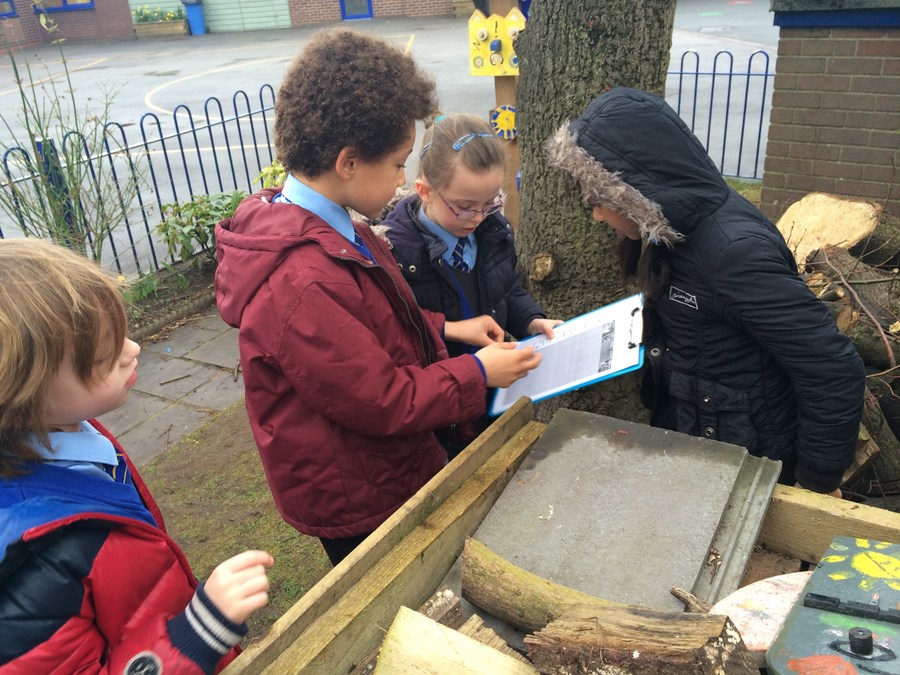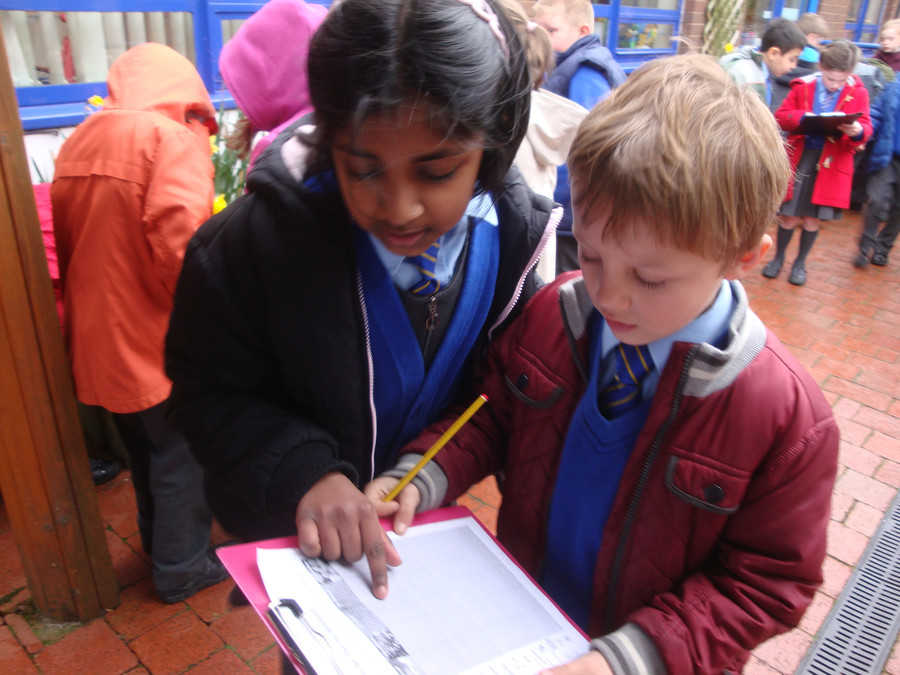 Travelling Farm
We were very lucky to have a travelling farm visit us in our own school playground! We enjoyed learning about and stroking the animals.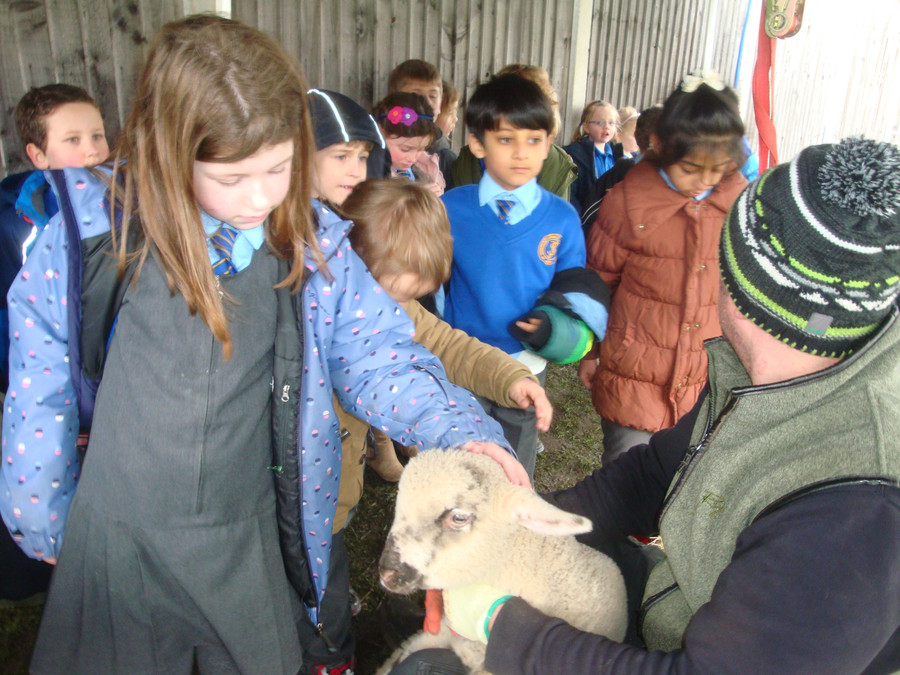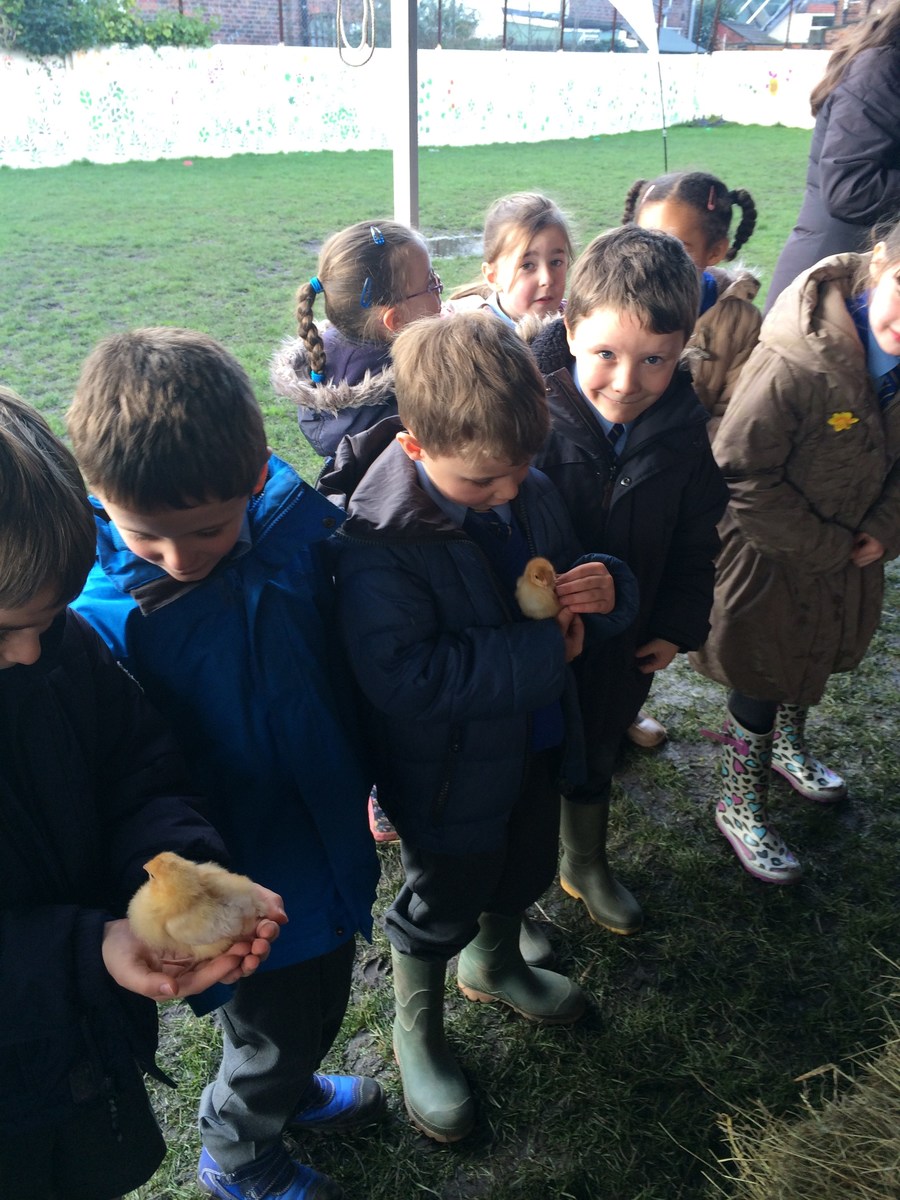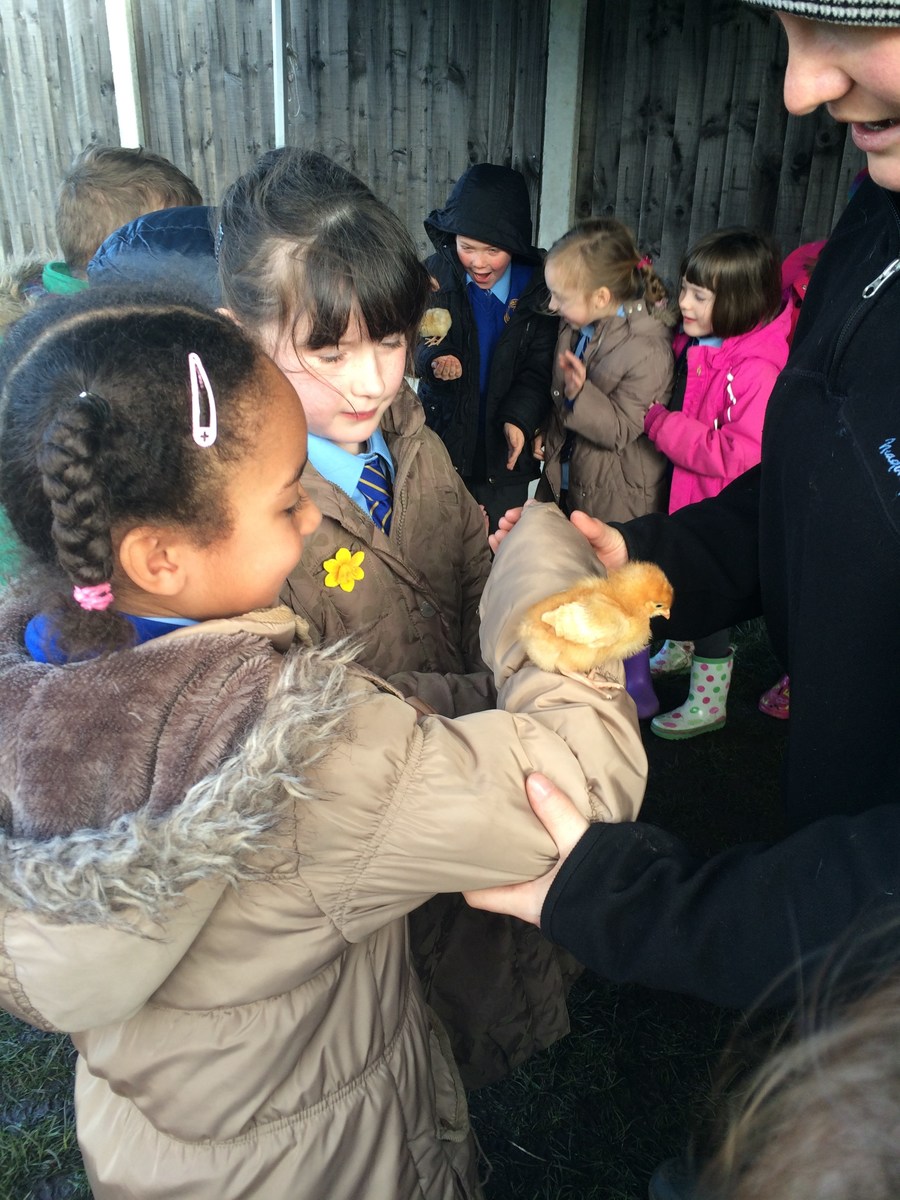 Clitheroe Castle
As part of our castle topic we were very lucky to visit Clitheroe Castle. We did lots of exciting activities, including learning all about the history of the castle by building our own sand castles and making our own armour for an egg. We even learnt 'Dragonese', just in case we ever encounter a dragon! Watch us learning below...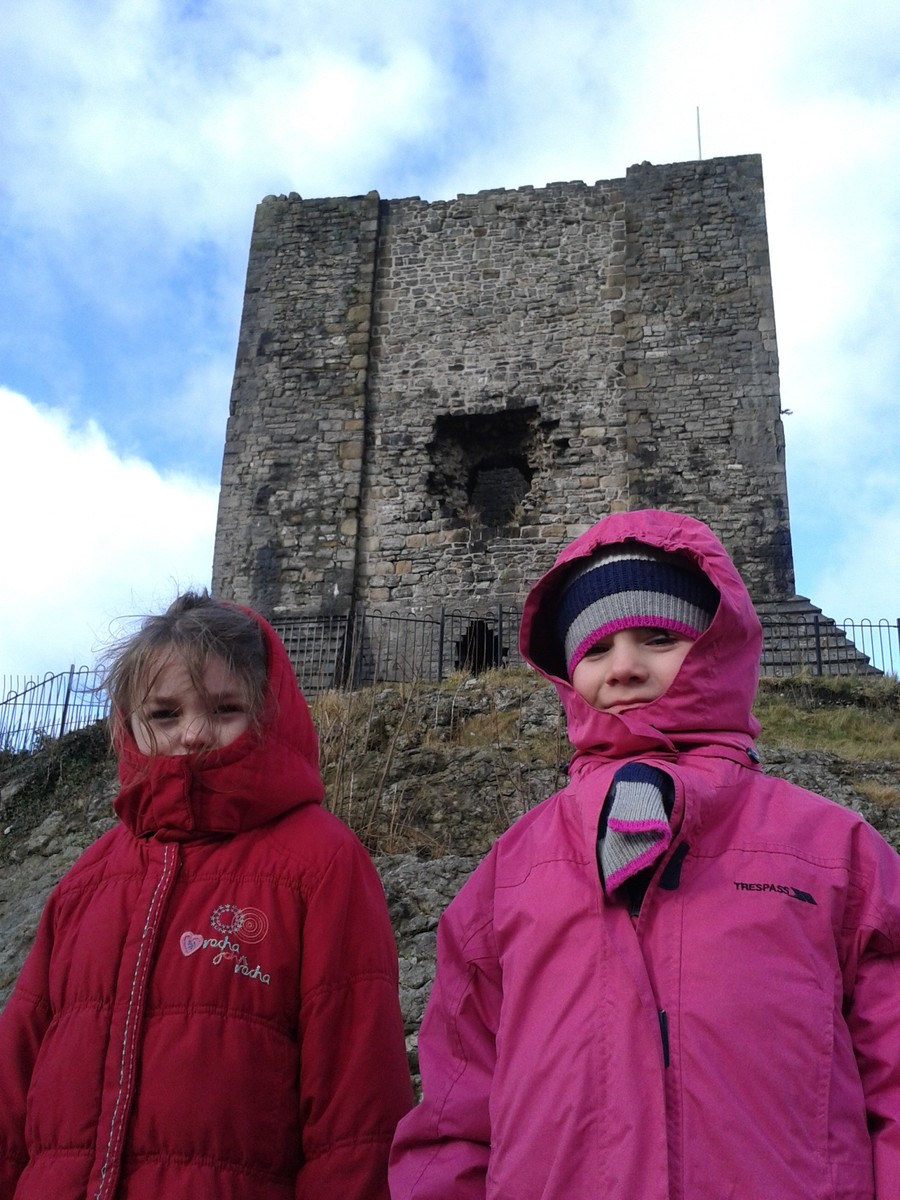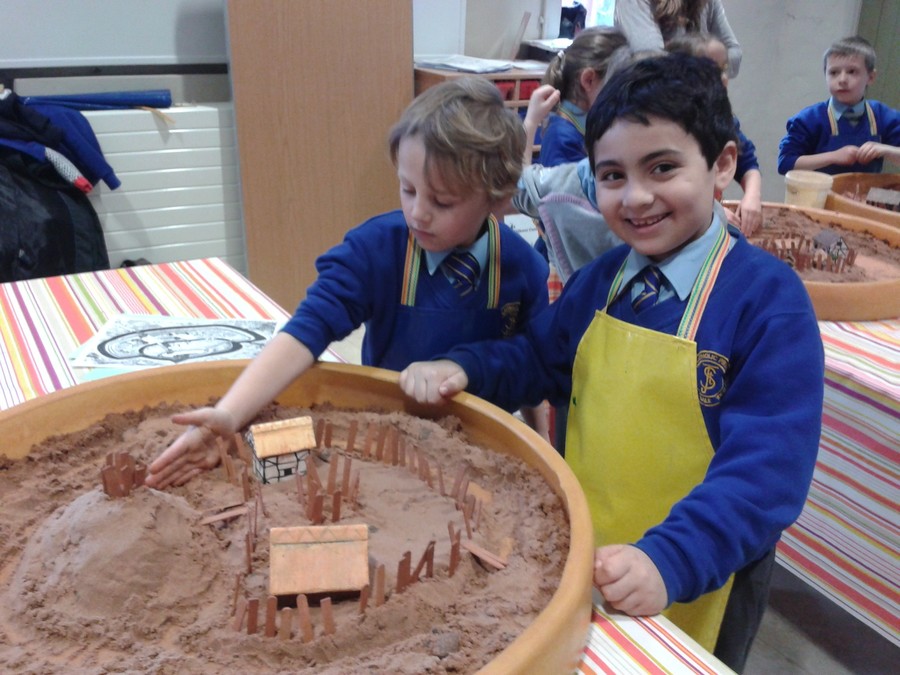 Finger Puppets
This term we have been designing and making our own castle finger puppets. First we drew around a template and carefully cut it out. Then we sewed around the edge, making sure we left a gap for our finger. Next we decorated our finger puppets, and made sure they looked like our designs. After that we evaluated our puppets, looking at our strengths and how we could improve them next time, before using them to do some acting.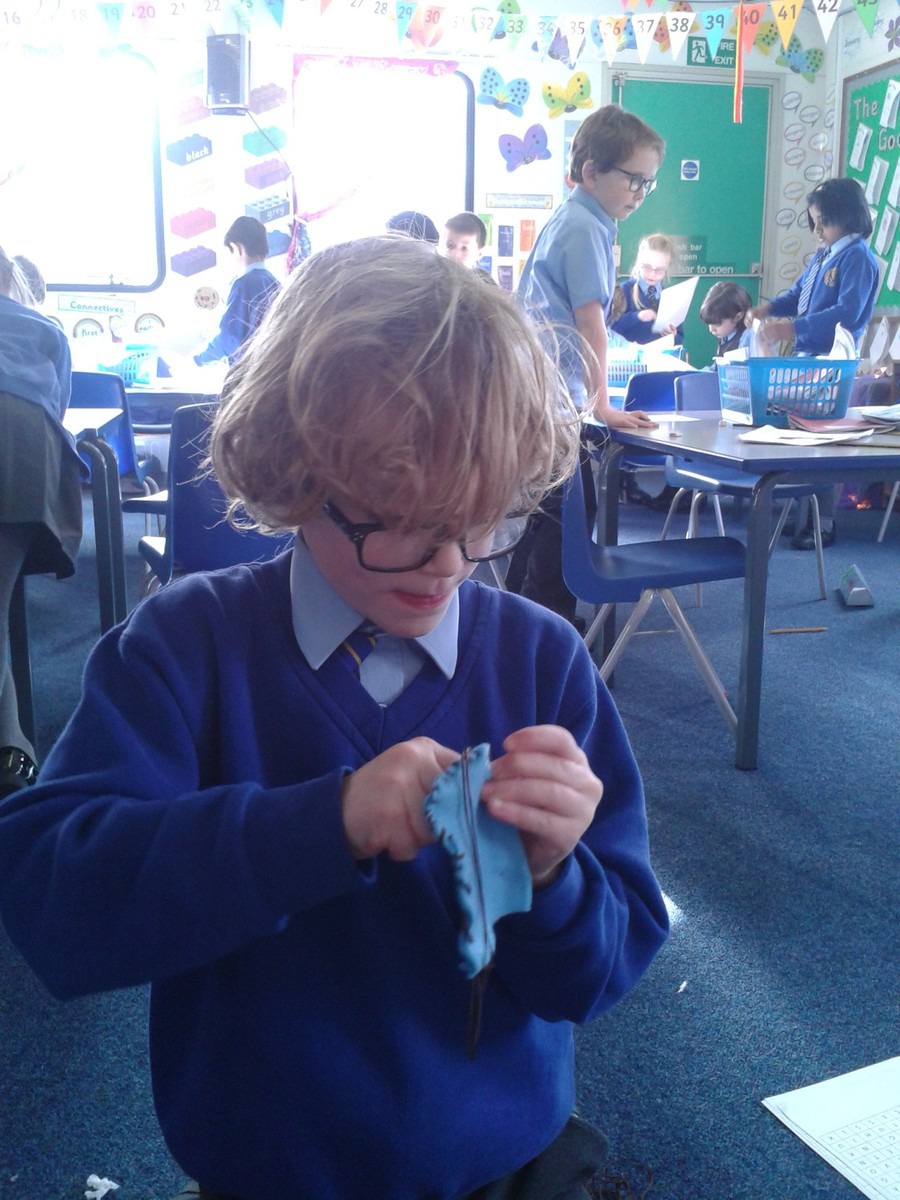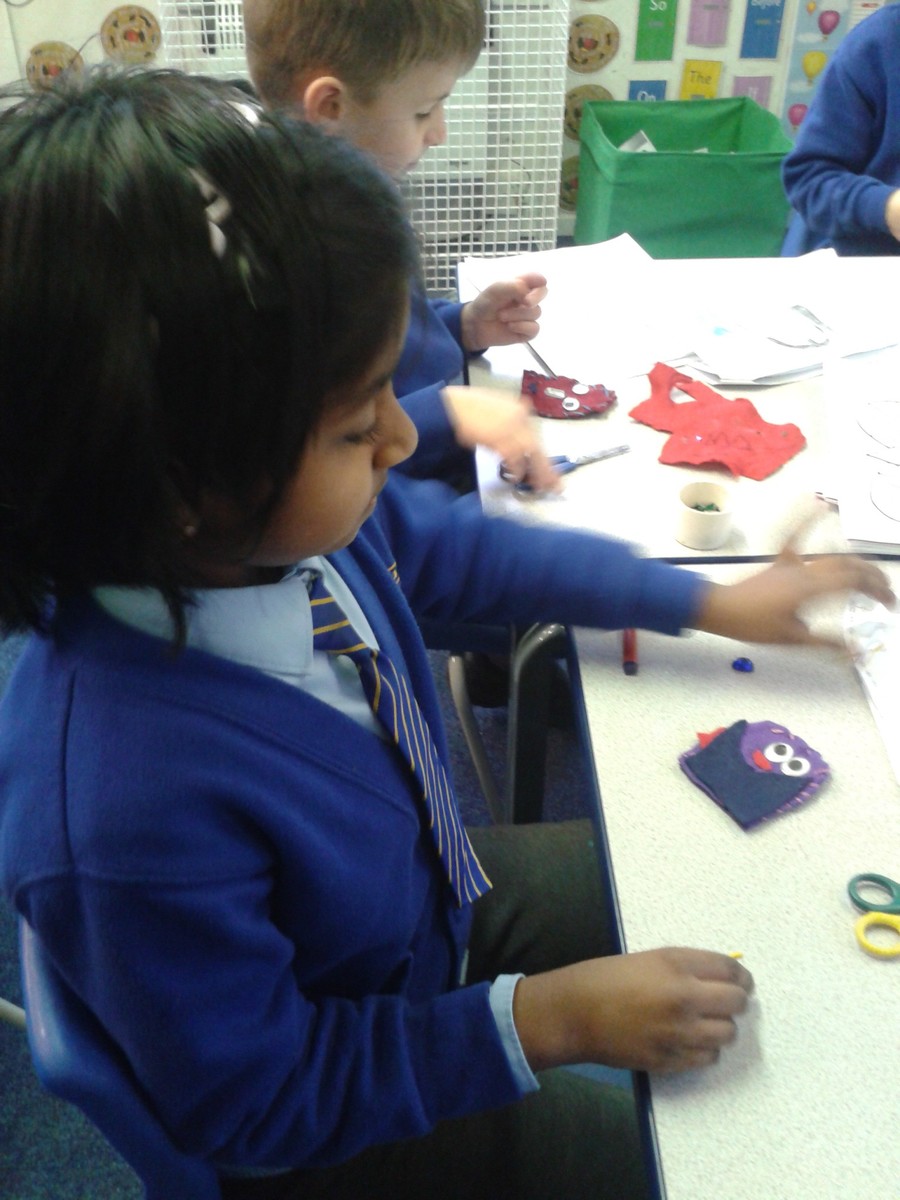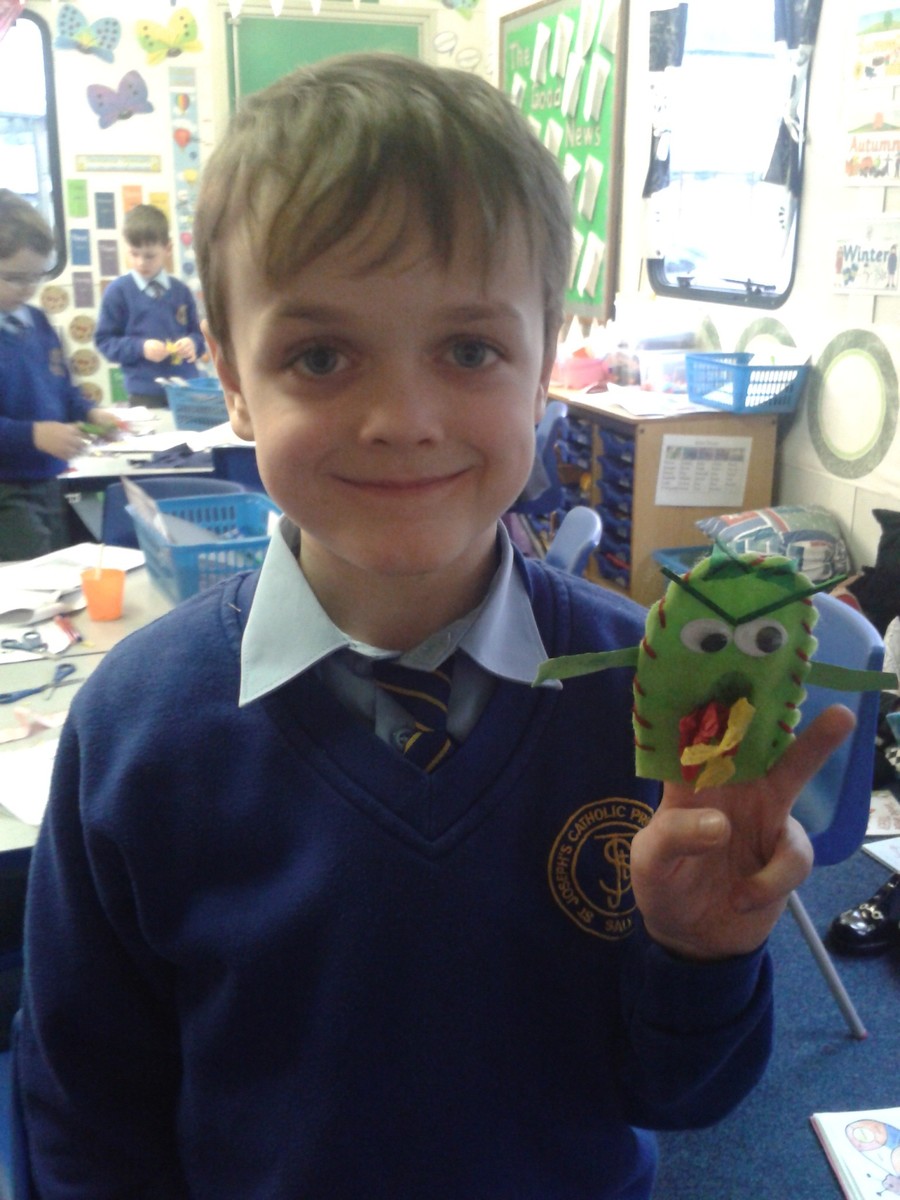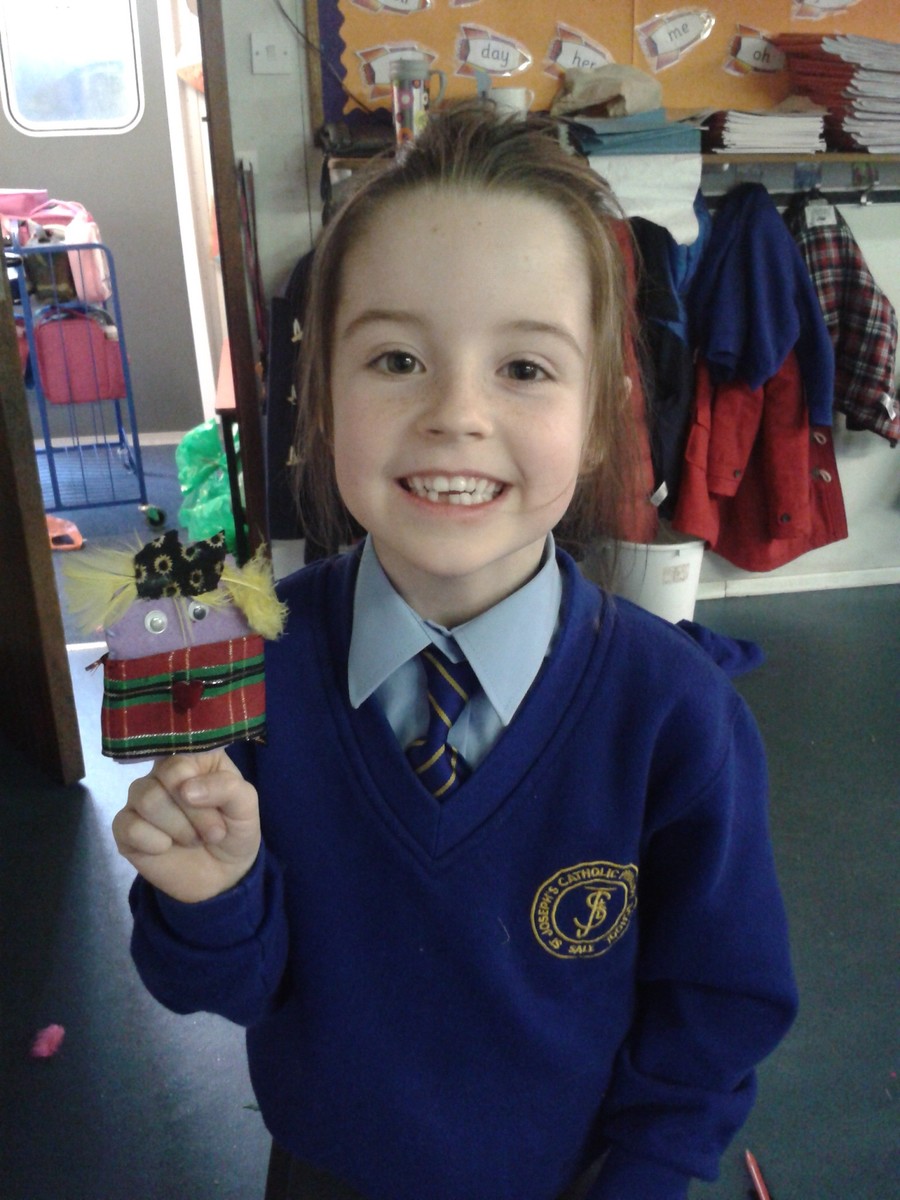 Castle Banquet
To mark the end of our exciting castle topic, we dressed up as the castle characters we have been learning about. We had fabulous costumes varying from kings, queens, jesters, knights, chefs, servants and lots more! Whilst in costume we performed a medieval dance that we have been learning in PE, for our teachers and friends in other classes to watch.
Trafford Music Service
This term Year 2 have the exciting opportunity to become masters of the violin! Each week the children are learning new songs, rhythms and how to play tunefully.
Lucky parents will be able to hear children practise at home and will be invited into school for a special concert at the end of March. Watch this space for more details and photos!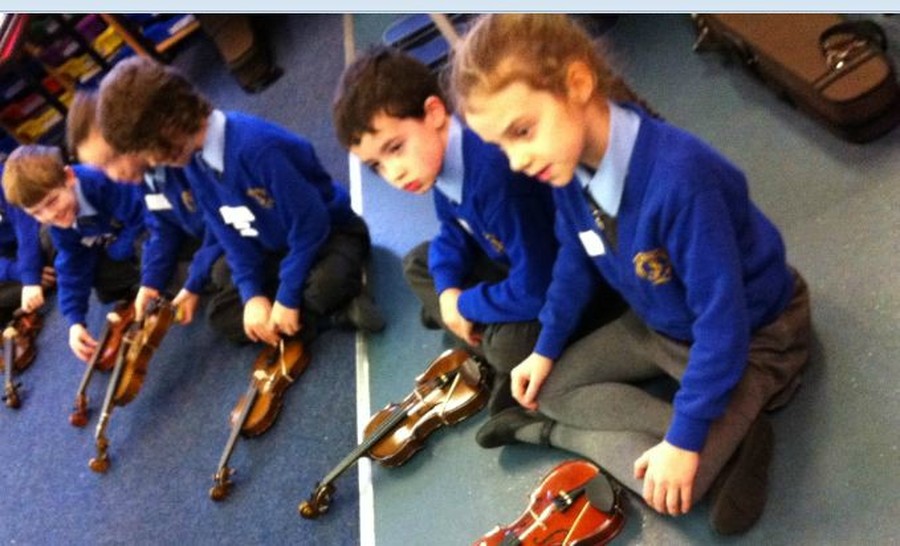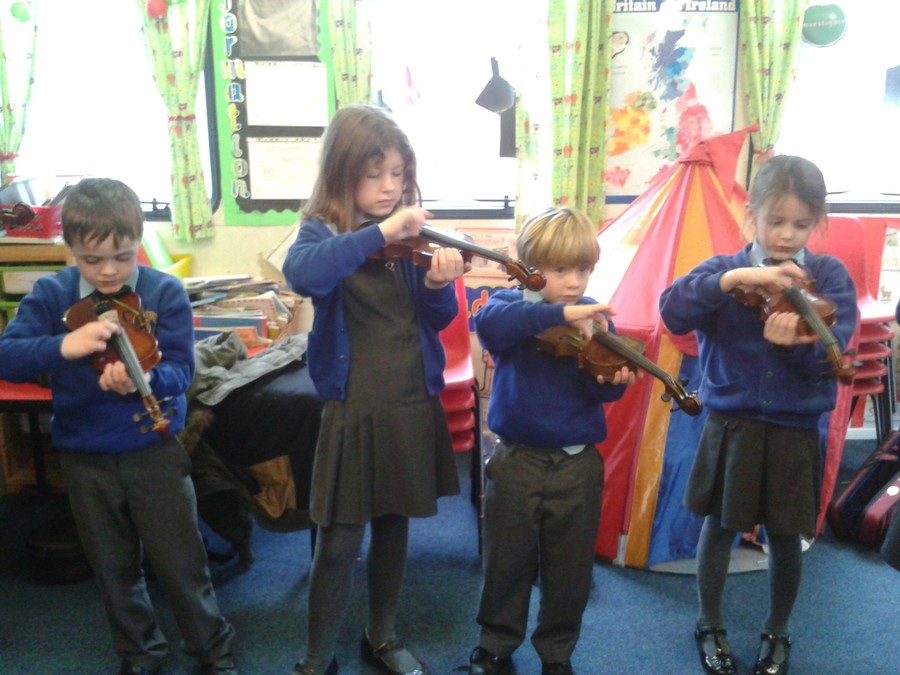 Beauty and Billy Beast's Wedding
We enjoyed reading all about Beauty and Billy Beast, and all of the disgustingly beautiful things in their castle. We planned a wedding for them, and before we began to write our stories, we turned our classroom into a ballroom. As we knew exactly what Billy Beast would like, we made sure there would be 'deep muddy puddles', 'chandeliers covered in sticky cobwebs' and 'rats scuttling between our feet'. Together we designed the perfect buffet for the couple, consisting of 'smelly fingernails', 'gone-off wedding cake' and 'blood cocktails'. It was truly disgusting!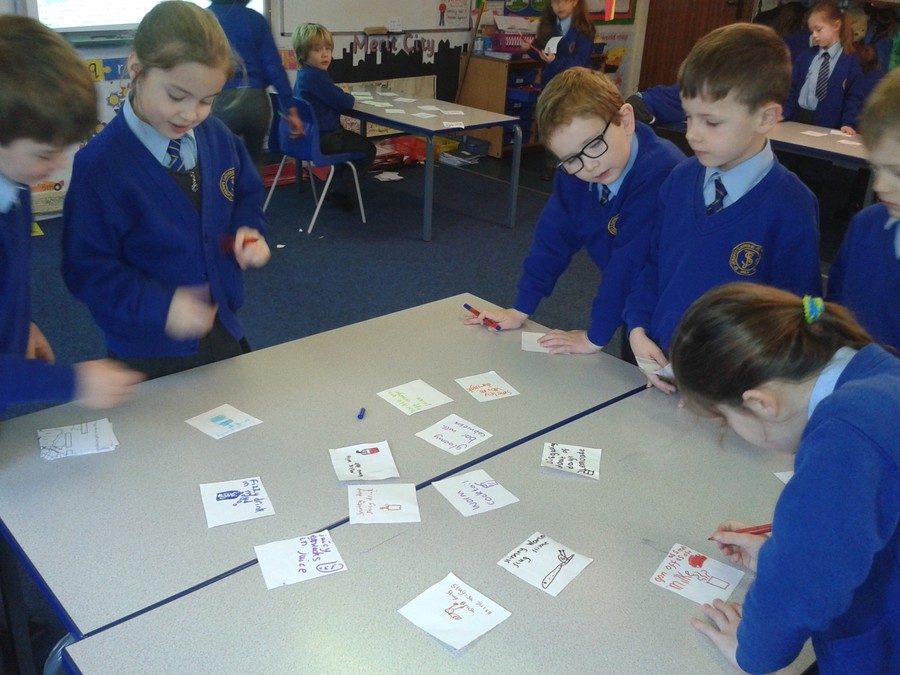 A Donkey's Tale
This year for the Christmas Nativity, Year 2 told the nativity story through the eyes of the little donkey. Though sad at first, the little donkey realised he had a very special job to do and he carried Mary so that she could have the special baby Jesus. It was lovely to see all year 2 showing off their singing, acting and dancing skills for the wonderful parents of St. Joseph's!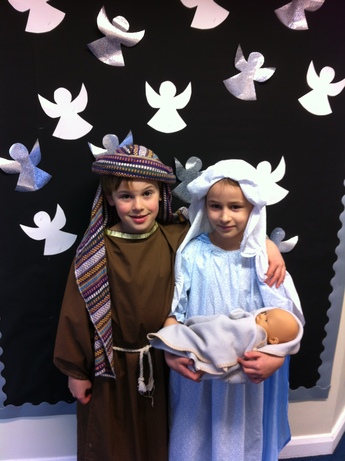 Lighting it up!
We loved learning about circuits and electricity. We had a great afternoon at Sale Grammar learning about how electricity travels and how to make a circuit. More importantly, we learnt how to stay safe with electricity. When we got back to school we used our knowledge to make a light up Christmas card for our very lucky families!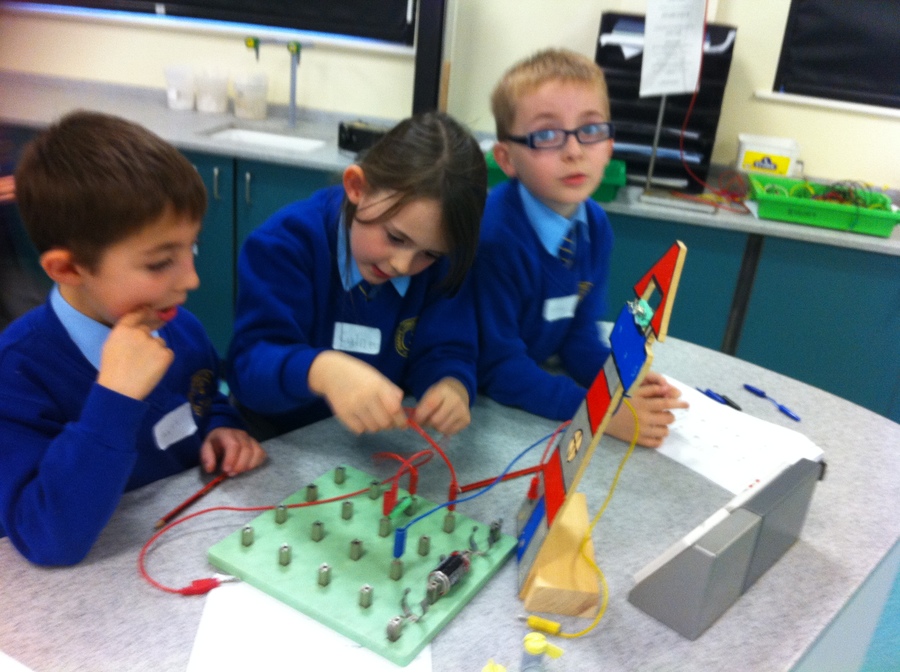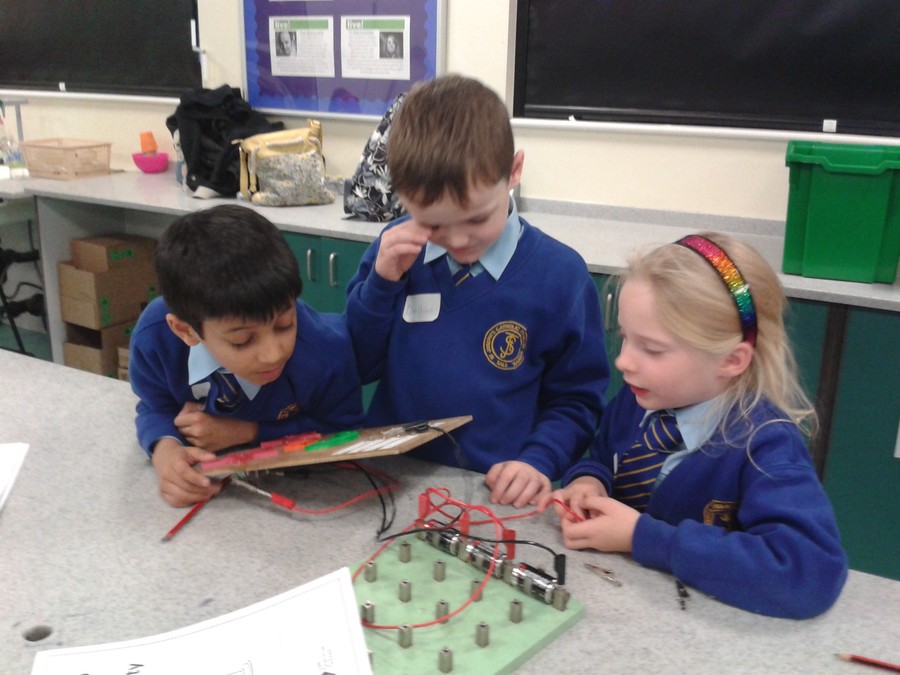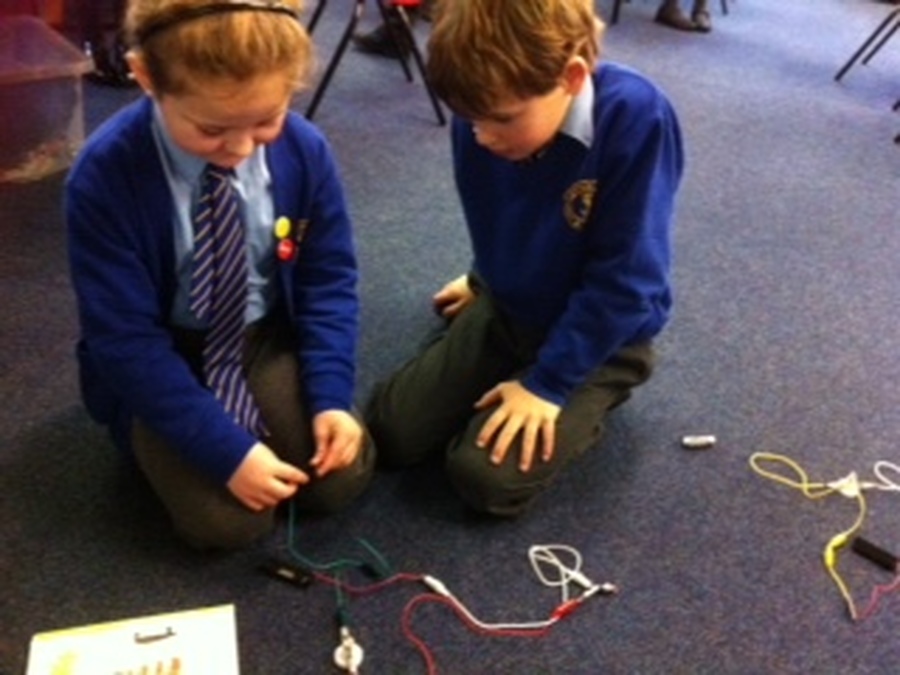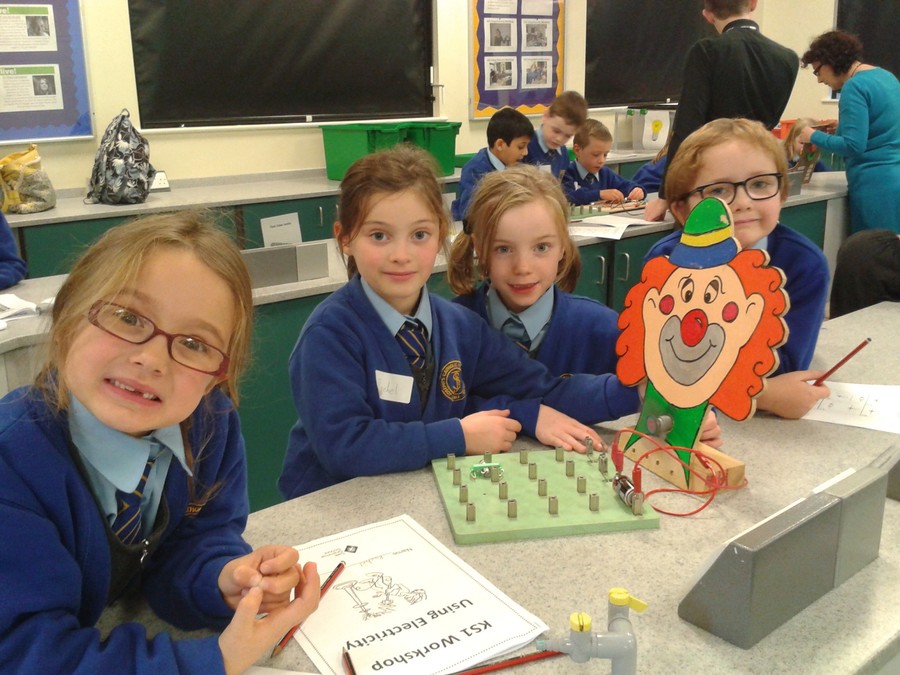 Year 2 AJS Remembrance Day Assembly
Our class had the important job of explaining to the infants the importance of Remembrance Day. Our class told the children the story of 'Wilfred Gordon McDonald Partridge'. A boy who helped an old lady remember her memories from long ago. The children all said their parts beautifully and even managed to learn a poem!
We all wore red and black on the day of our assembly. Do you know why?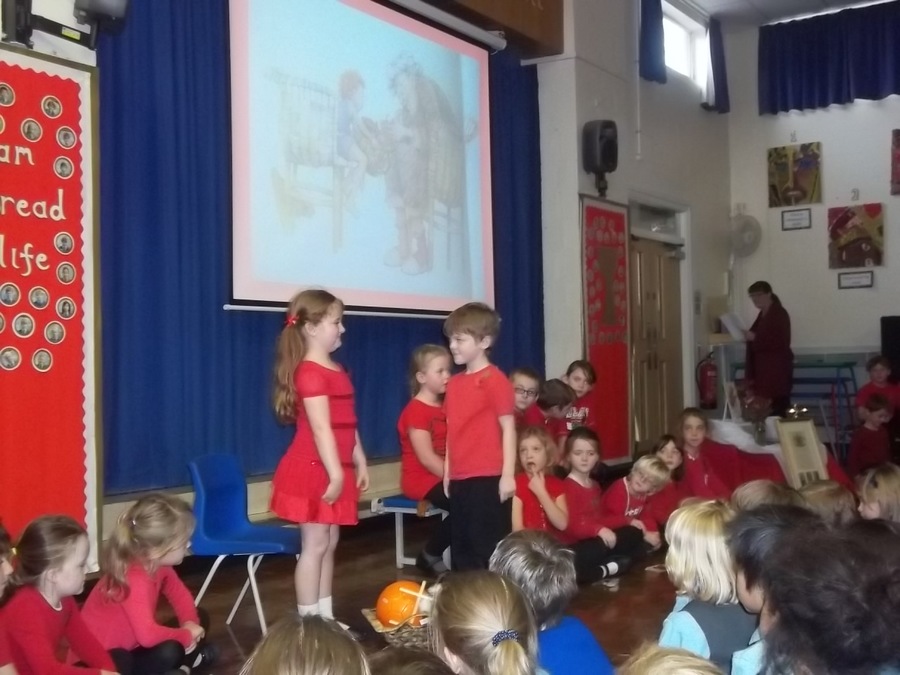 Budding Storytellers!
This week the children in Year 2 have been listening to stories about Katie Morag. Each class focused on a different story and wanted to share it with their friends in other classess. All the children were put into groups of three so there was a child from each class to tell a story.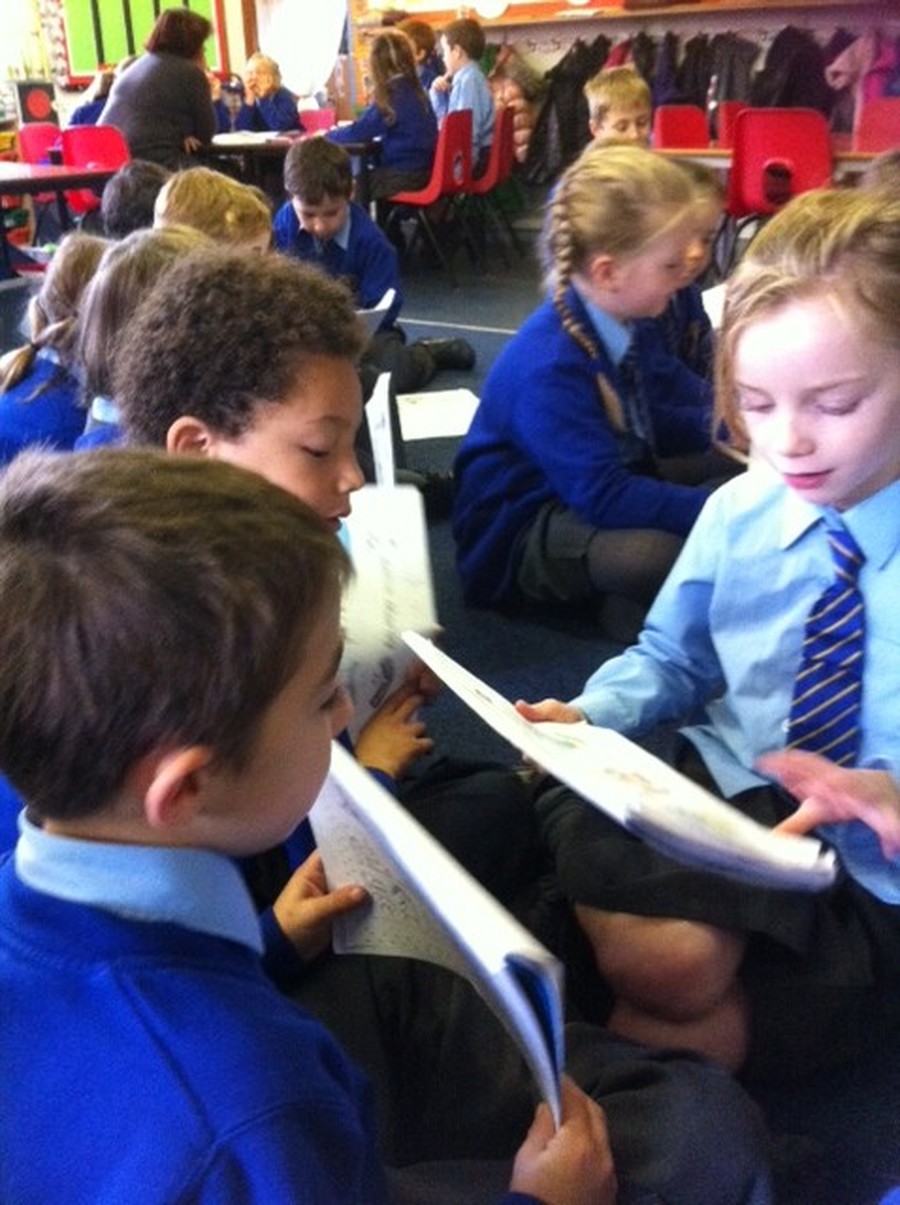 A Special Visitor
This week Year 2 had a special visitor coming to each of our classes. Our school cook Terry, kindly offered to visit the children and explain how she makes the meals in school healthy and delicious to eat! The children thought of their own questions and enjoyed putting her on the spot!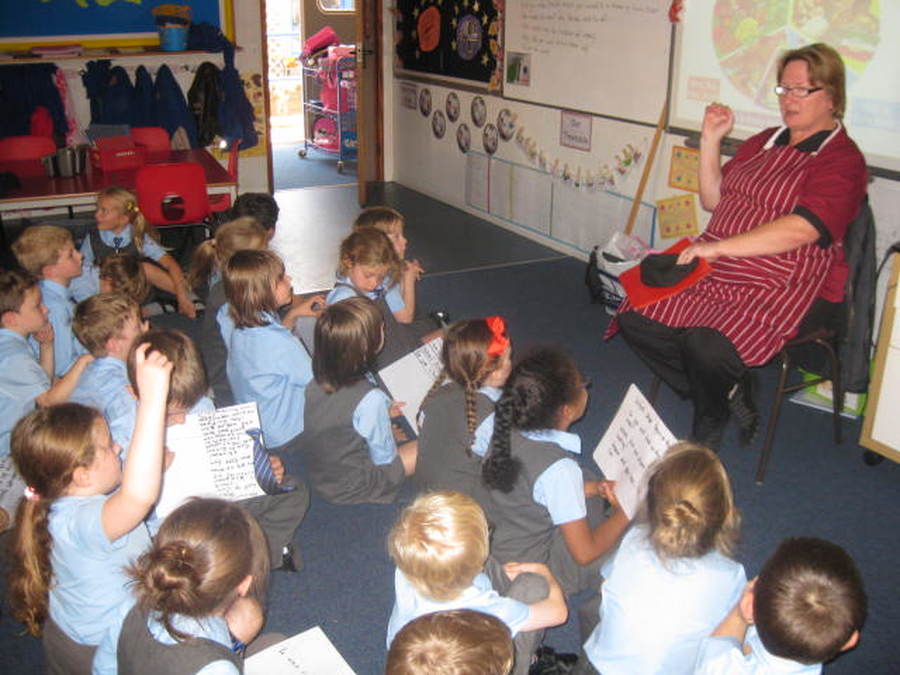 This half term we have been learning about food ad the importance of staying healthy. We had great fun creating and writing instructions for a kebab based on a balanced diet. Just to make sure our instructions worked we had to follow them- and of course, we had to eat it!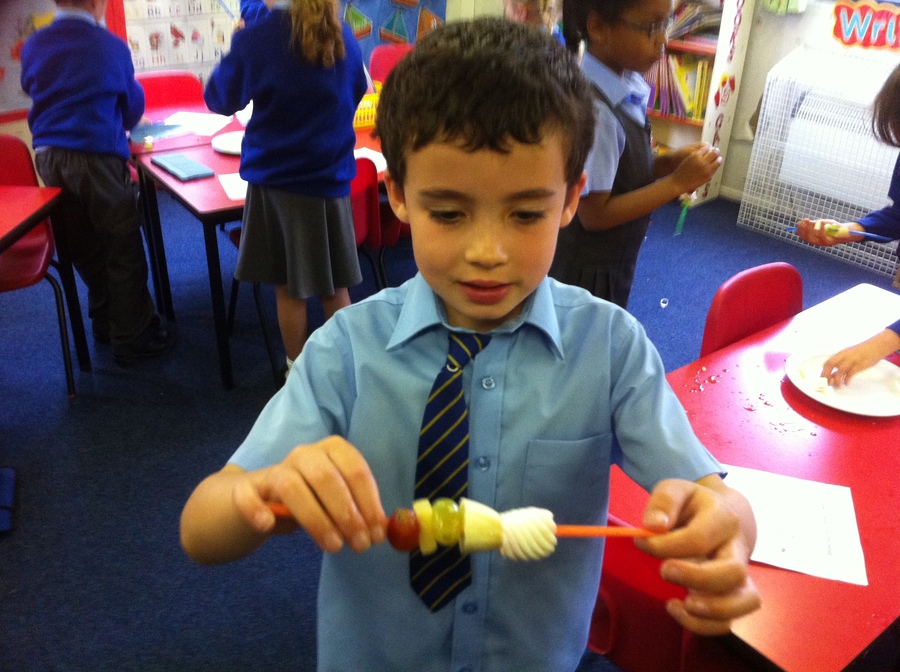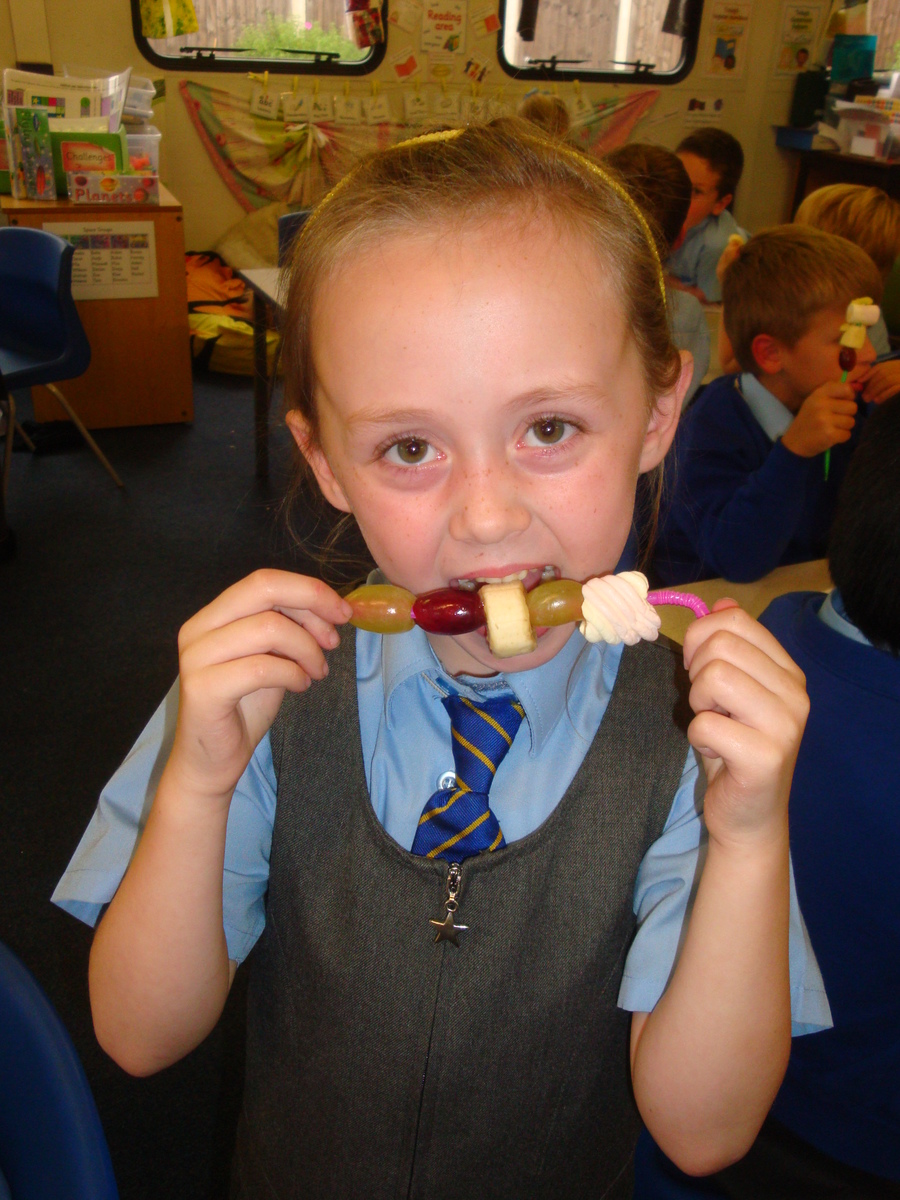 Y2ST Assembly
Y2ST had the great pleasure of the first class assembly of the year. We spoke all about how to eat a balanced diet, which according to Tom's fantastic acting is "a biscuit in each hand!" In Miss Thomas' class we particularly like eating lots of fruit, so we all dressed up in colourful fruit costumes. We thoroughly enjoyed learning and performing a song all about fruit and vegetables and created our own actions to go with it.