Links with Parents
At St Joseph's we feel it is very important to have excellent links with you, the Parents. If Parents/Teachers have any issues or concerns we would like to hear of these straight away. More importantly, any accomplishments or achievements need to be celebrated too! If your child has done something at home you have never seen before successfully, please let us know by either:
writing it on a post it note;

writing in your child's home/school diary

a piece of paper;

sending in a photograph;

or completing a 'Wow note.' (see below.)
We hold a curriculum meeting with parents in the first half of the Autumn term.
At this meeting we speak about the Early Years Curriculum, Reading and Mathematics. Please see our Curriculum page for some information on these topics. If you have any questions, please do not hesitate to speak to your child's class teacher.
Numicon
Please click on this link for some ideas at home you can try with numicon.
It's Science week at St Joseph's! Please click on the link below to see some fun science experiments you can do at home with your child.
Bath time!
As part of our topic, we had a lovely little visitor in Reception...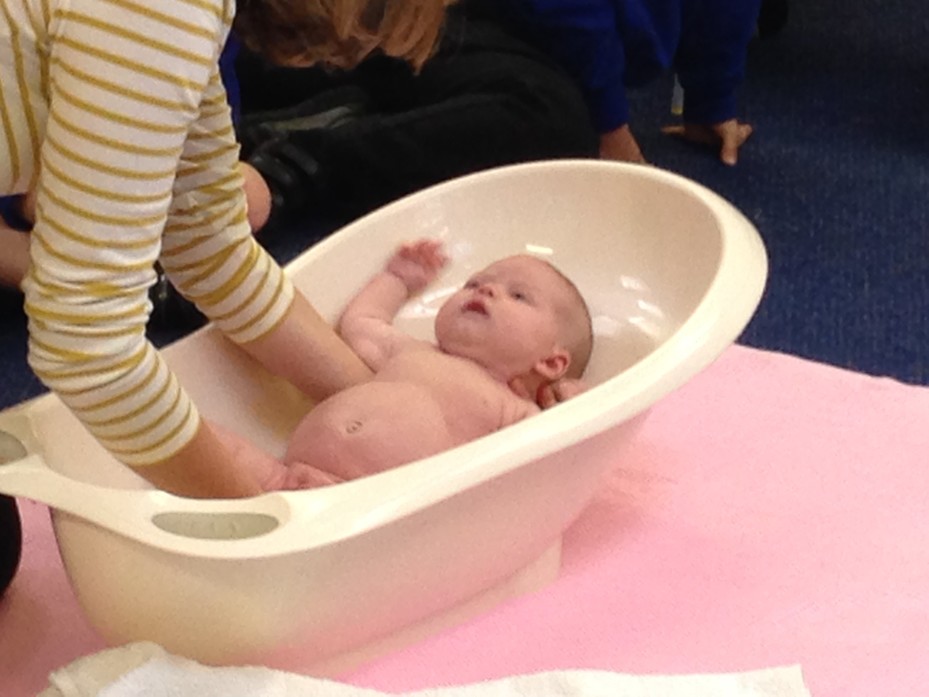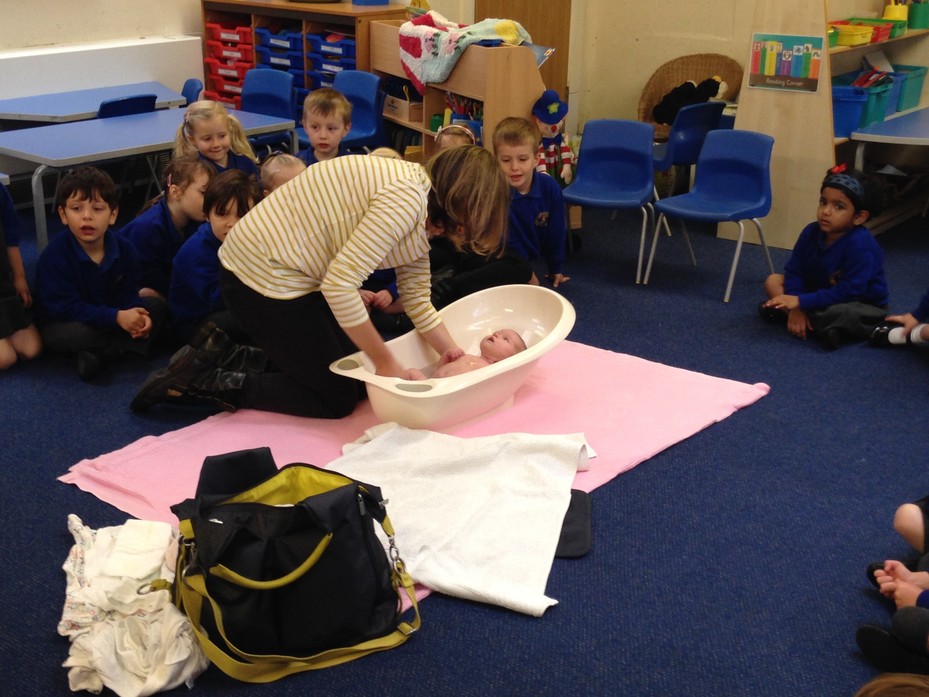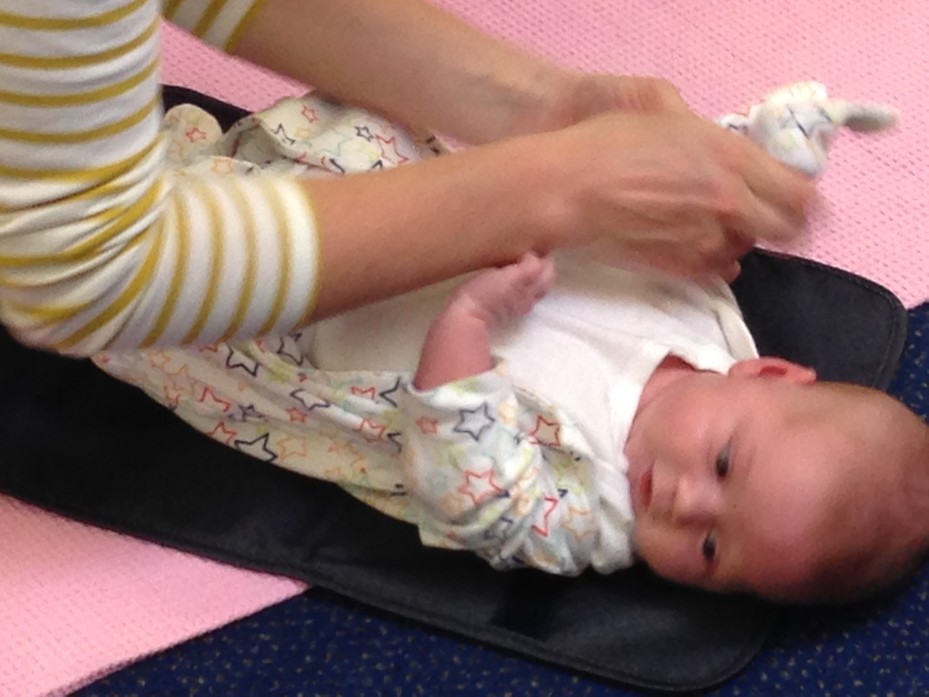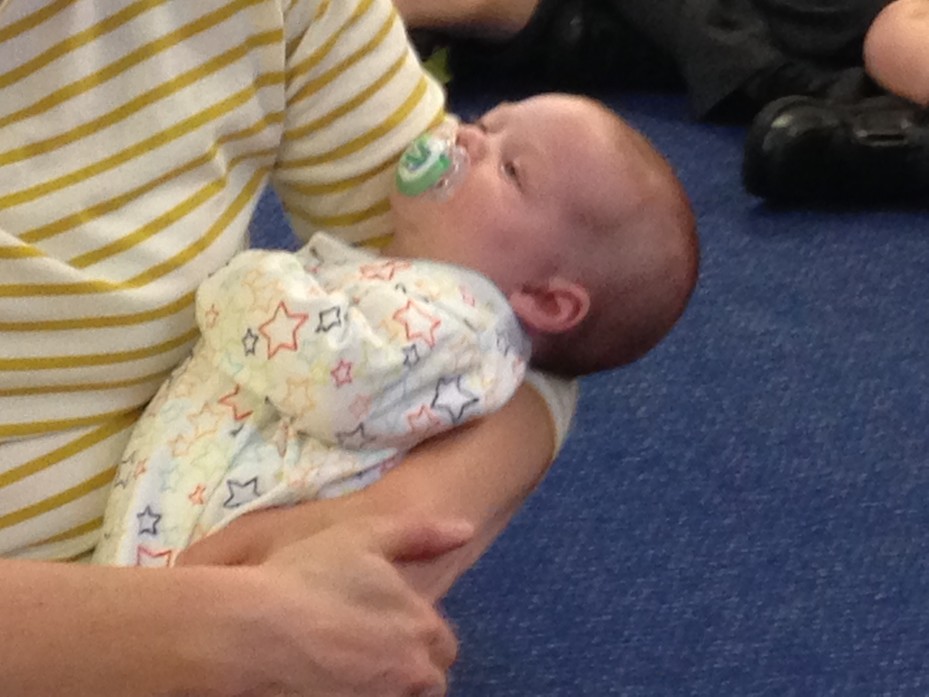 The children have settled well into Reception. The teachers have loved getting to know the children better through their Precious Boxes.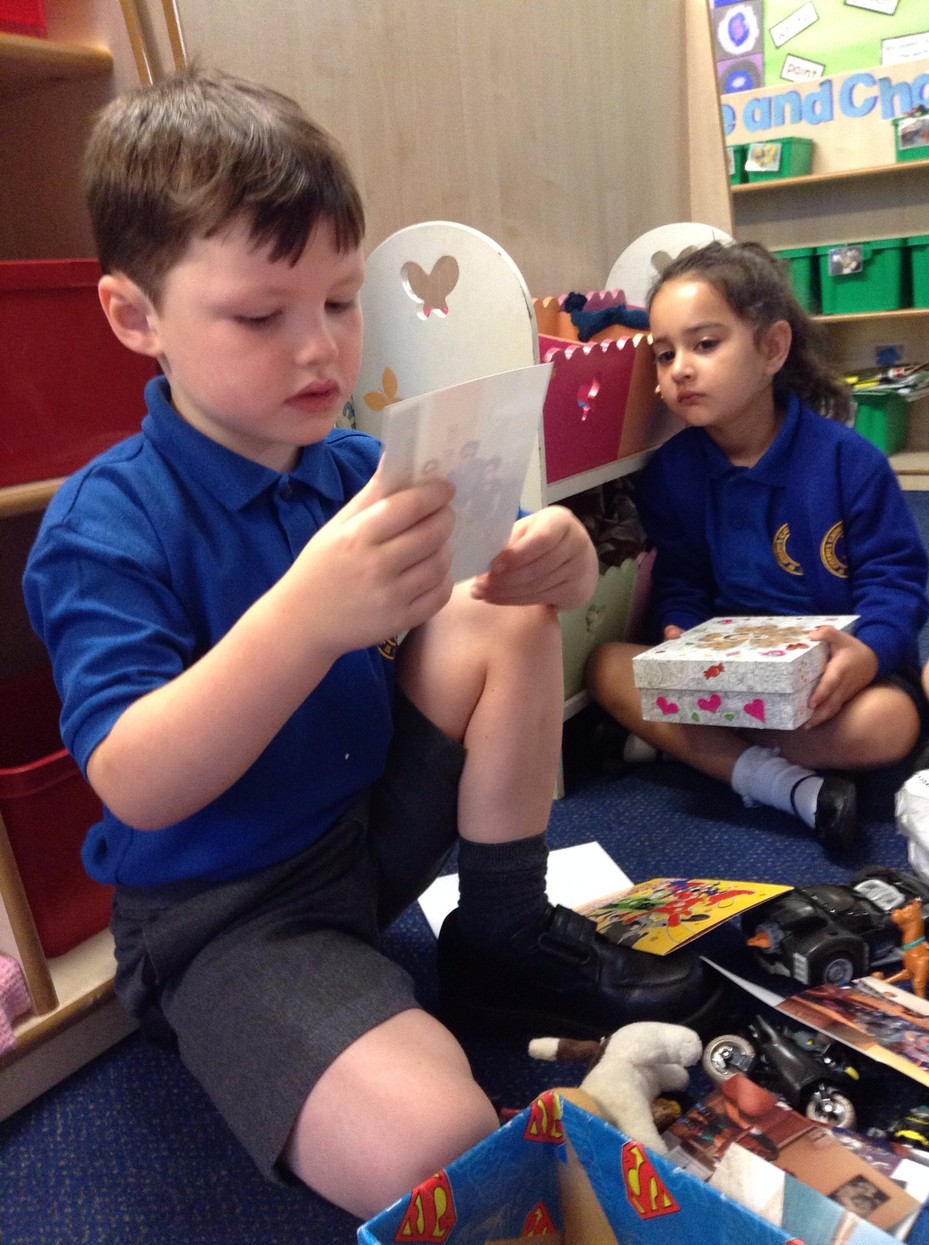 It's Harvest time at St Joseph's! Mr Pickles and the Reception children went to our school orchard to pick the ripe, juicy apples to use in our school kitchen- Yum!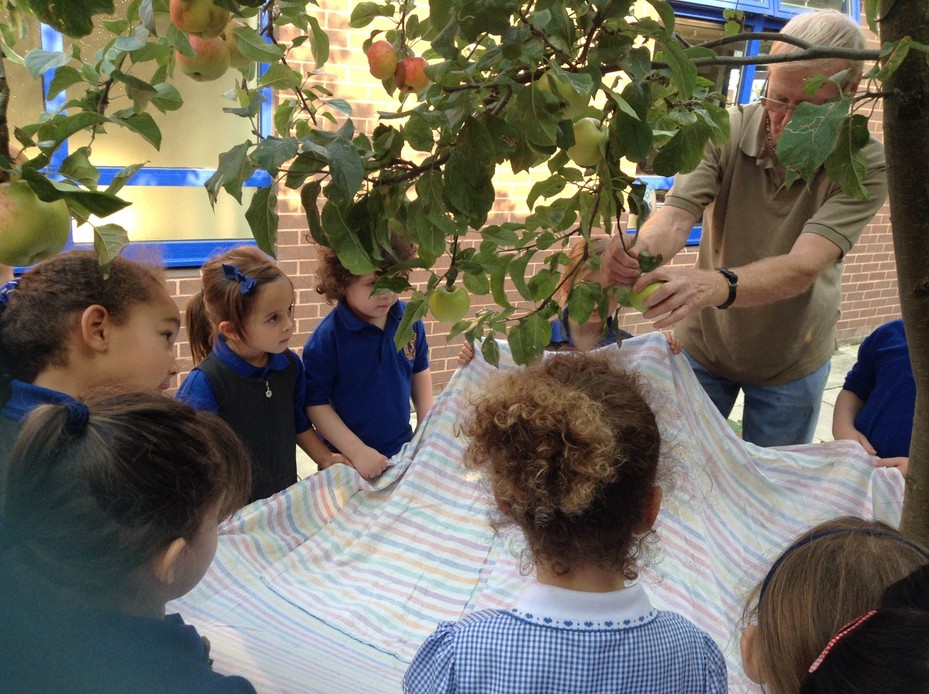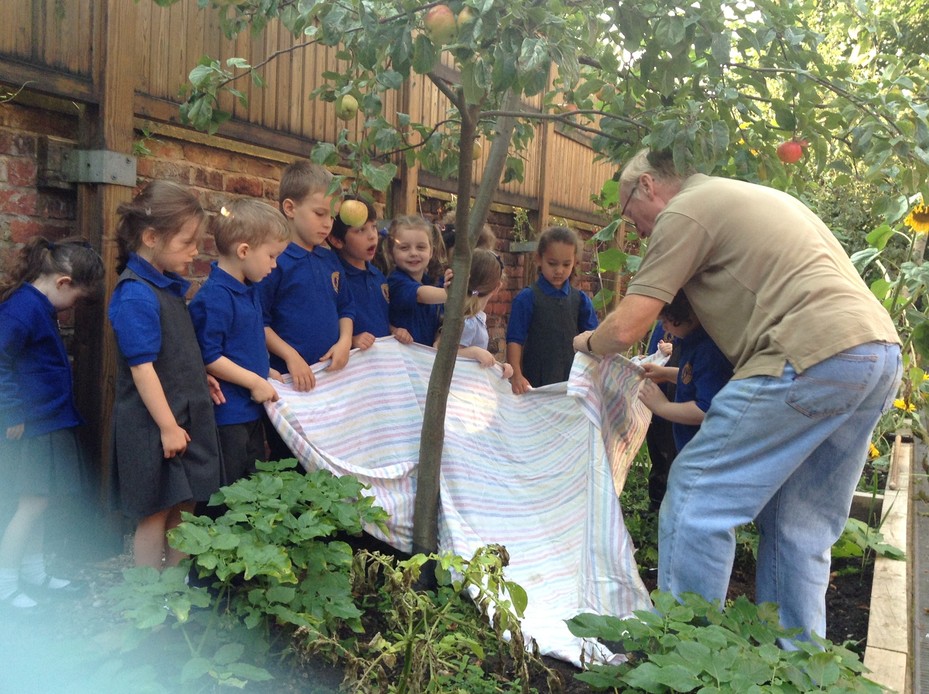 We are fit and raring to go!

The SIS team have now started the new term with the Reception classes. We were such good listeners in our first week that we will be getting the apparatus out soon. Watch this space!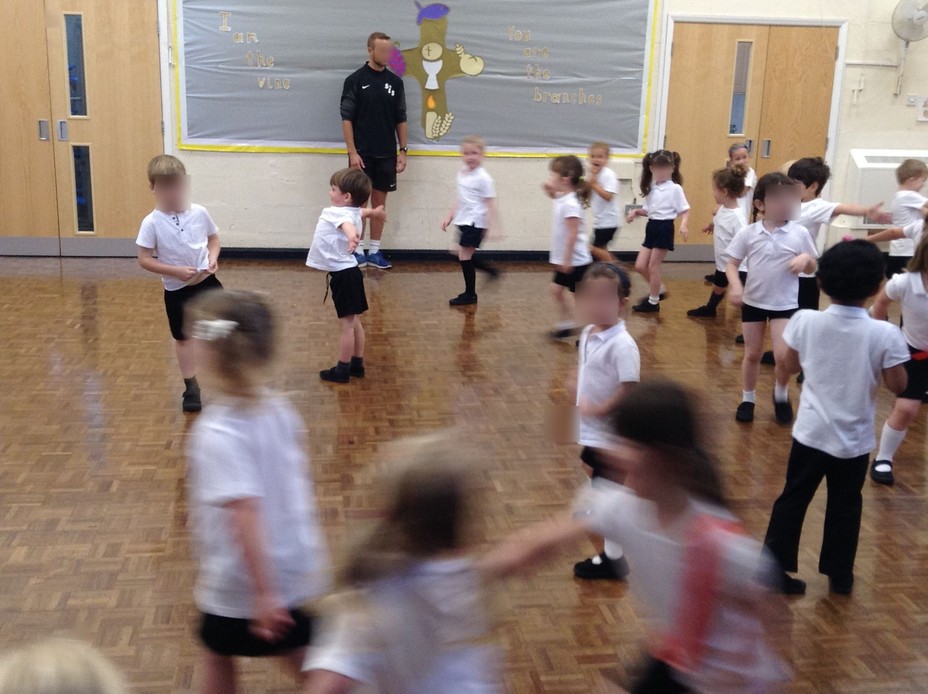 Chinese New Year
We have been finding out about Chinese New Year. We have acted out the story of the Great Race and enjoyed our Chinese restaurant role play area. Some children also bought in some traditional Chinese artefacts and showed us how to use them.
The Weather
As part of our topic of Winter we have been looking at different types of weather. We made our very own weather forecasts and filmed each other using flip cameras.
Christmas is a very busy time in school.We made cards and clay pots.
We were amazing in our Nativity play.
We were very fortunate to have a baby visit our classroom, bath time is rarely this much fun!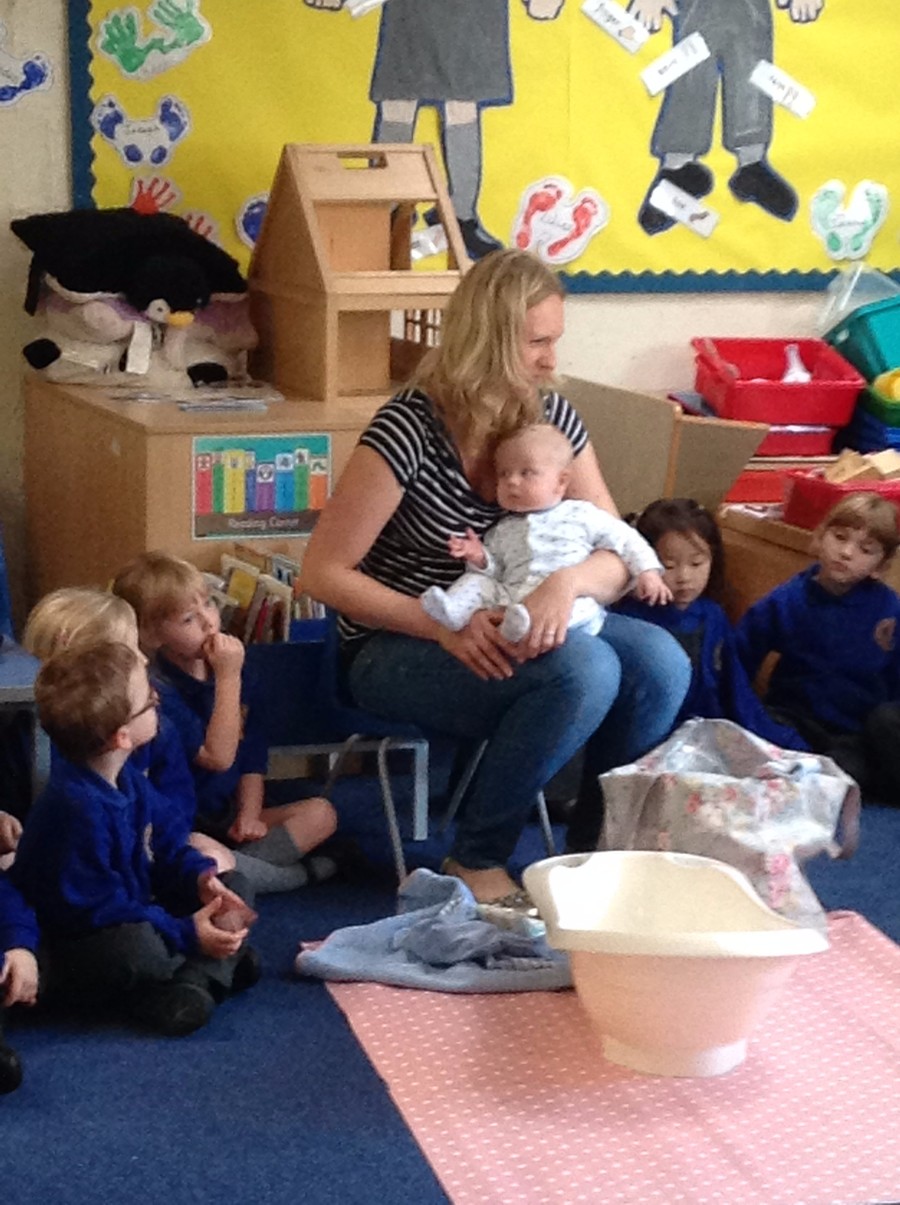 Our trip to see "We're Going on a Bear Hunt" was a great experience, we were amazed by the scenery and puppets.
We all enjoyed a Teddy Bear's Picnic. We made our own bread and made scrummy sandwiches. A good time was had by all. It was the end of a busy bear week with lots of art and drama activities.
To celebrate Bonfire Night we used the splatter technique to create firework pictures.
Many thanks to Mr Pickles who helped us plant bulbs to brighten up the outdoor area in Spring.
We had a fantastic Nursery Rhyme Concert with some amazing costumes. Thank you for all your support, we hope you enjoyed it.
As part of becoming more independent we have been learning about the importance of hand washing. We took part in an experiment to see how germs can spread. We used glitter and touched each others hands- we were surprised by how far it travelled! We are now washing our hands very thoroughly!
We celebrated the Jewish New Year festival by dipping apples into honey- they were very yummy!
The children have settled really well into Reception!
In our first week we marked the occasion of the Queen becoming the longest serving British monarch. We made some fabulous crowns and drew pictures of the Queen.
Welcome to Reception
2015 - 16
Wheelie Day in Reception
Reception children took part in our Lenten fundraising activity by bringing in a wheeled vehicle. The children were sponsored to cycle, scoot, skate or push their wheels!!!
We had a fabulous time and were exhausted after the event. We are hoping to raise lots of money for CAFOD
Looking after Pets
Our friend Carol came from Southfields Veterinary Surgery. We found out about what happens when our pets are ill.
Chinese New Year
The Year of the Sheep
We went on a trip to China Town in Manchester.
We looked at the majestic Chinese Arch and then had lunch at the China Buffet restaurant.
We enjoyed a selection of starters including ribs. prawn crackers and spring rolls. This was followed by delicious main meals with rice and noodles. Finally, we were able to choose from a selection of deserts.
We had a fantastic time. The staff were amazing and looked after us so well.
Christmas Around the World
Poppies
We have created a Sea of Poppies, inspired by Paul Cummins.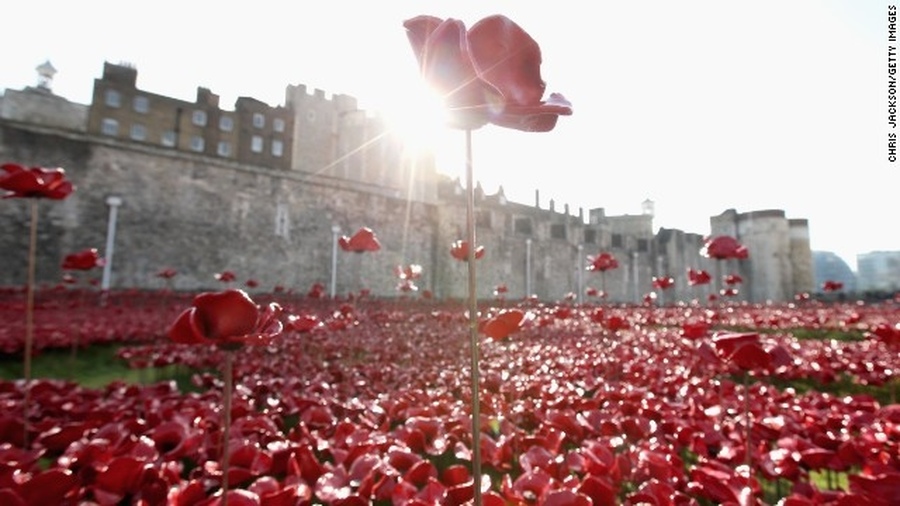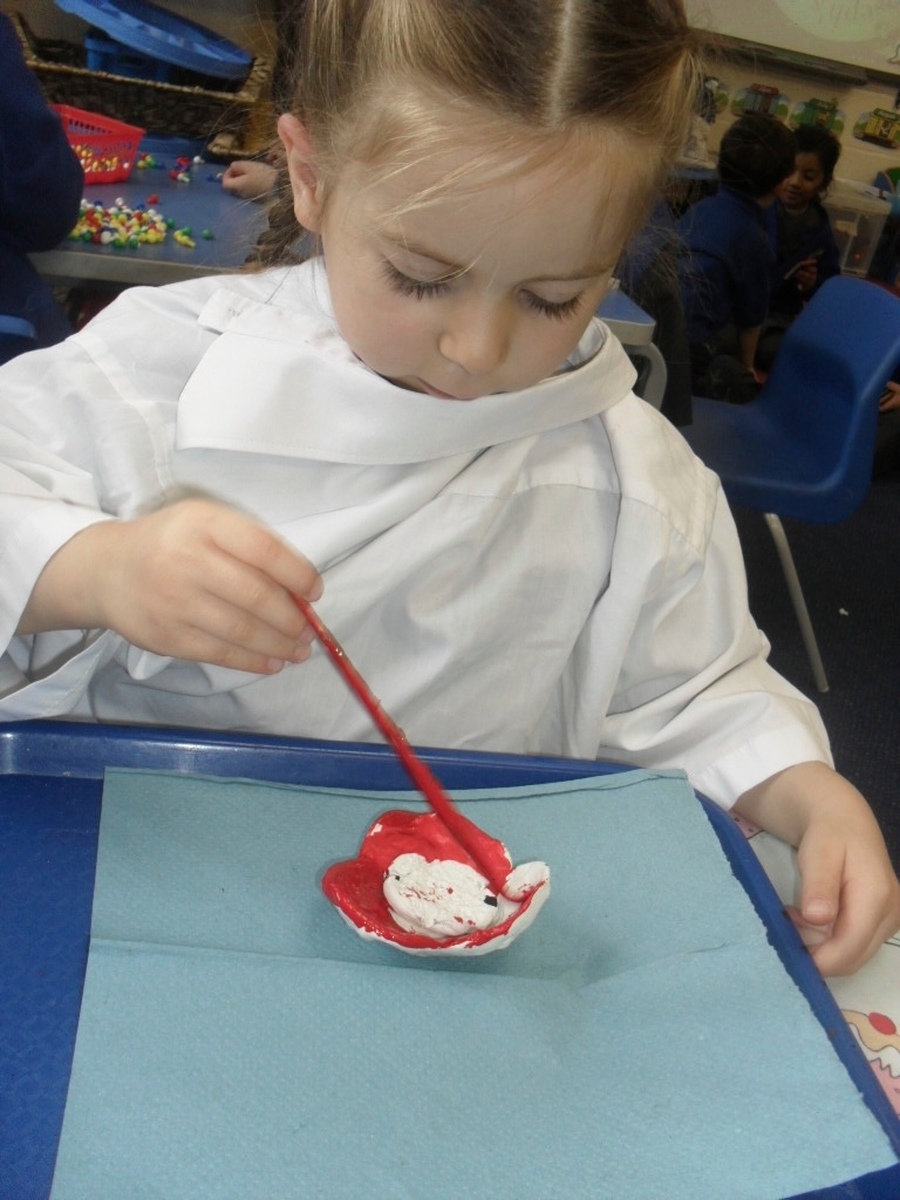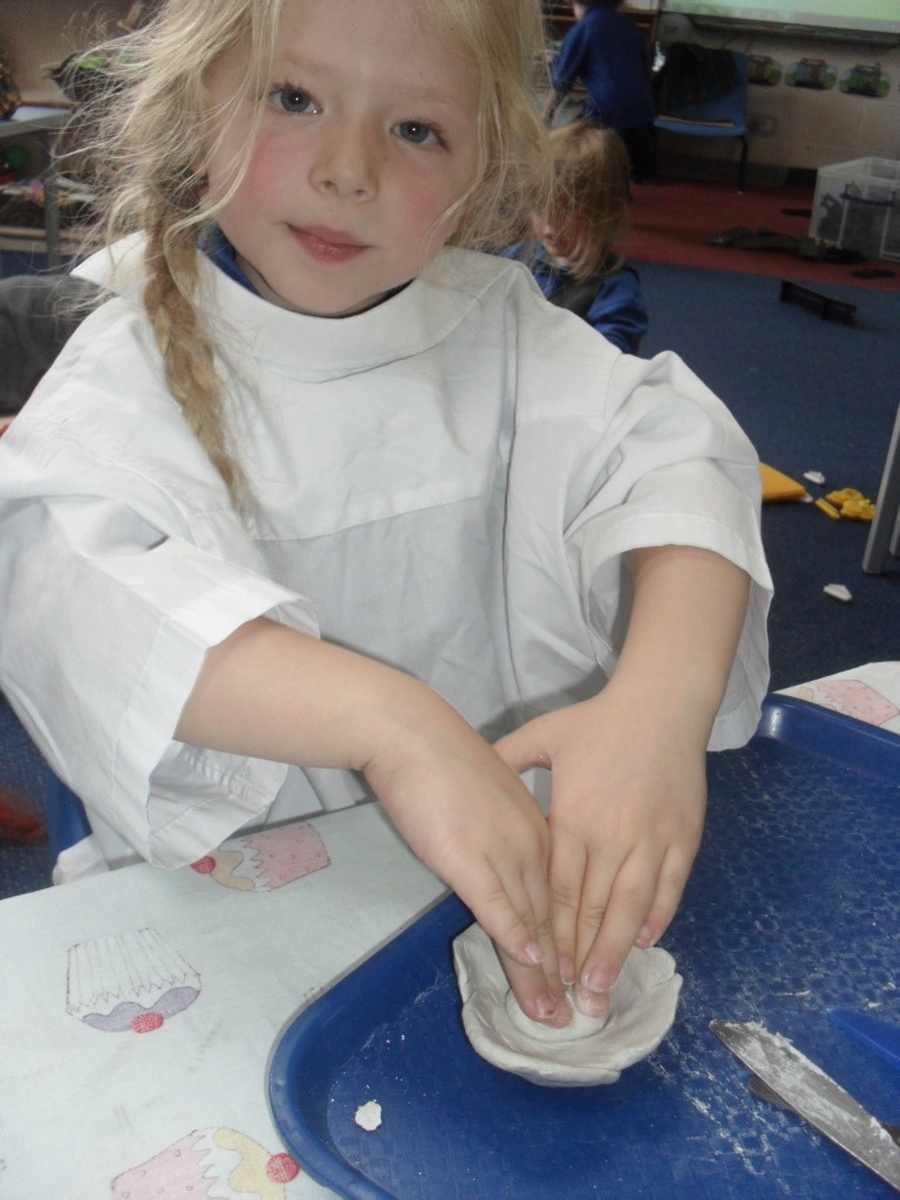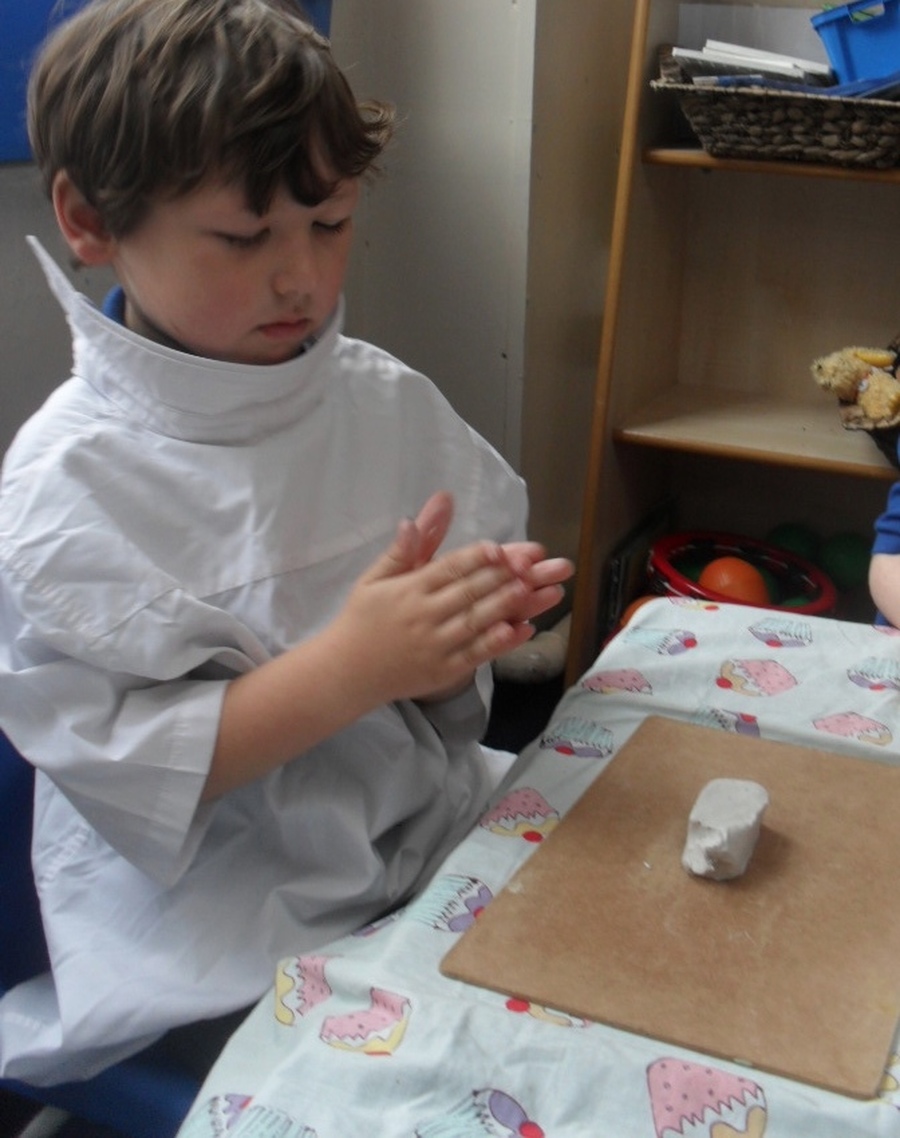 We all looked amazing and had great fun singing to a very proud audience of parents.
We have been busy planting daffodil bulbs. Our friend Mr.Pickles told us all about roots and shoots!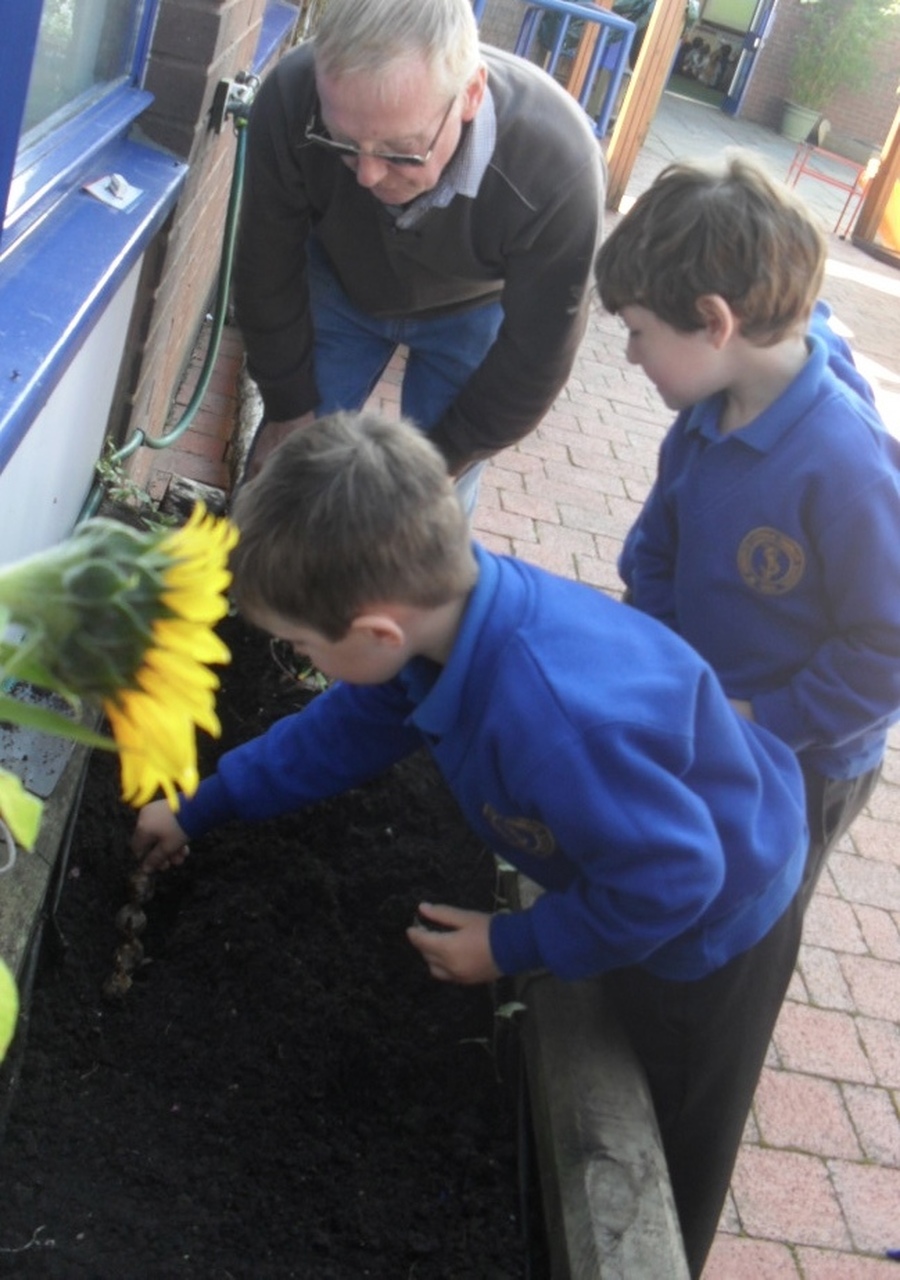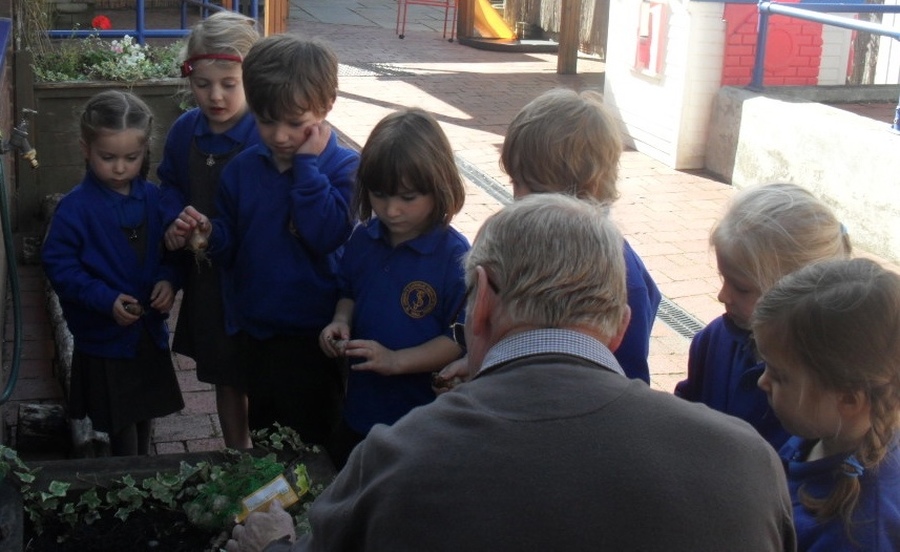 Baby Xander came to have a bath at St.Joseph's.
We found out that a baby needs lots of care and attention and how much we grow and change.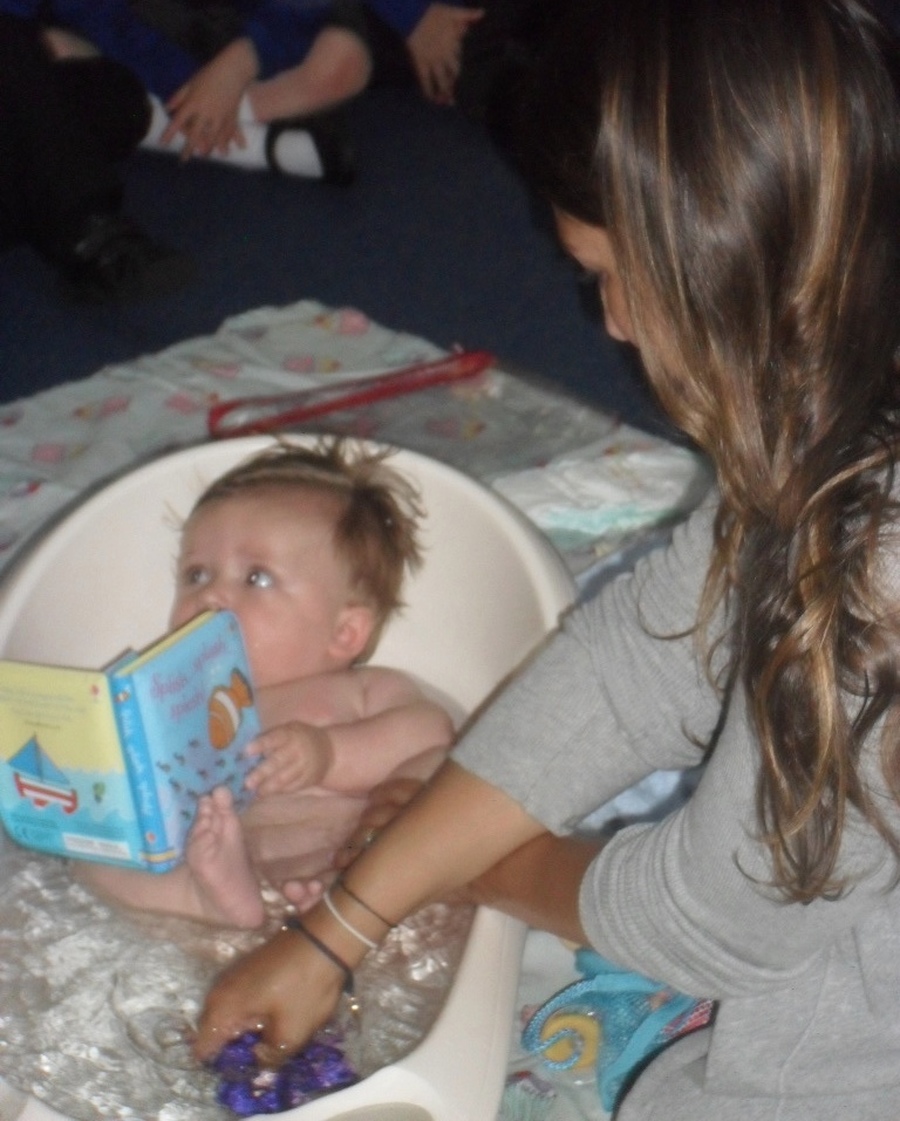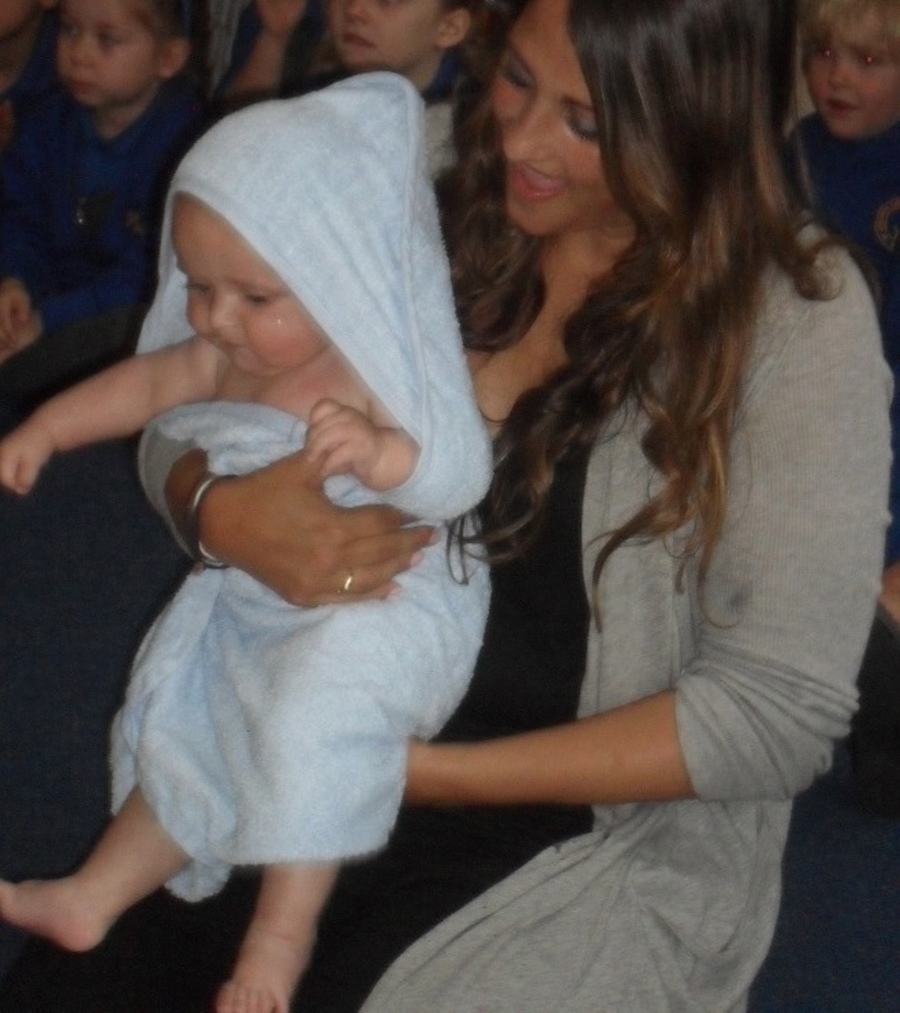 We loved painting our hands and feet!! We are all very special.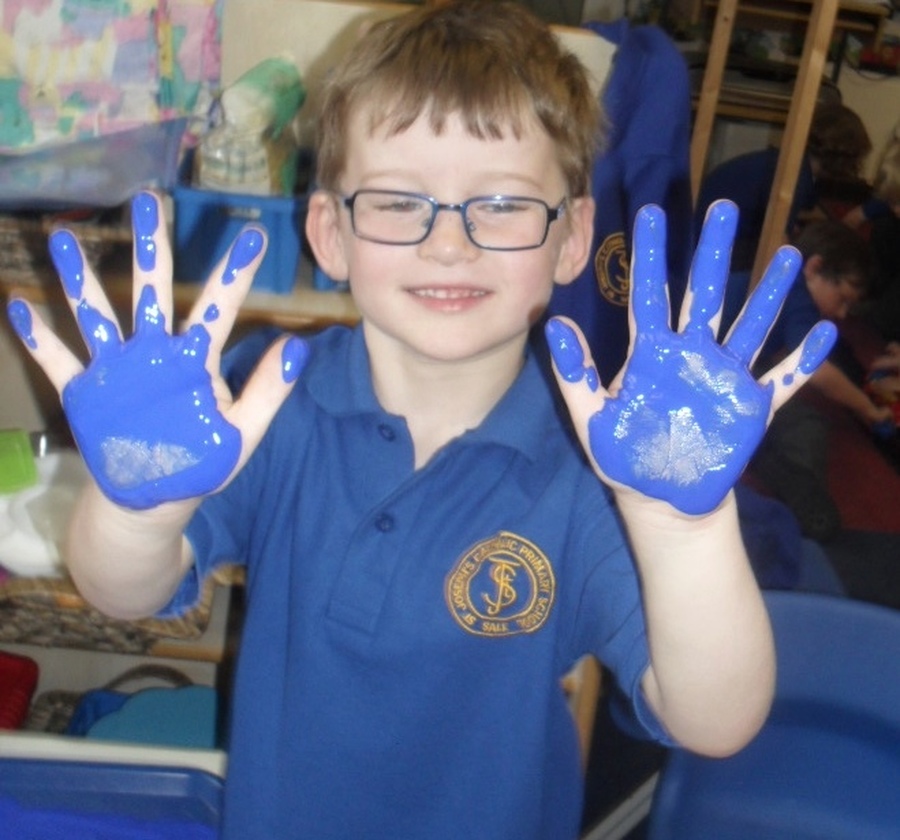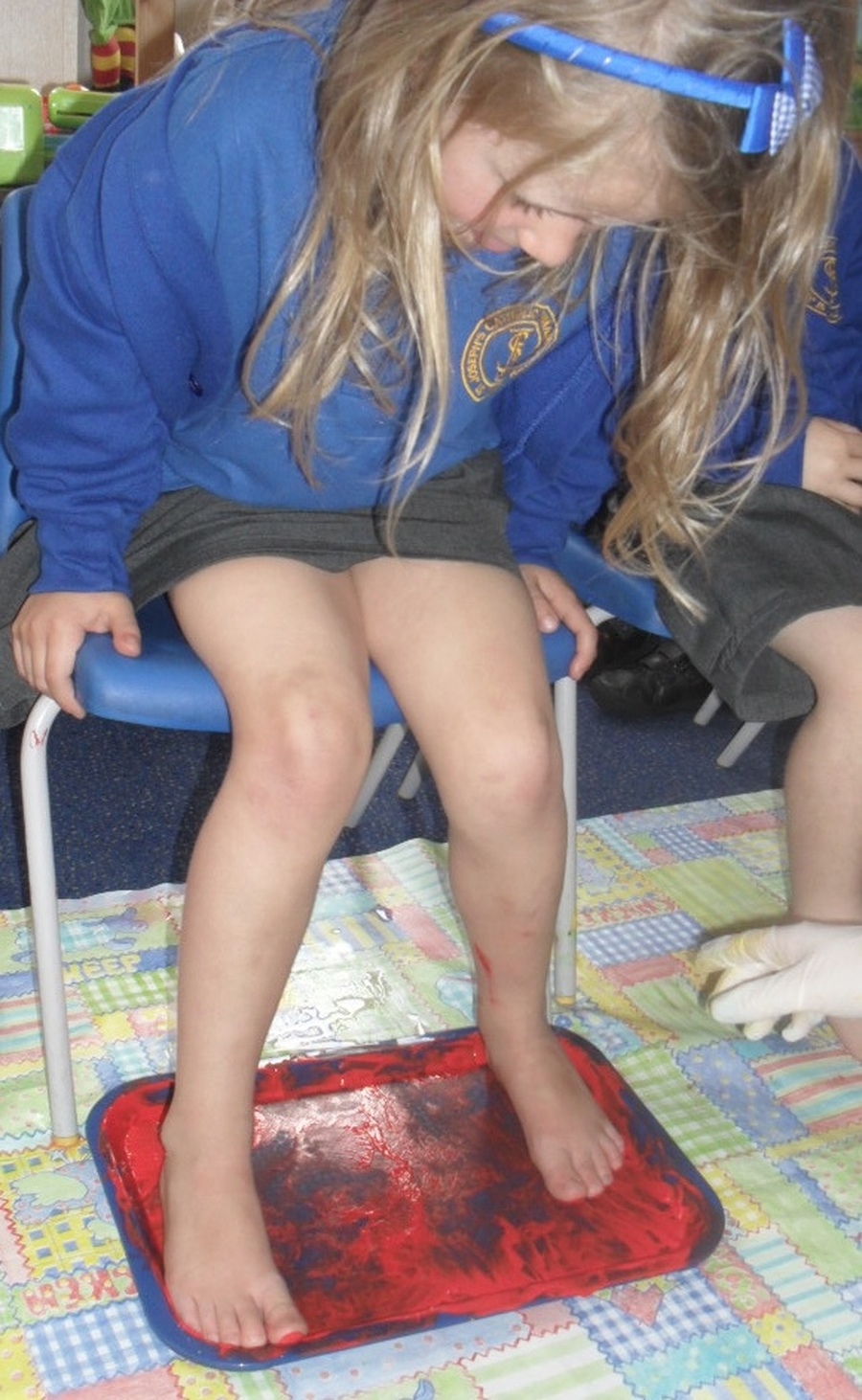 We have been finding out how germs get everywhere and the importance of washing our hands. We experimented with glitter to see how easily germs can be transferred.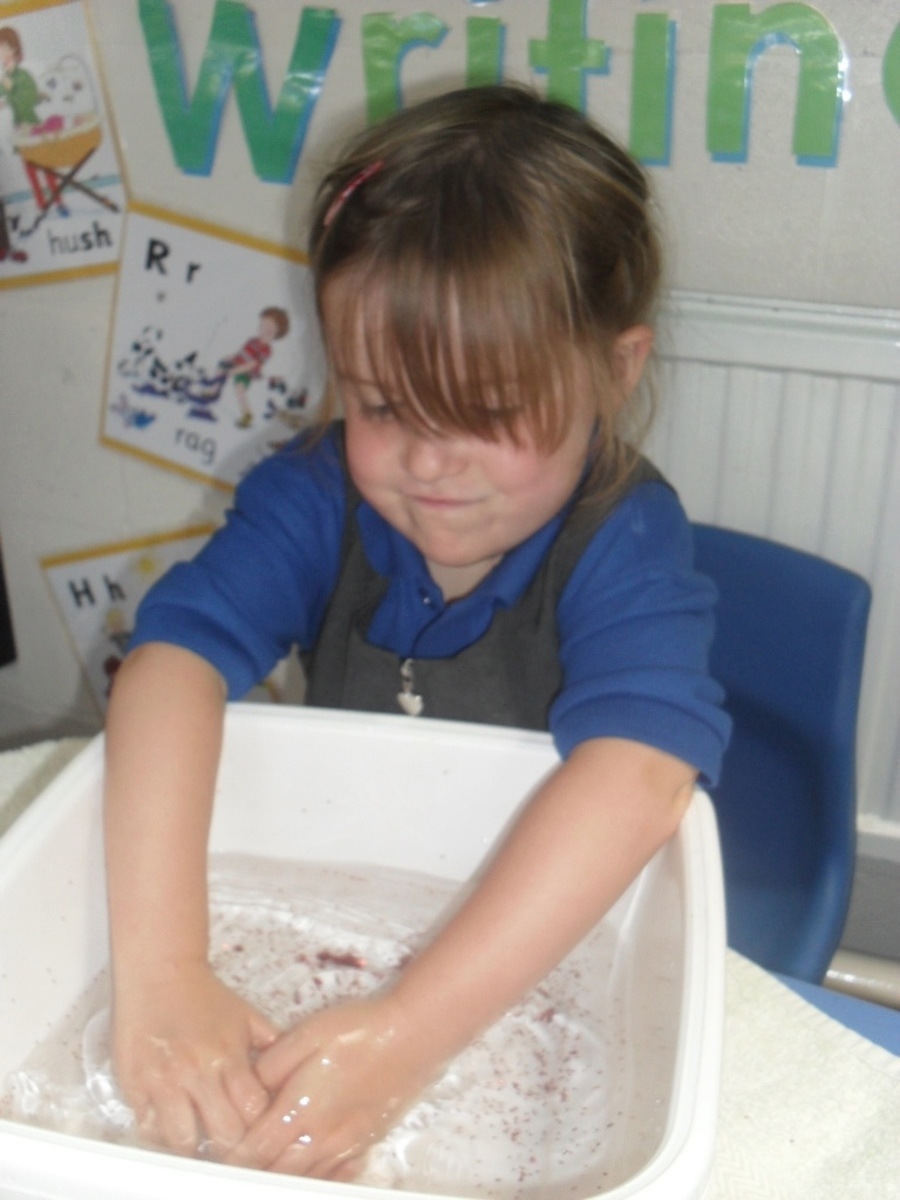 Welcome to our new
Reception Class
2014-15
Thank you Reception!!! We have had a wonderful year with you and look forward to seeing you on the next stage of your Learning Journey.
We had a great day dressing up as Pirates. Some children had stolen gold from the Captain and had to "Walk the Plank".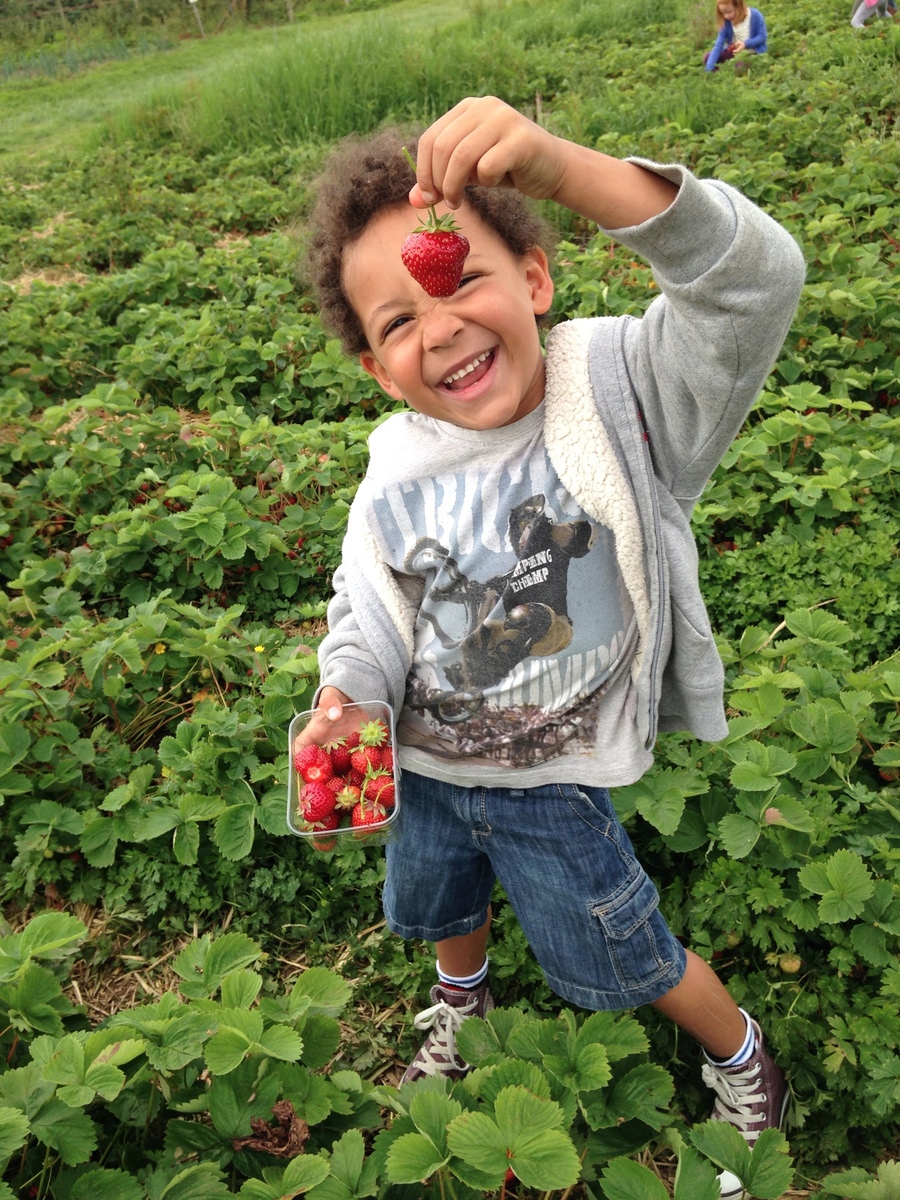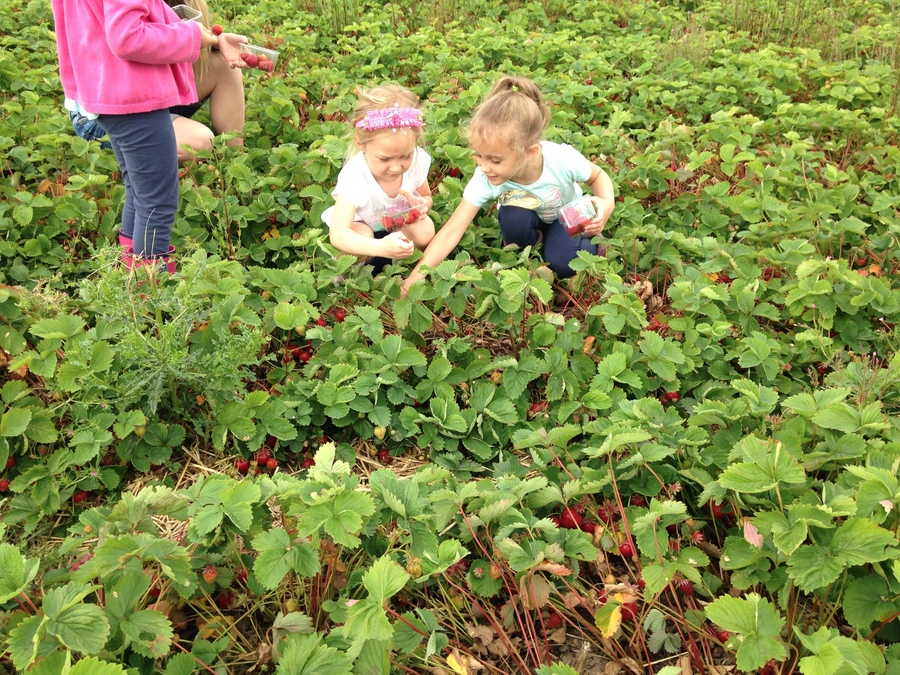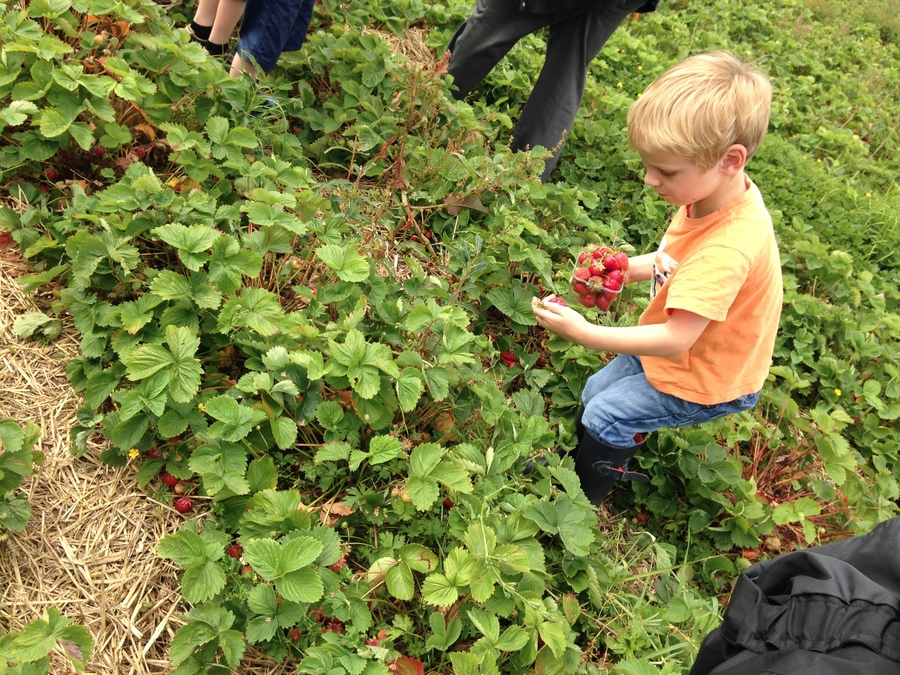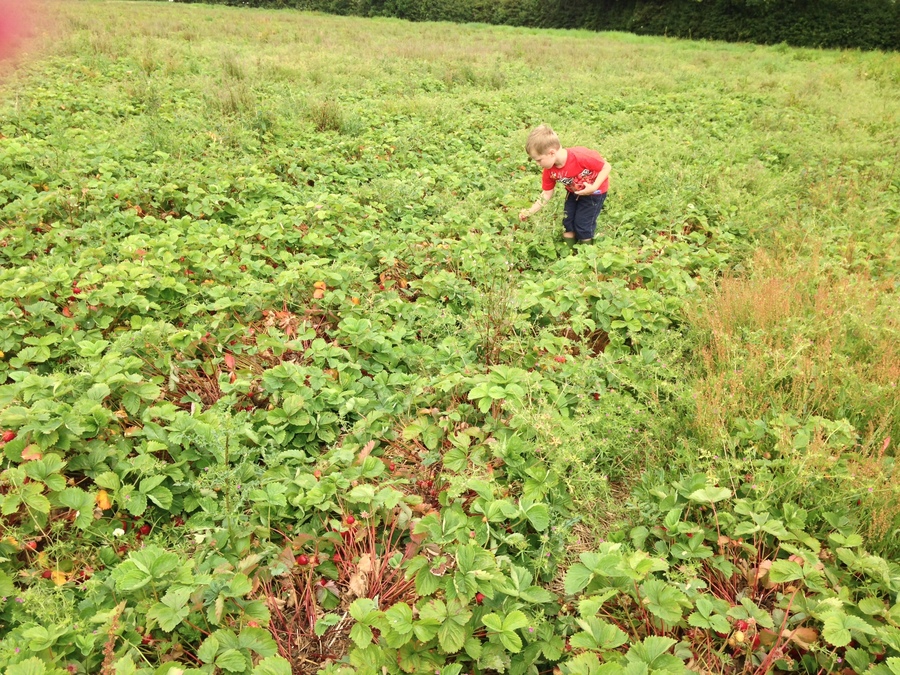 We had a great time picking strawberries at Kenyon Hall Farm. We looked at all the different summer fruits and in the herb garden.
We used some of our strawberries to make strawberry jam - delicious!!
As part of our World Cup topic, we have been looking at the Brazilian Rainforest.
We have made our own recording of sounds you might hear in a rainforest.
We made butterfly cakes - delicious!!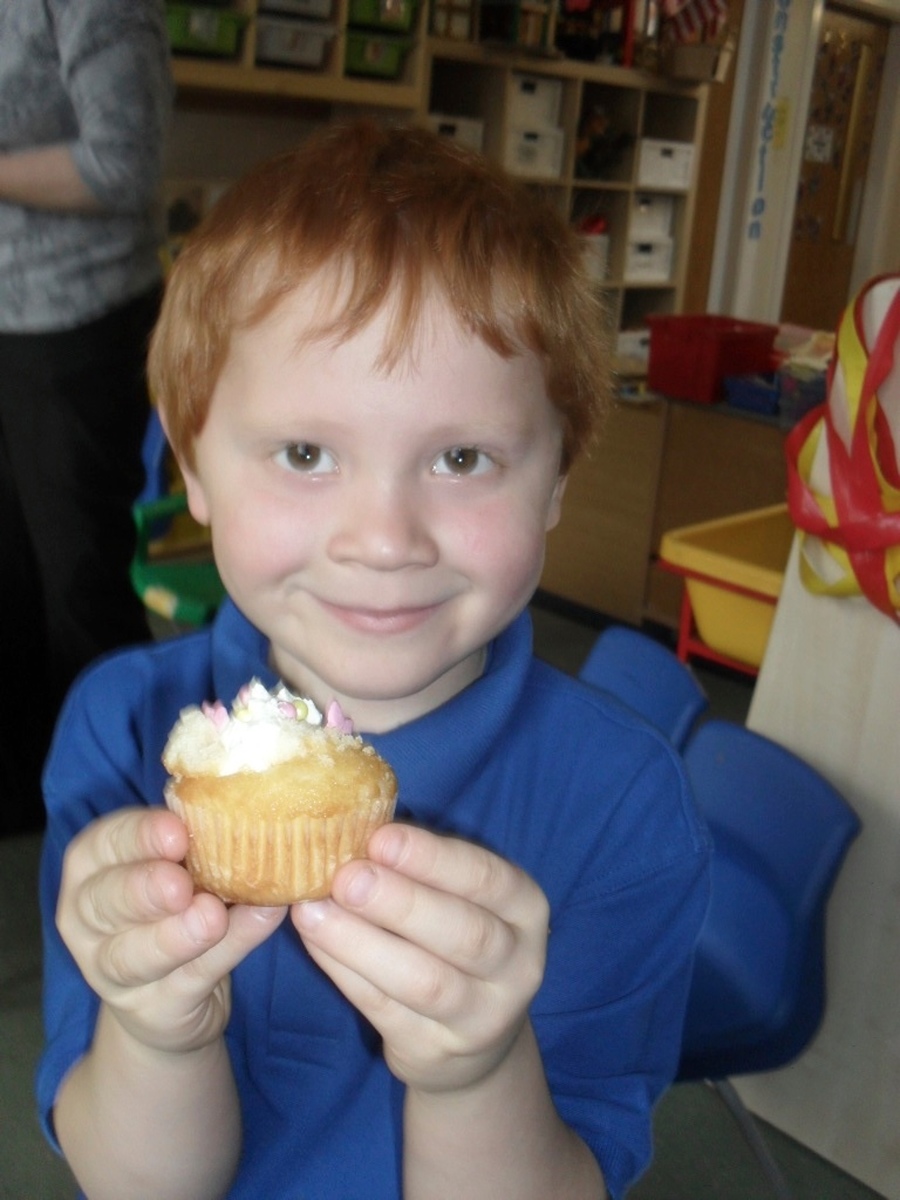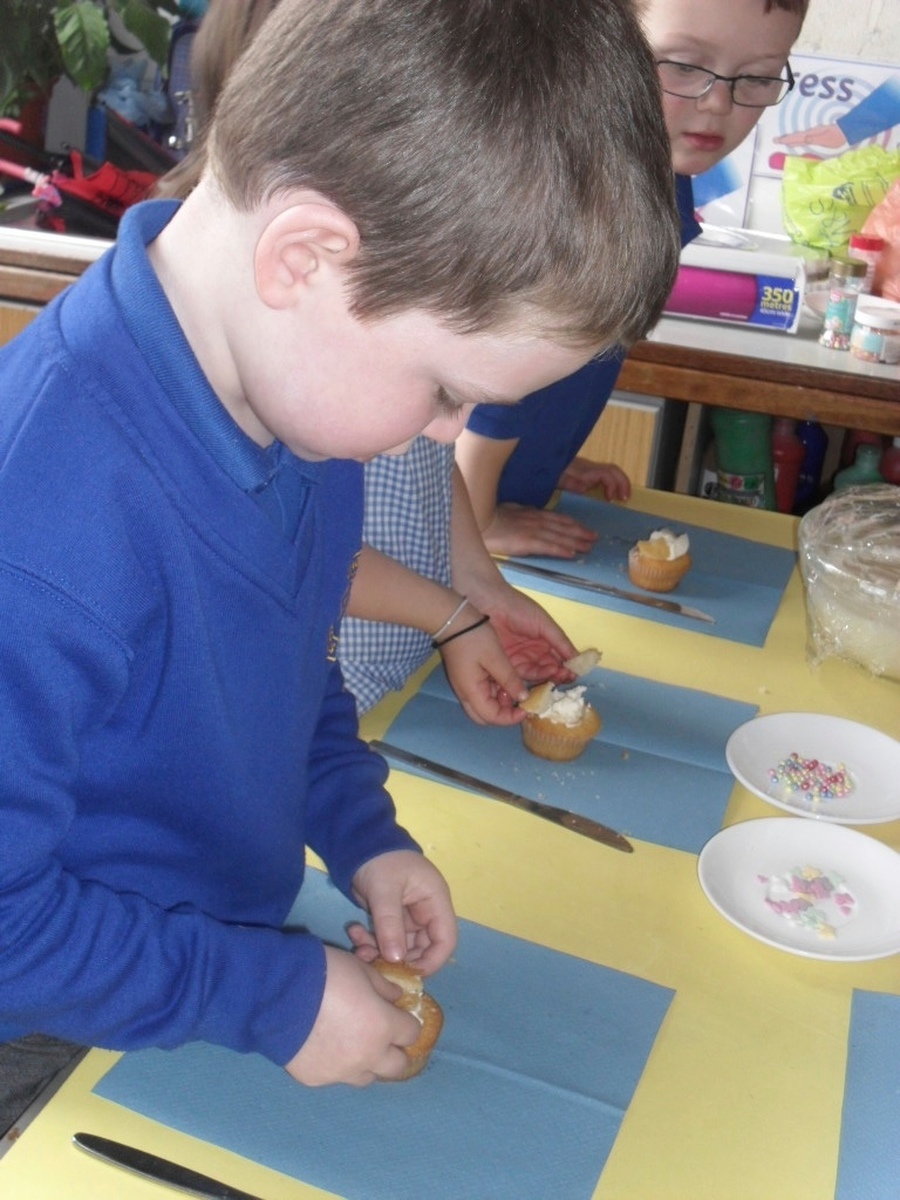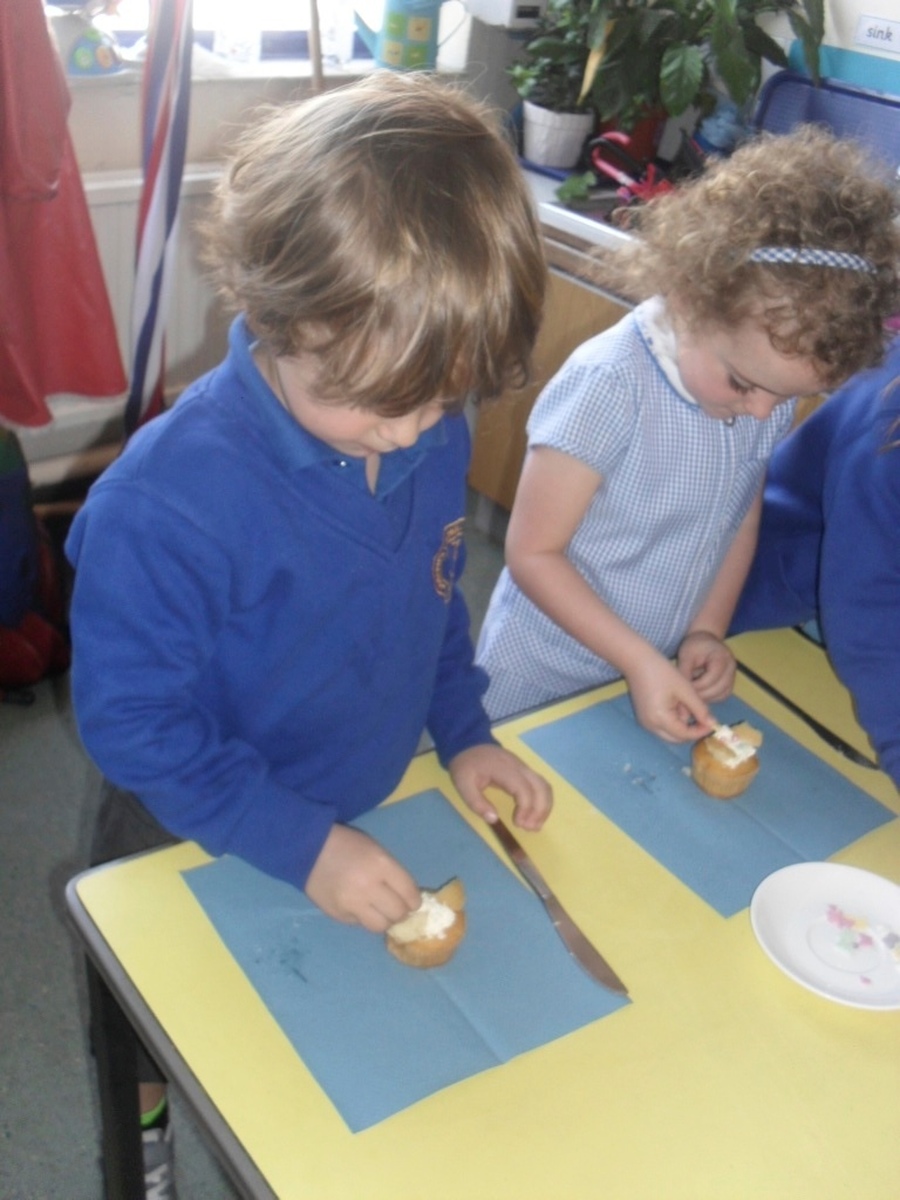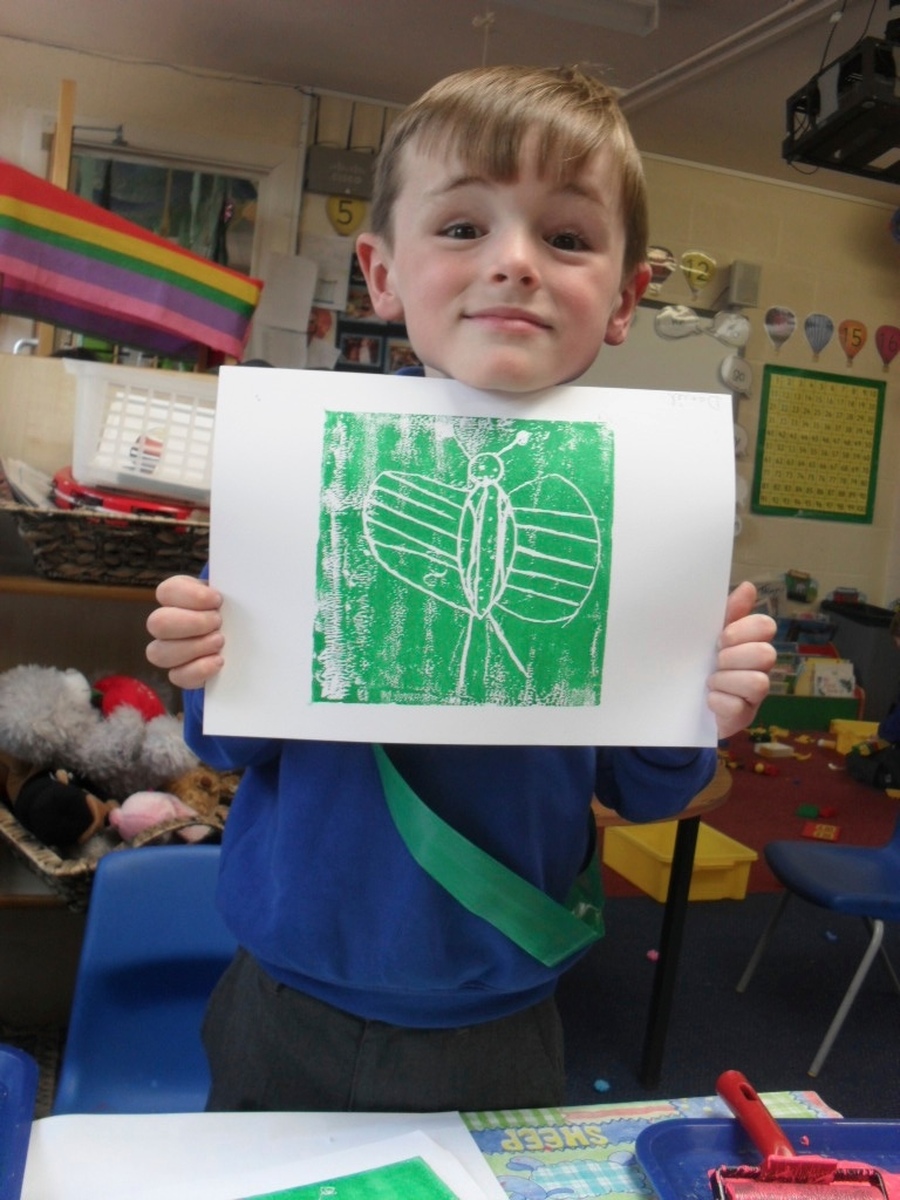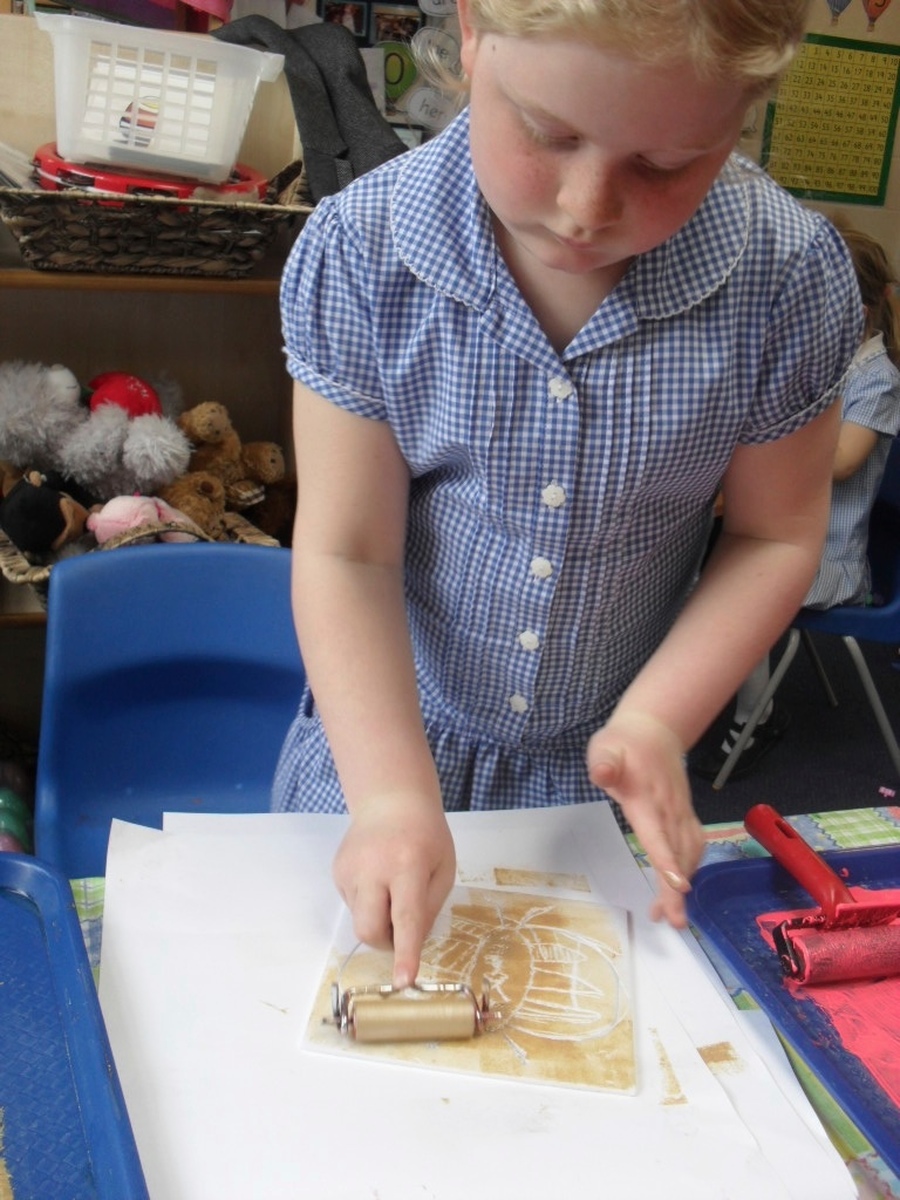 You had to be really strong to roll the printing ink on to the polystyrene!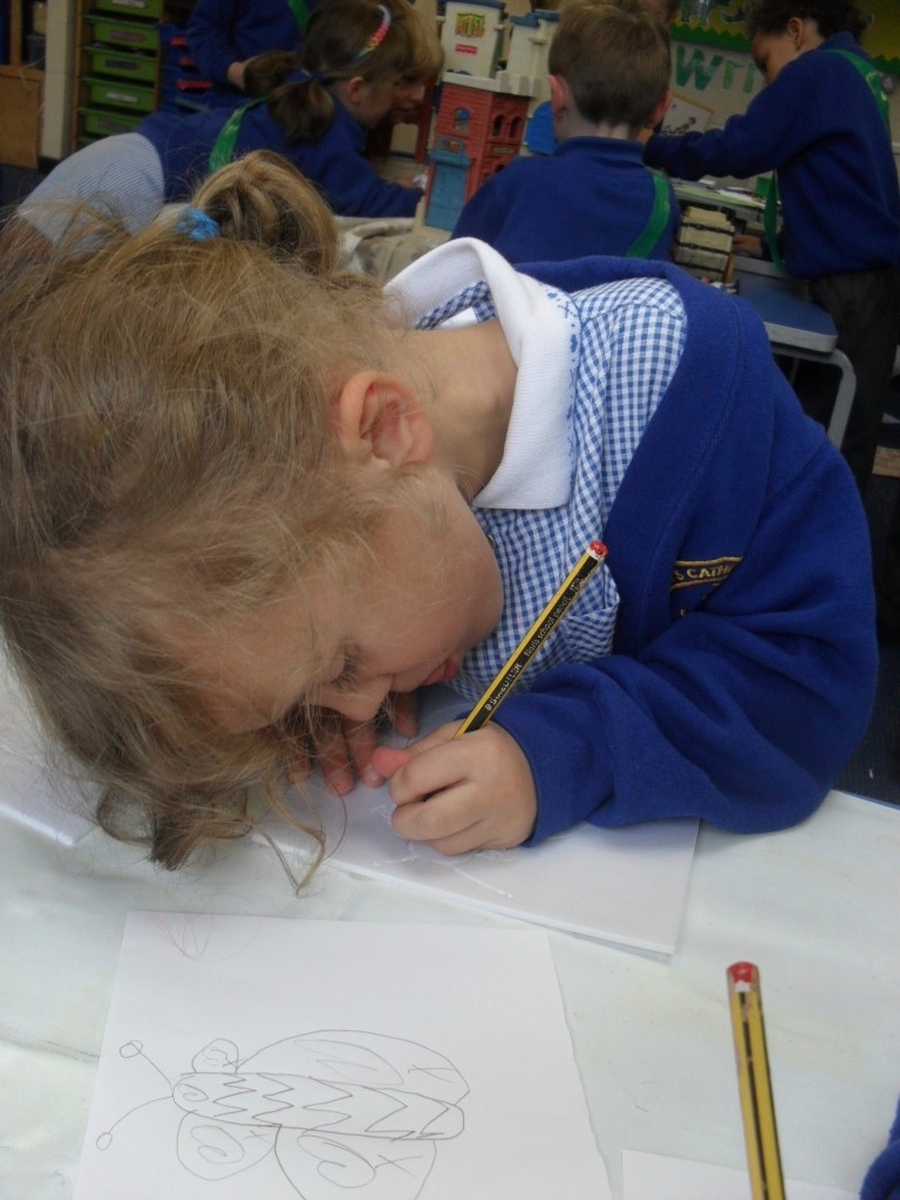 It was really tricky drawing a design on polystyrene.
Five Hungry Caterpillars!
Over four weeks we watched are caterpillars grow and form a chrysalis. We saw them turn in to butterflies. We set them free and watched them fly away.
One of our butterflies rested on this clematis flower.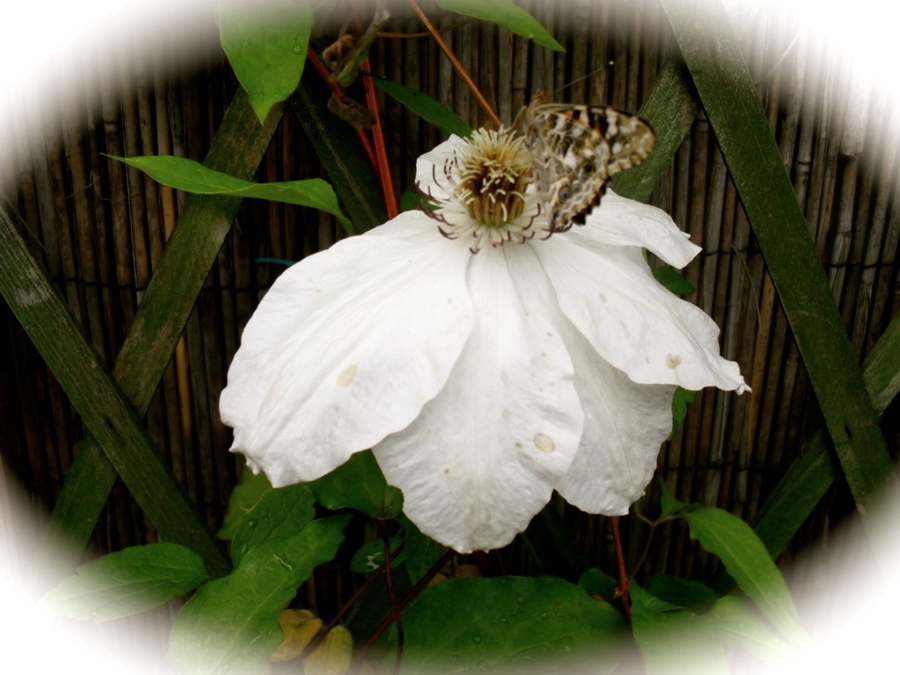 A butterfly emerged from the chrysalis.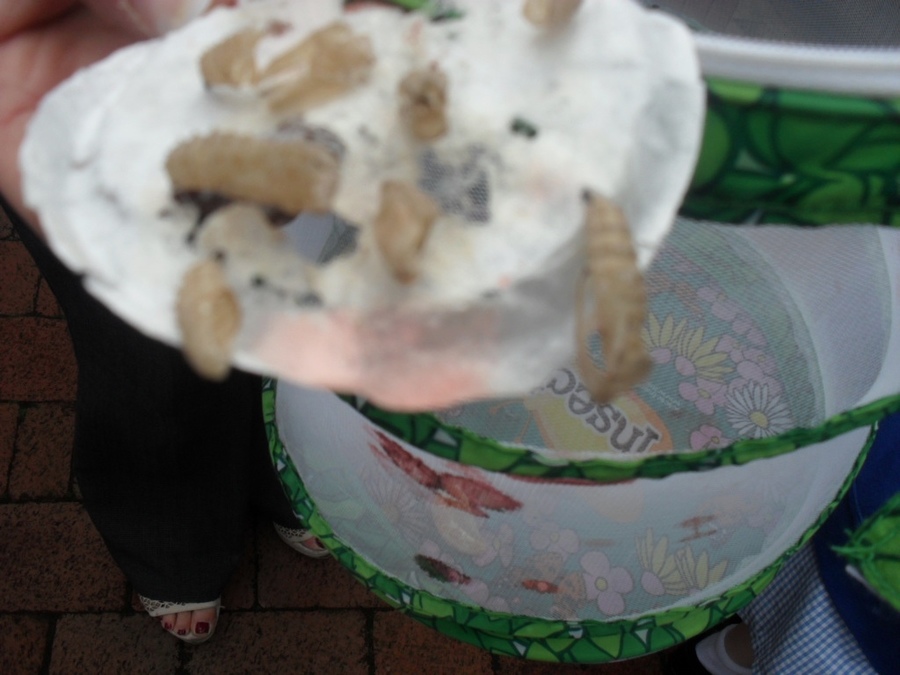 The caterpillars were so small when we got them we could hardly see them. They started to to eat and for longer and bigger!!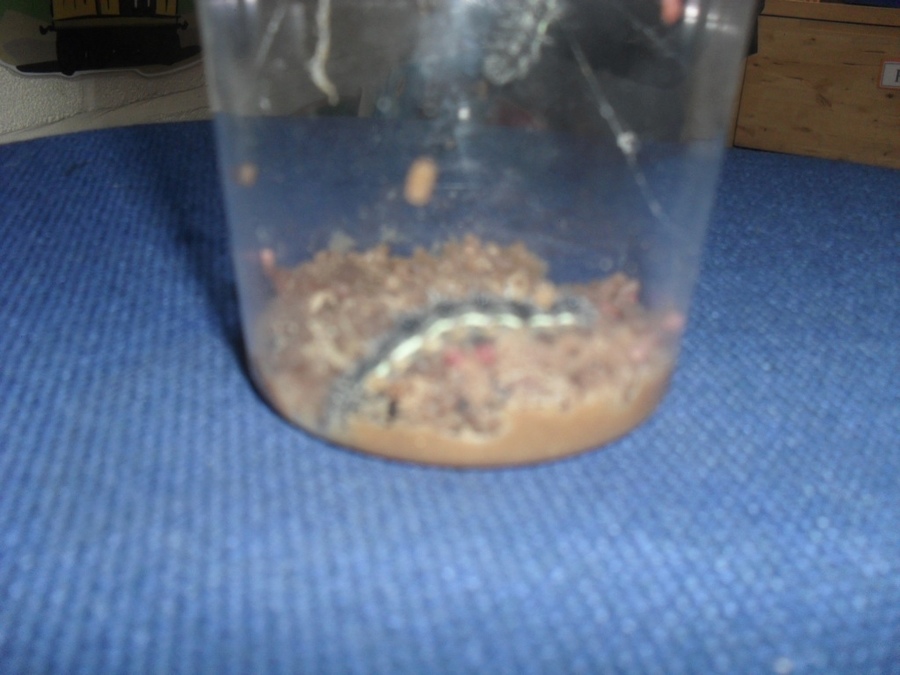 St George's Day celebrations
We had great fun dancing around the maypole!!
Reception Young Voices Concert
Our ten week music project with Trafford Music Service culminated in a concert for parents and grandparents. All the children were in great voice and enjoyed singing their repertoire of songs.
Chick, chick,chick, chick, chicken….Lay a little egg for me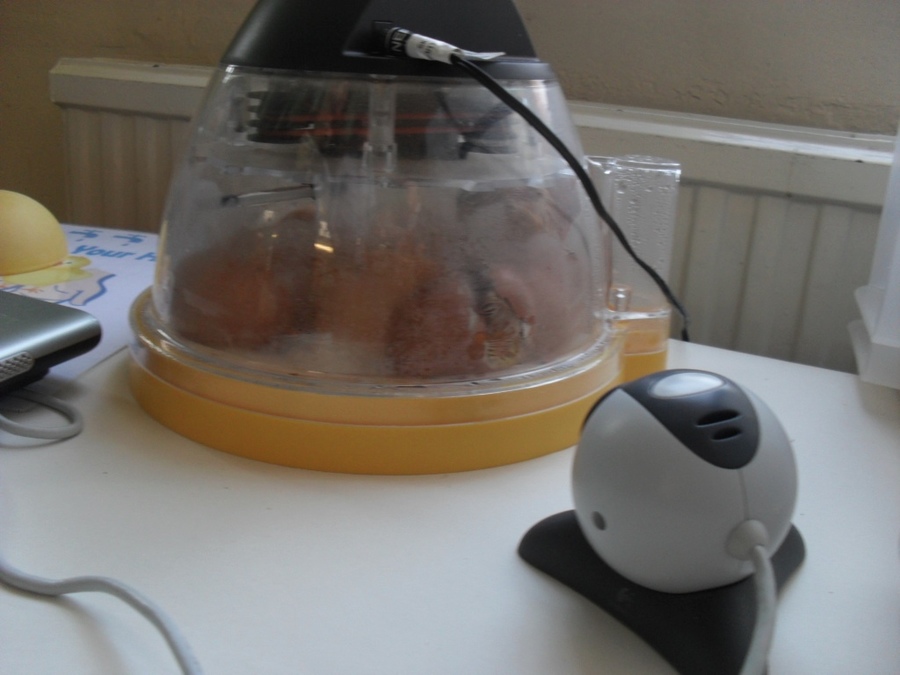 Look closely to see the chick
Spring is here and we have watched eight chicks hatch. They were very skinny and wet when they were born, but soon fluffed up under the heat lamp.
Bowland Mobile Farm
I went to visit a farm one day……………………….
What a fantastic day we had!! Farmer David and Farmer Sophie brought lots of animals to our school. We held ducks and chicks and stroked the alpacas!!
Farmer David catching a "sheep".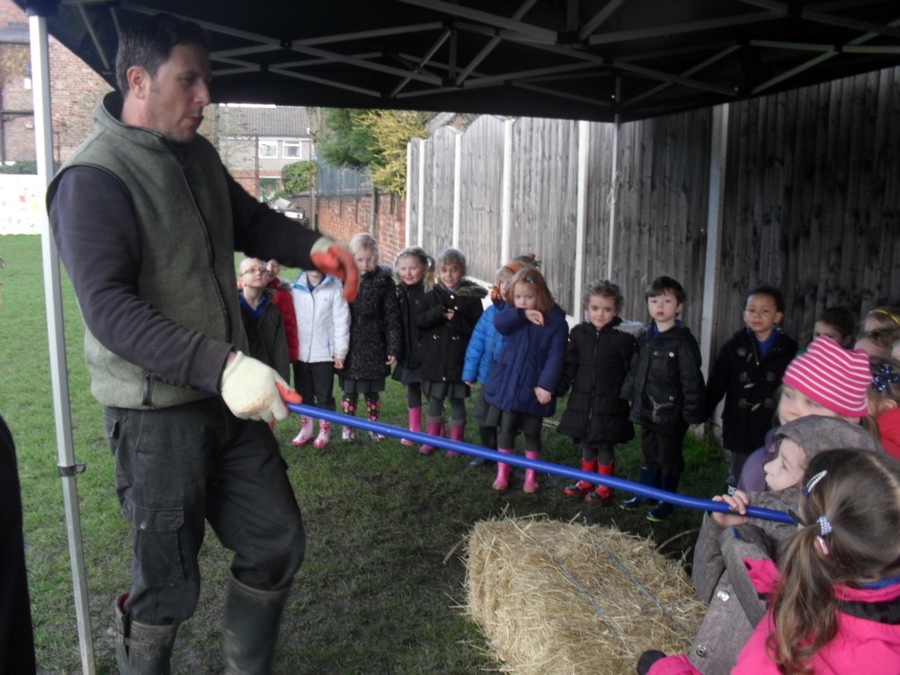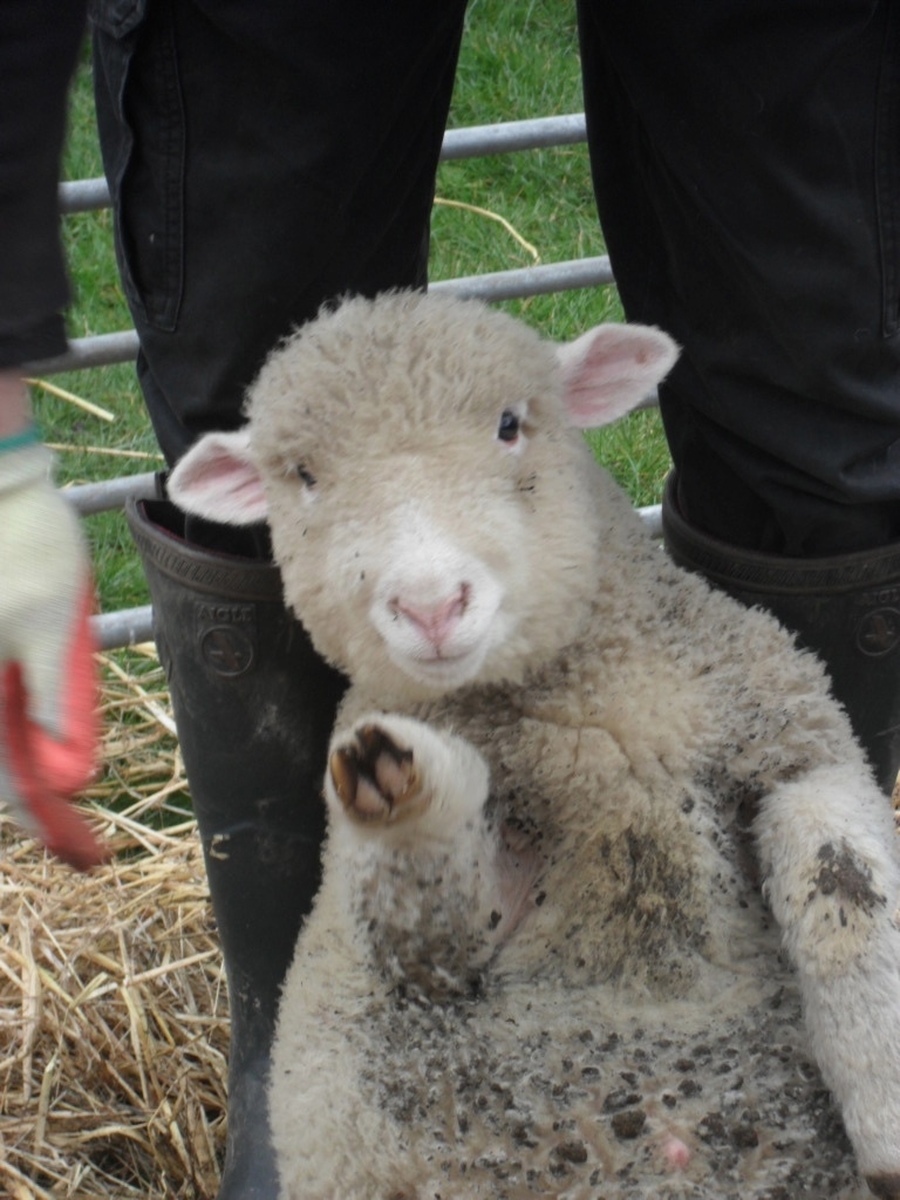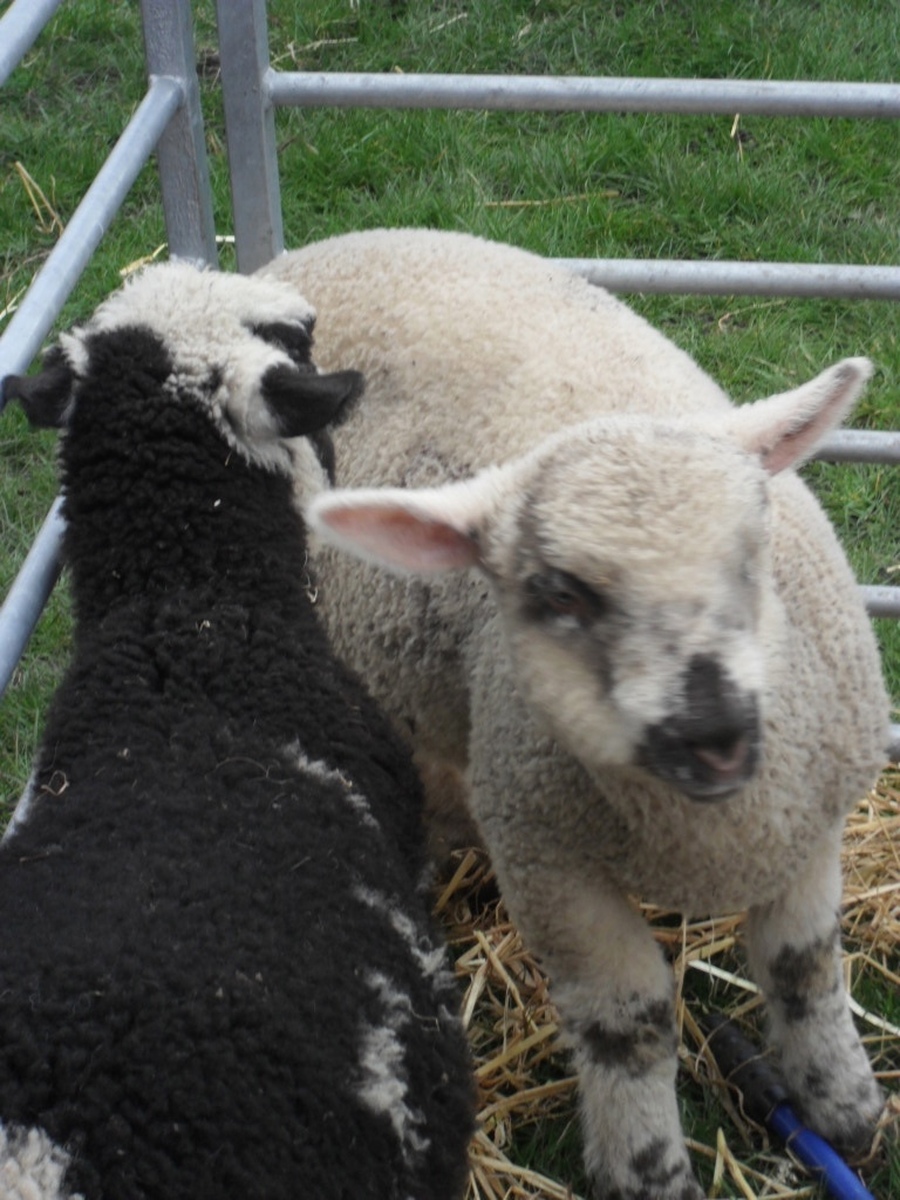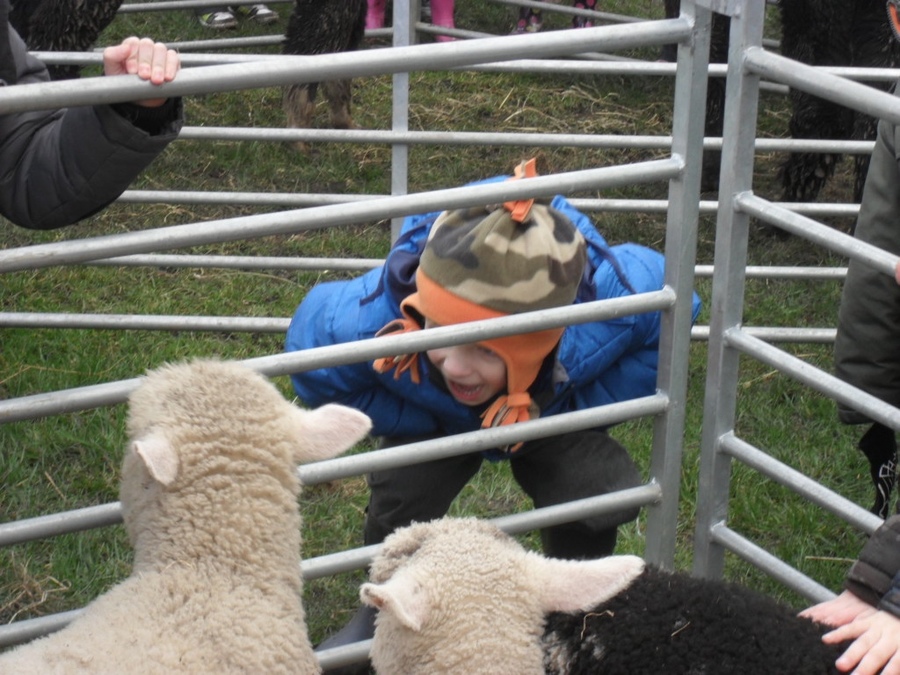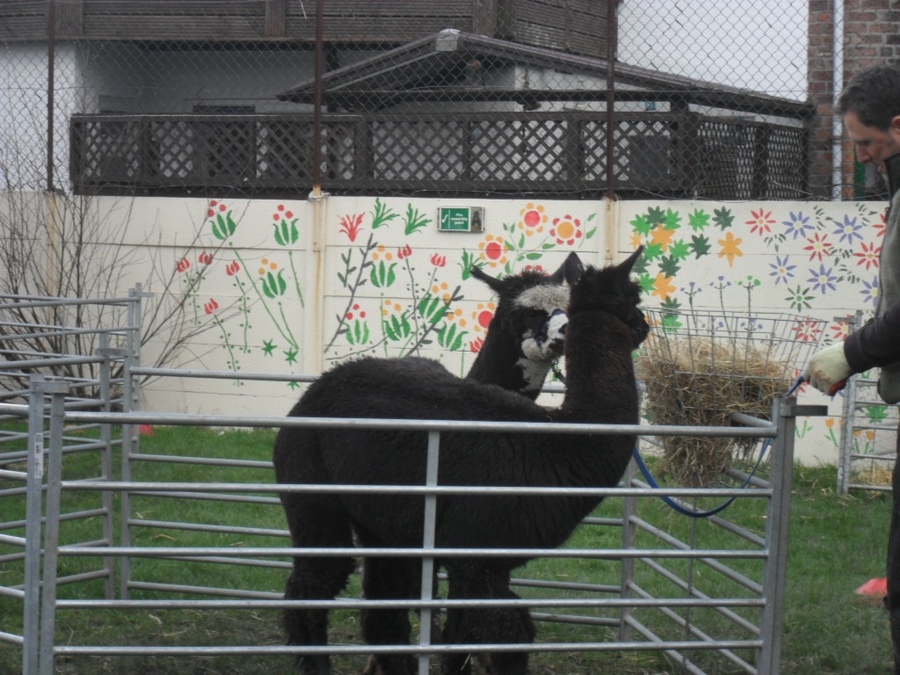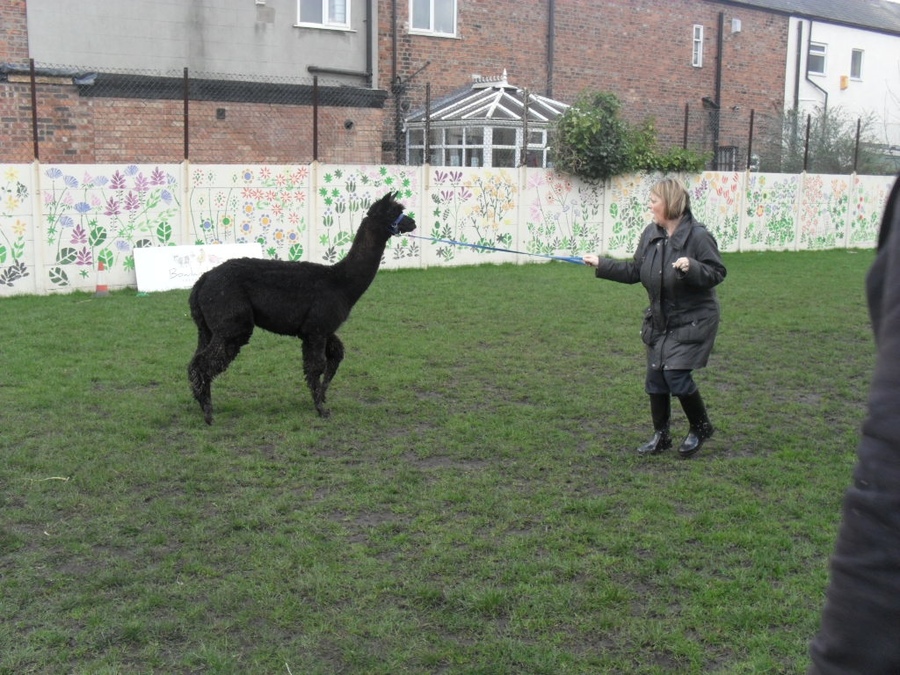 Mrs Kettle usually walks her dog Louis!
Mrs Kettle had to get the ducks in the pen!!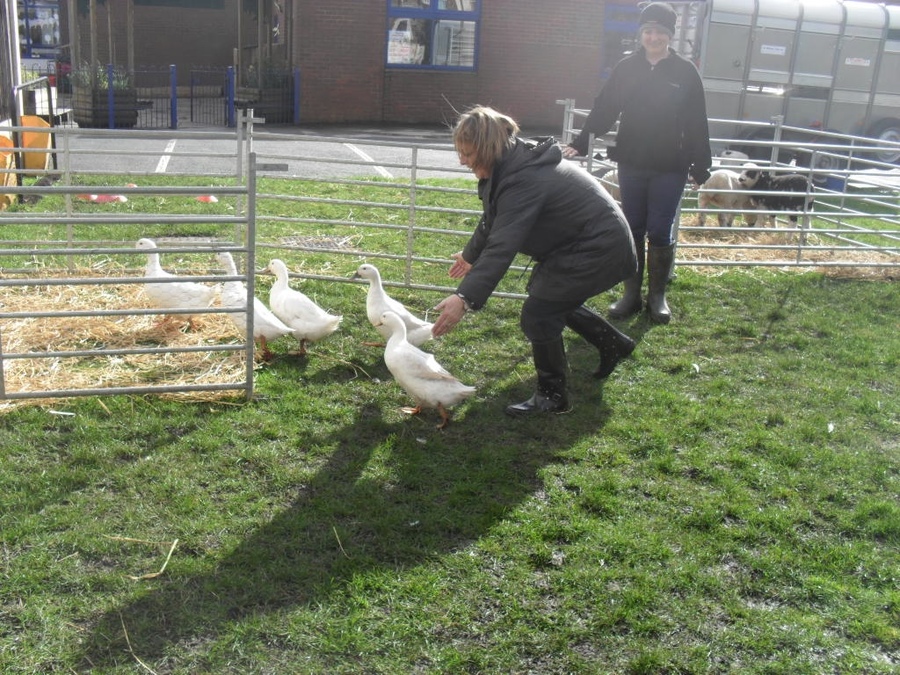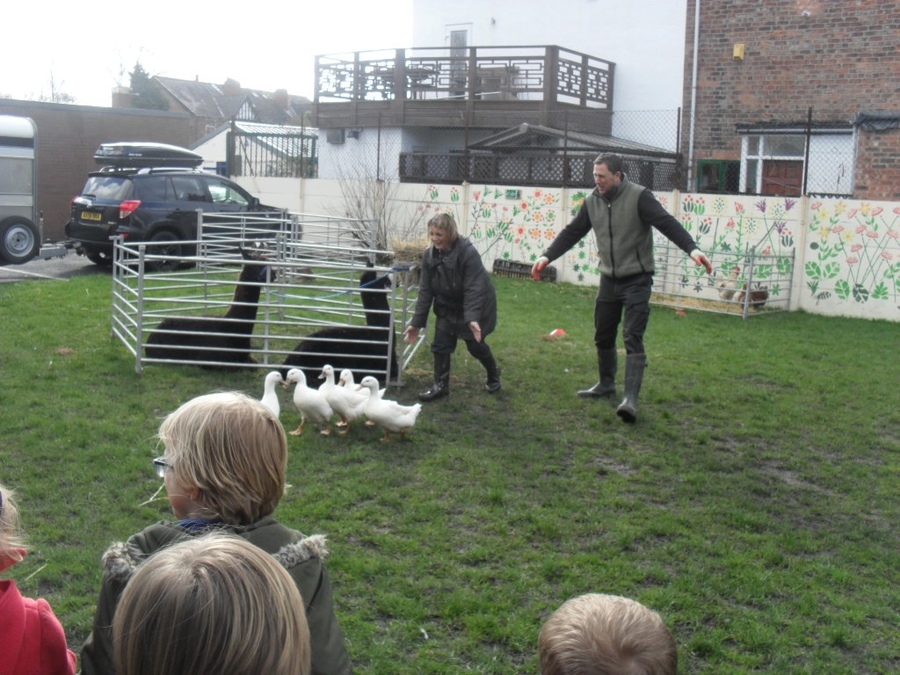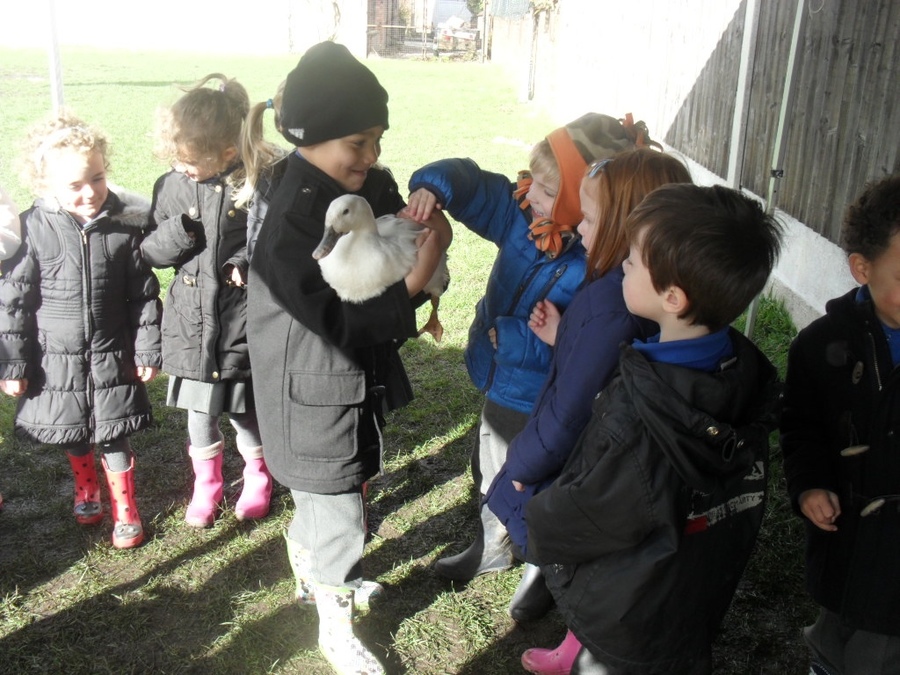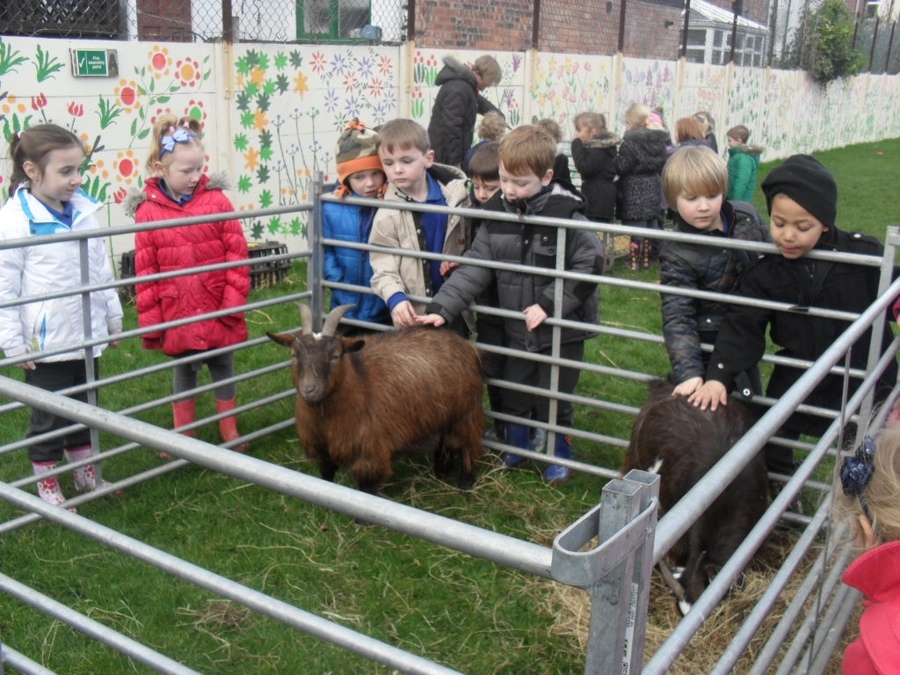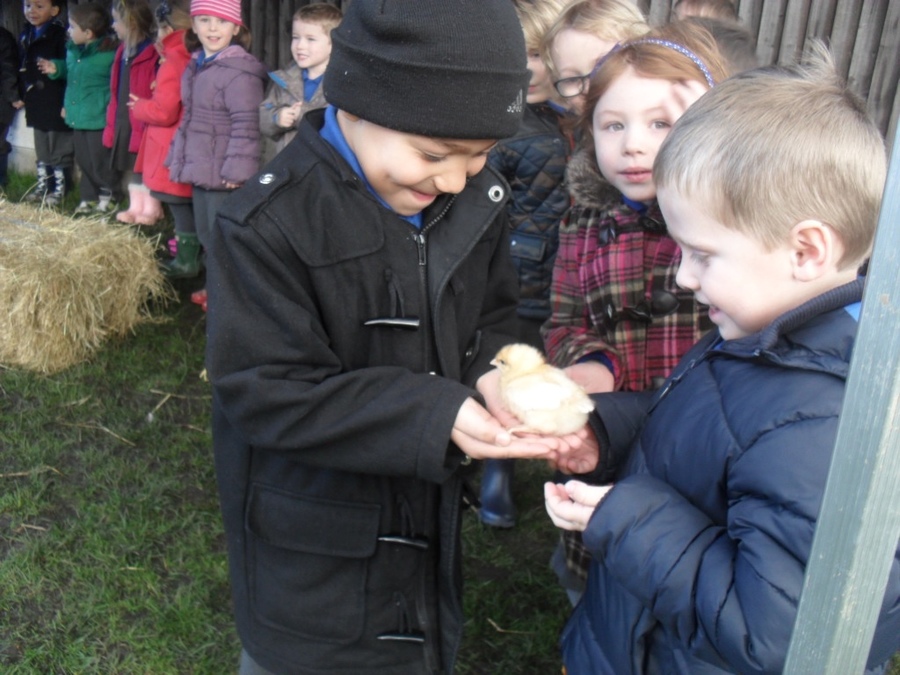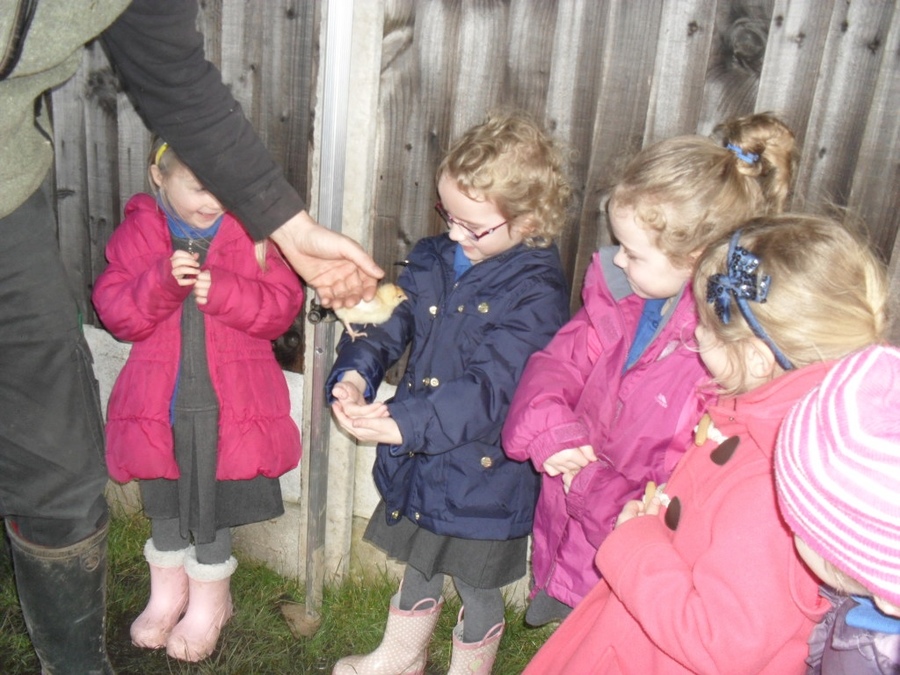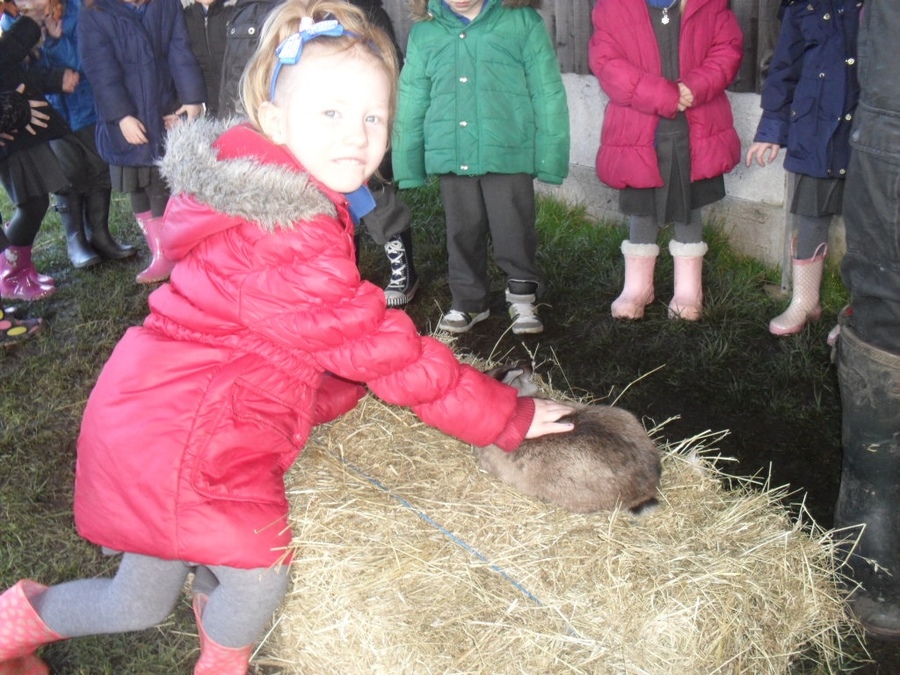 The rabbit was very friendly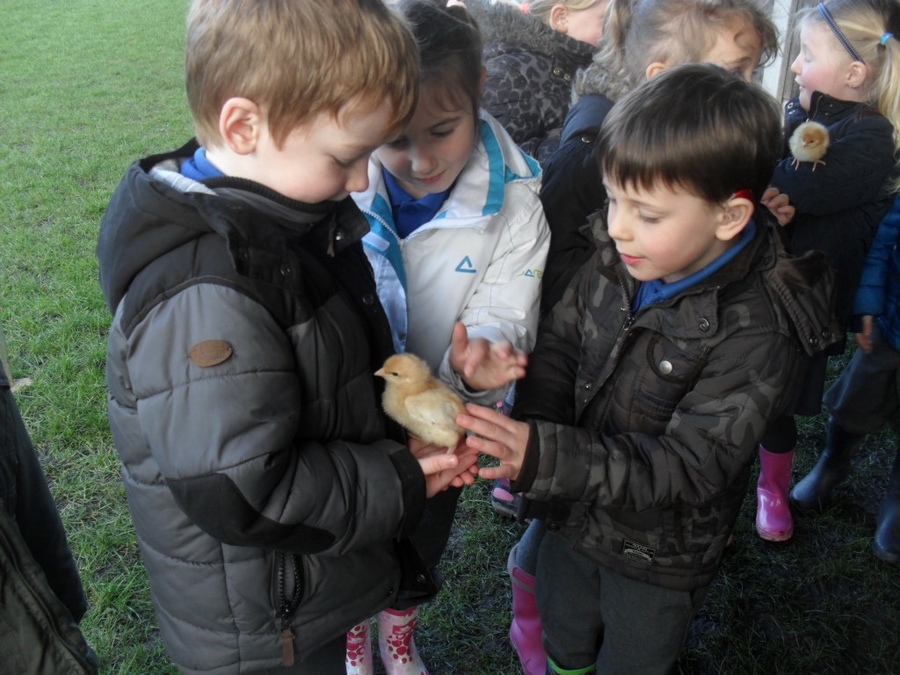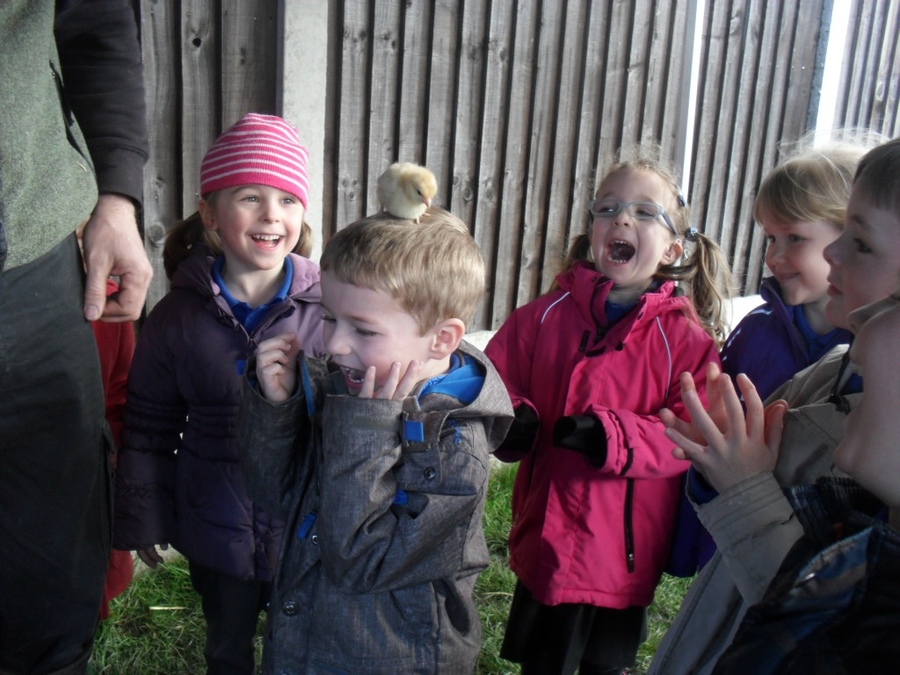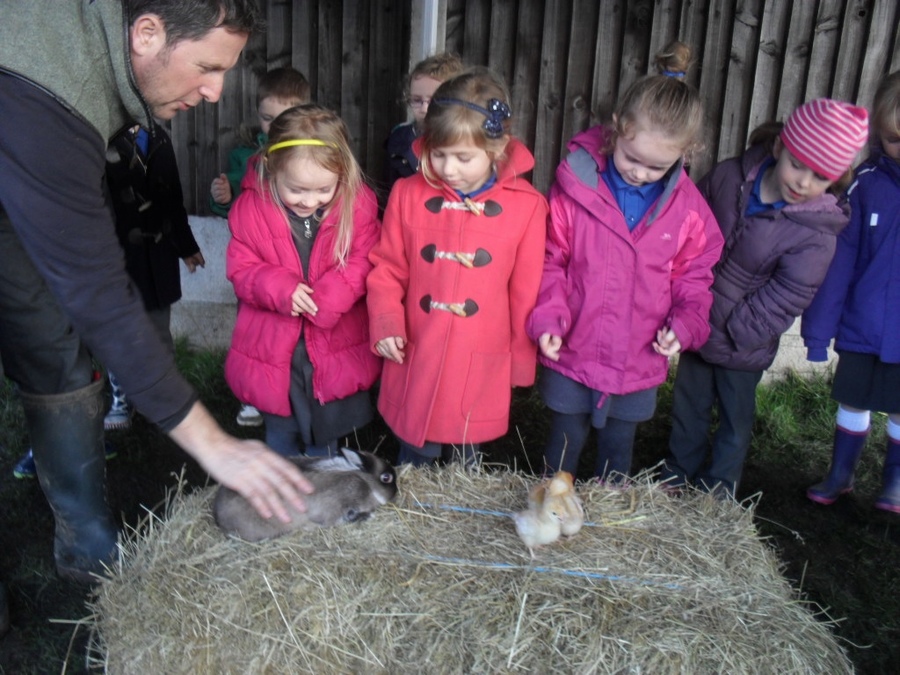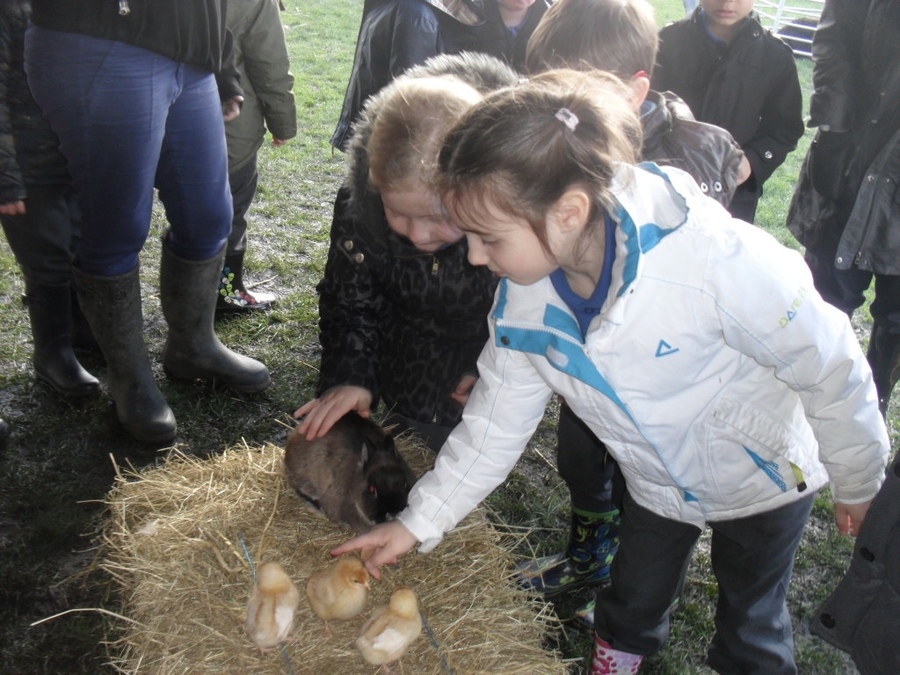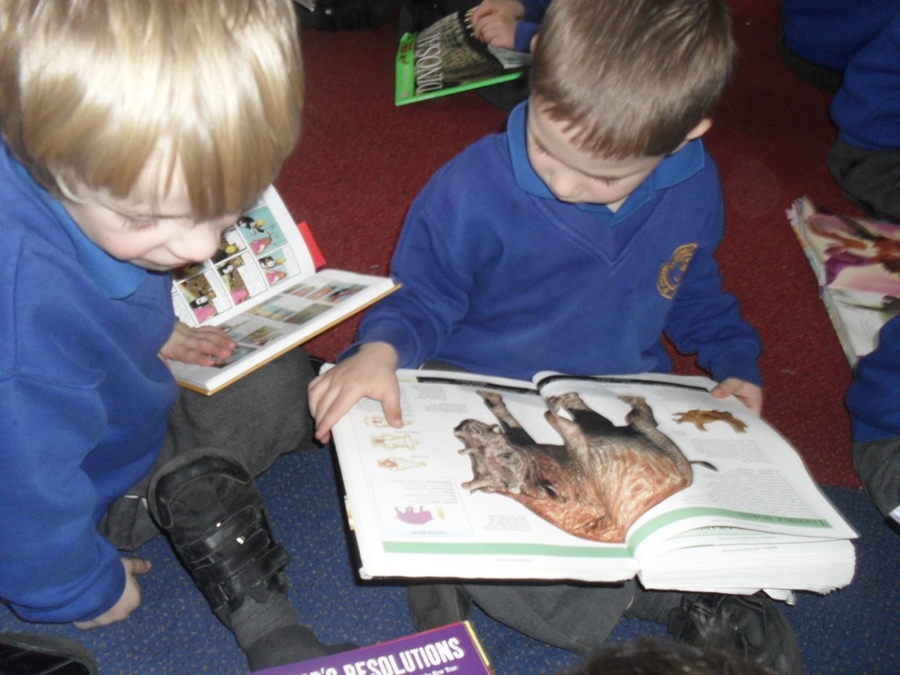 Year 6 came to read us their "Pirate" stories. They were brilliant!!
They looked at our favourite books we had brought from home and read them to us.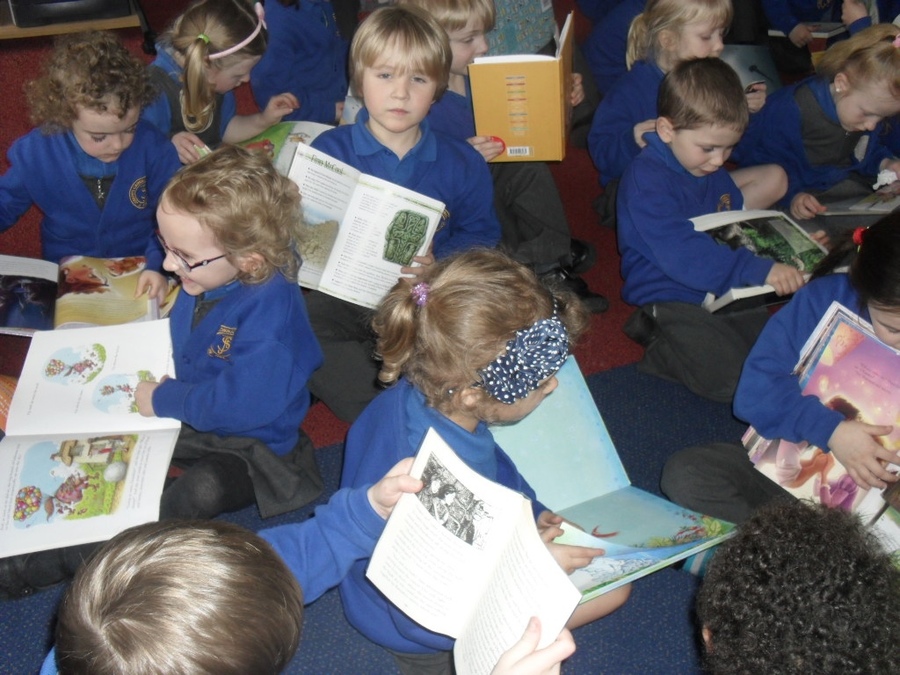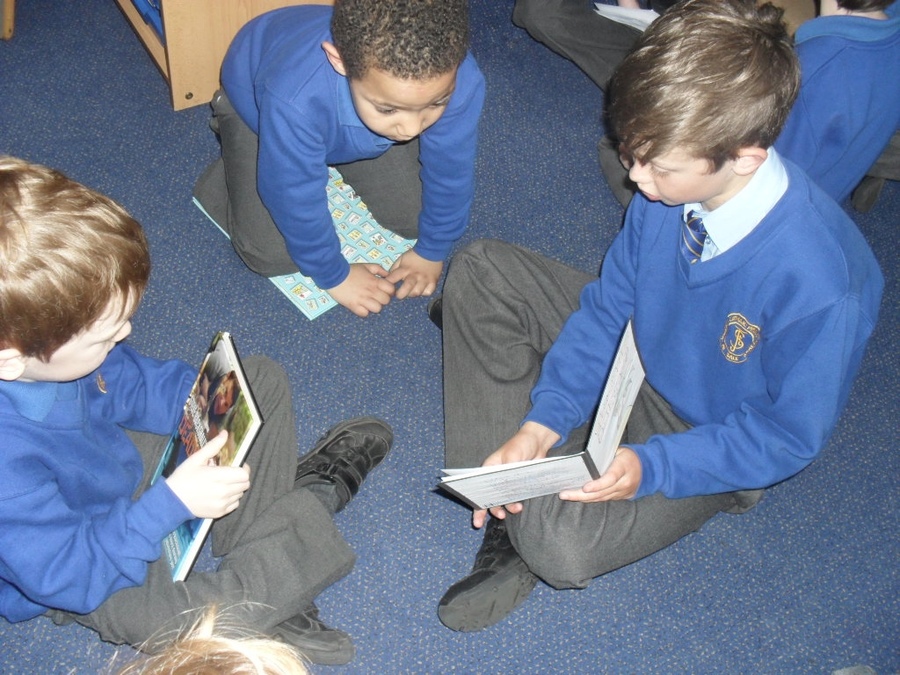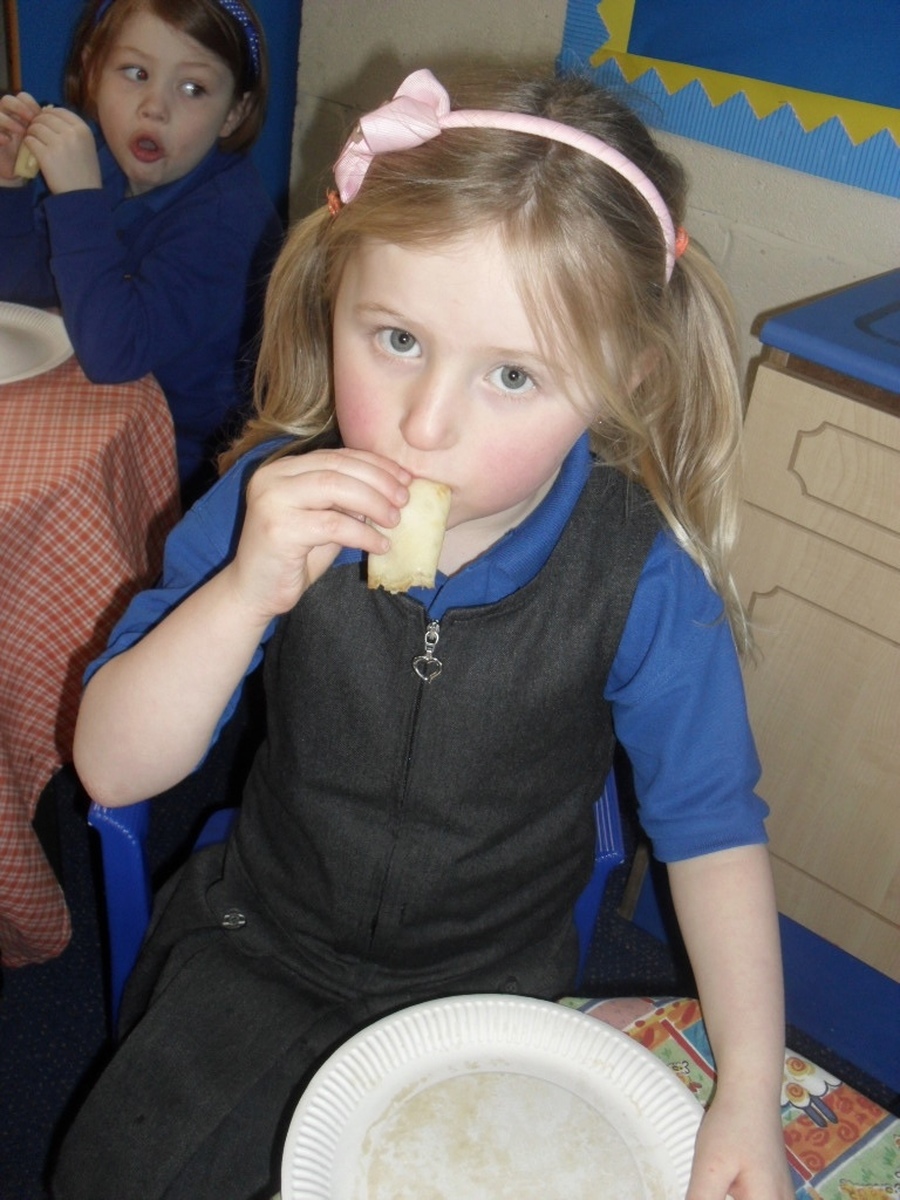 Signs of Spring
Our daffodil bulbs are growing. We can see the flower heads. Nature is amazing!!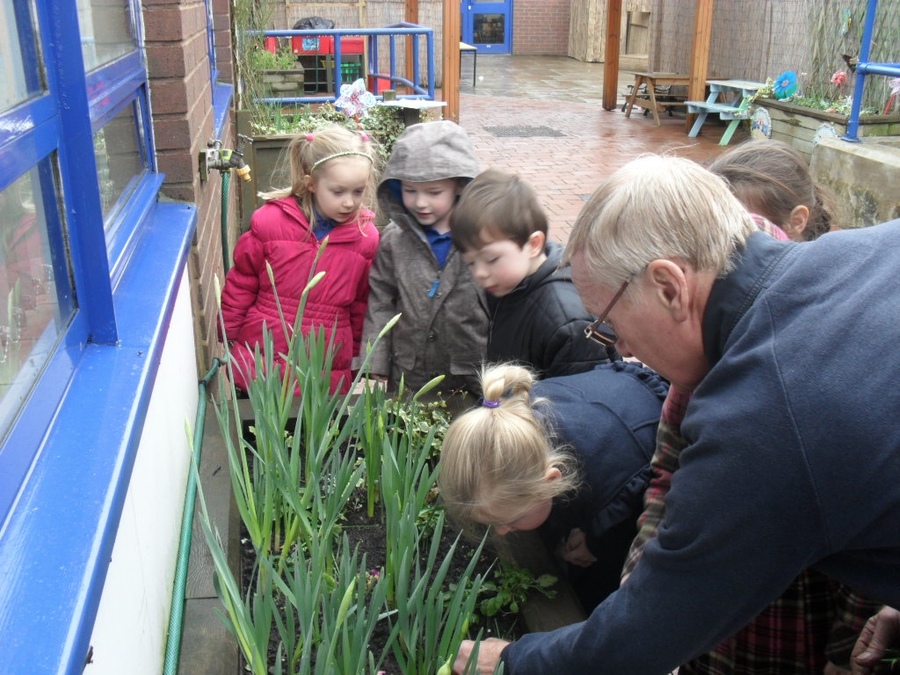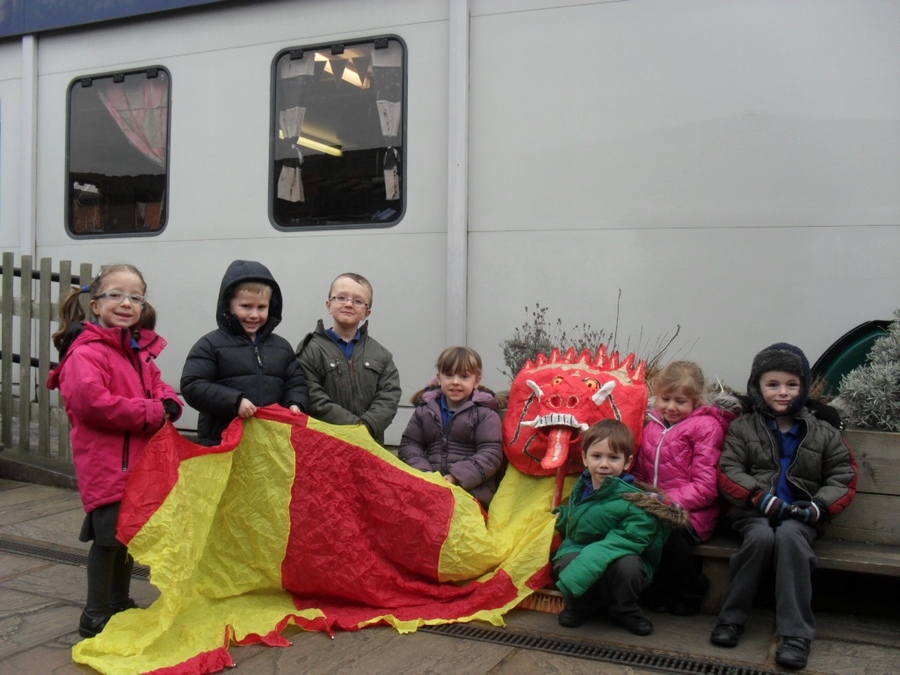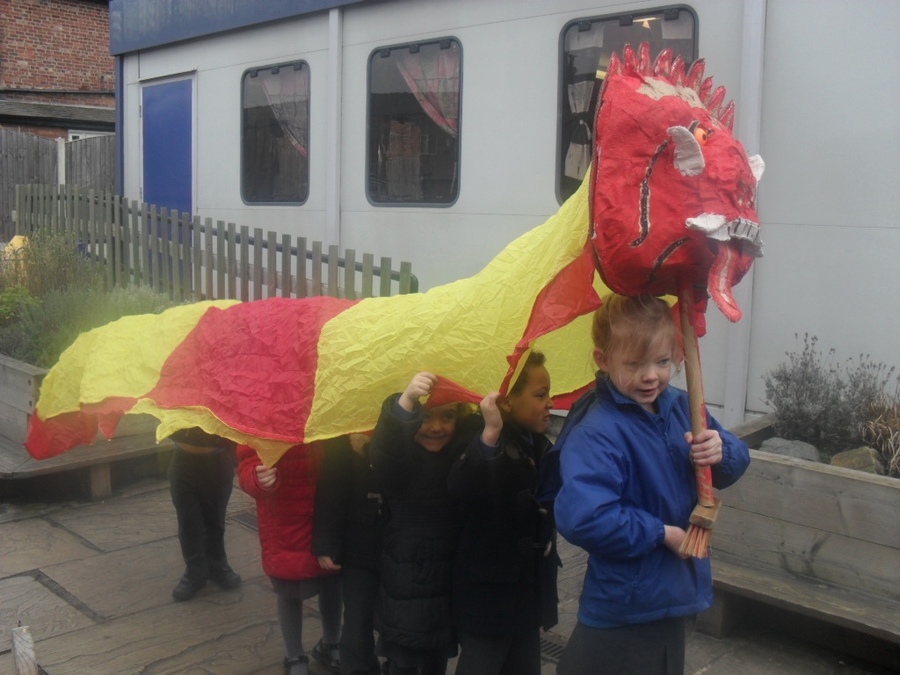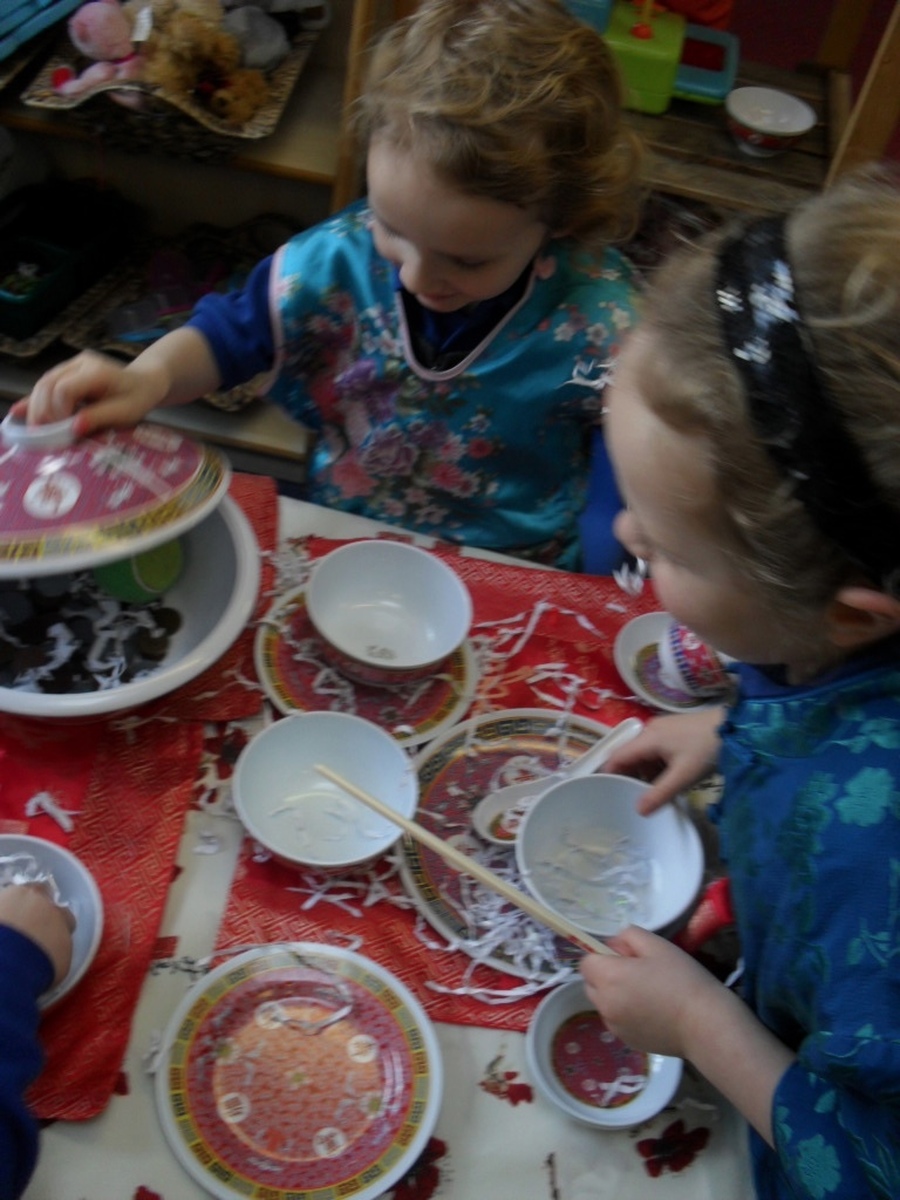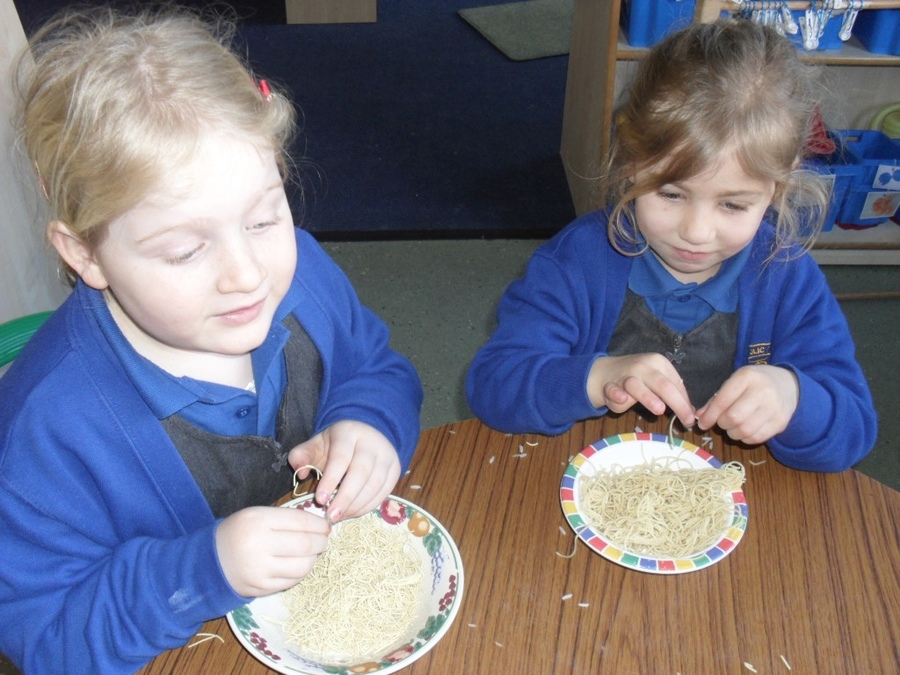 We made a Chinese restaurant and had noodles and rice. We cooked our own noodles and rice and had a great time in the malleable area.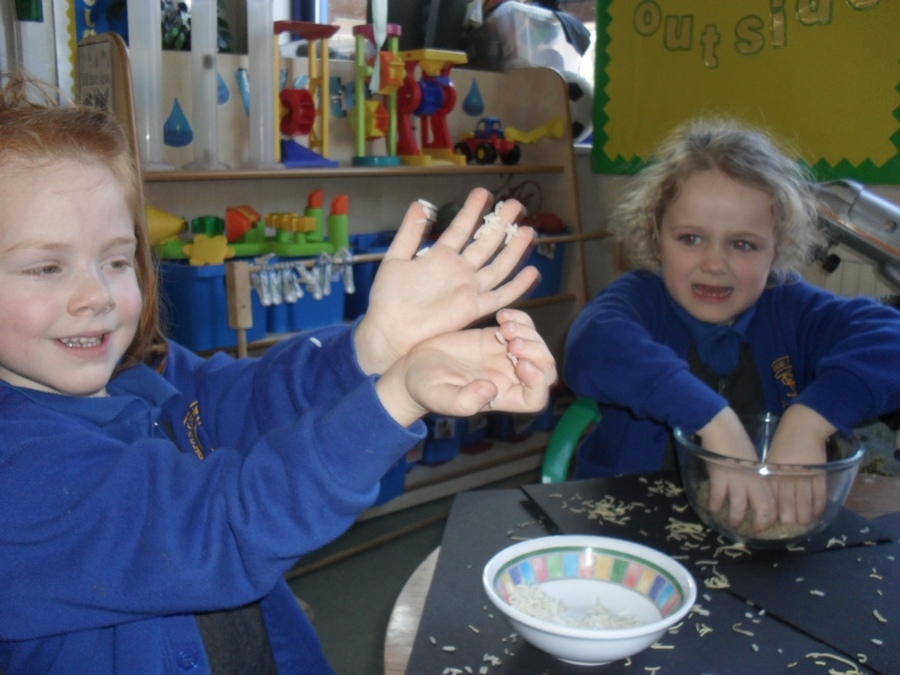 We have been celebrating Chinese New Year. We found out about customs and traditions and did our very own Dragon Dance!!
Our very own doctor and nurse came to talk to us about their jobs. We found out about taking a temperature and what happens if you have to have some blood taken.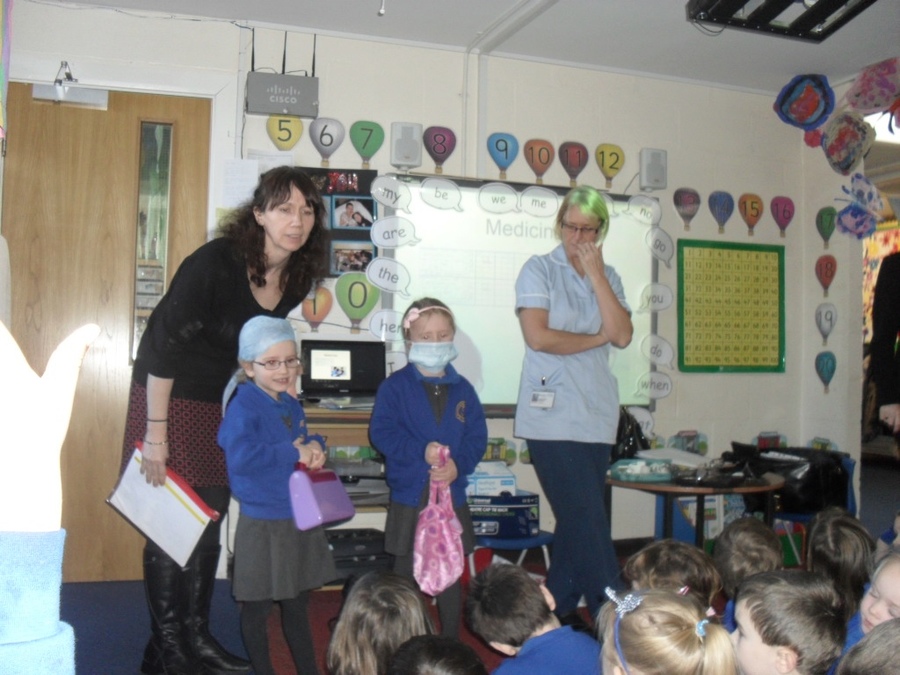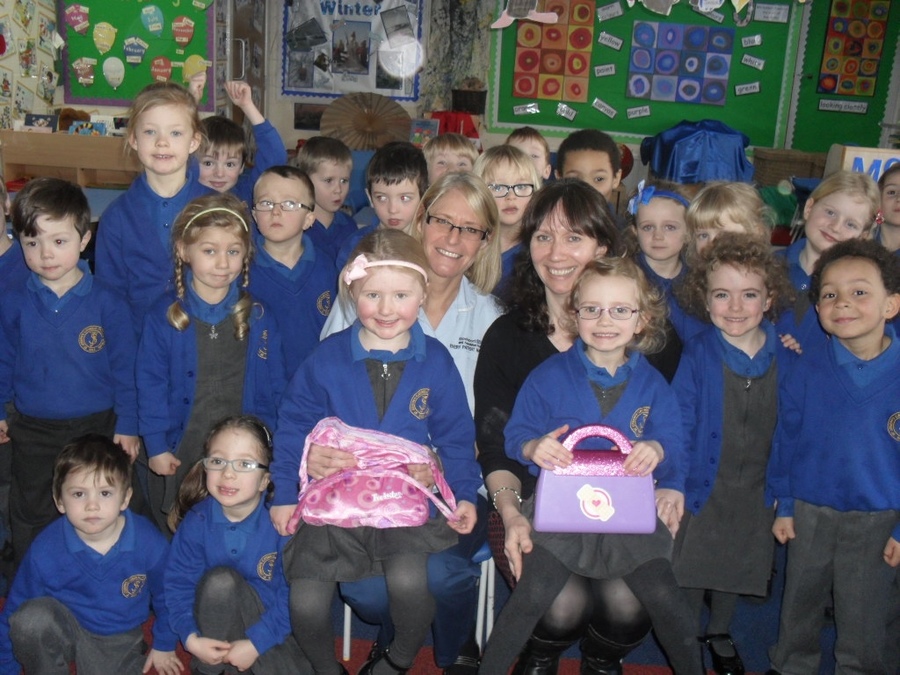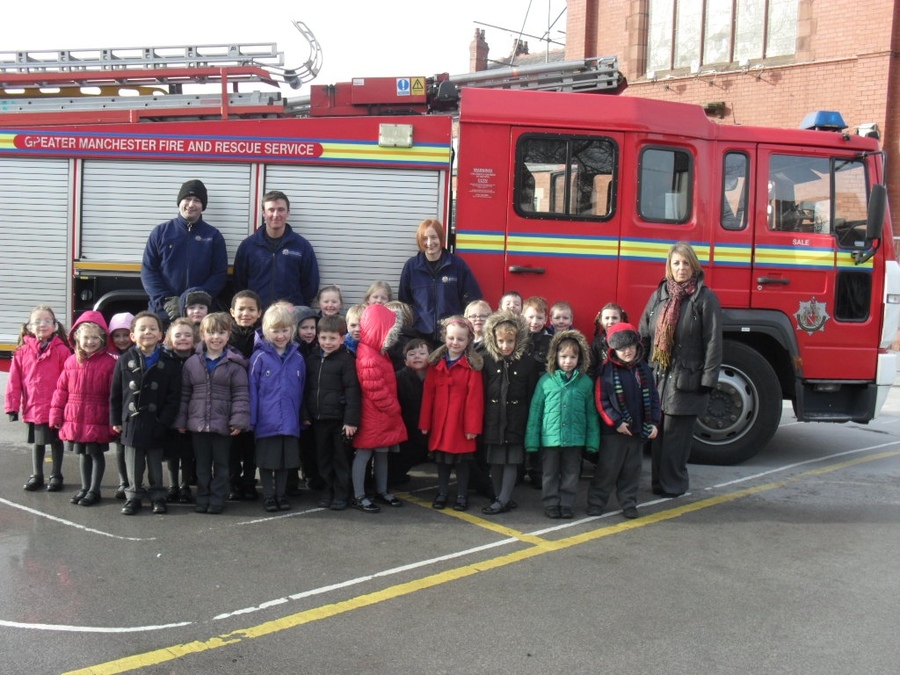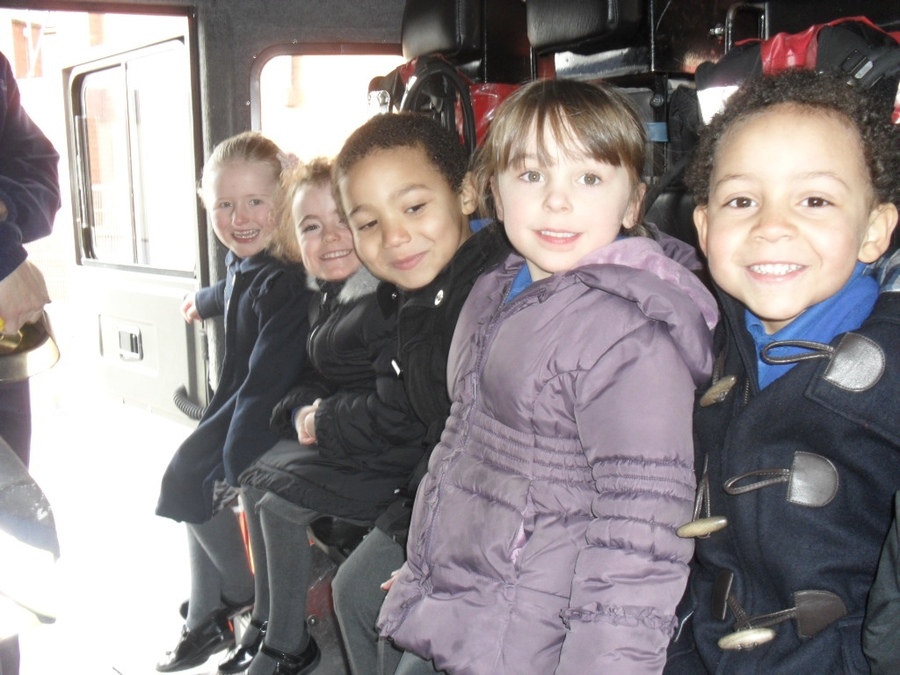 The Fire Fighters from Sale brought their fire engine. We found out about all the equipment a fire fighter needs to put out a fire. We looked around the fire engine and tried on a helmet. It was really heavy!!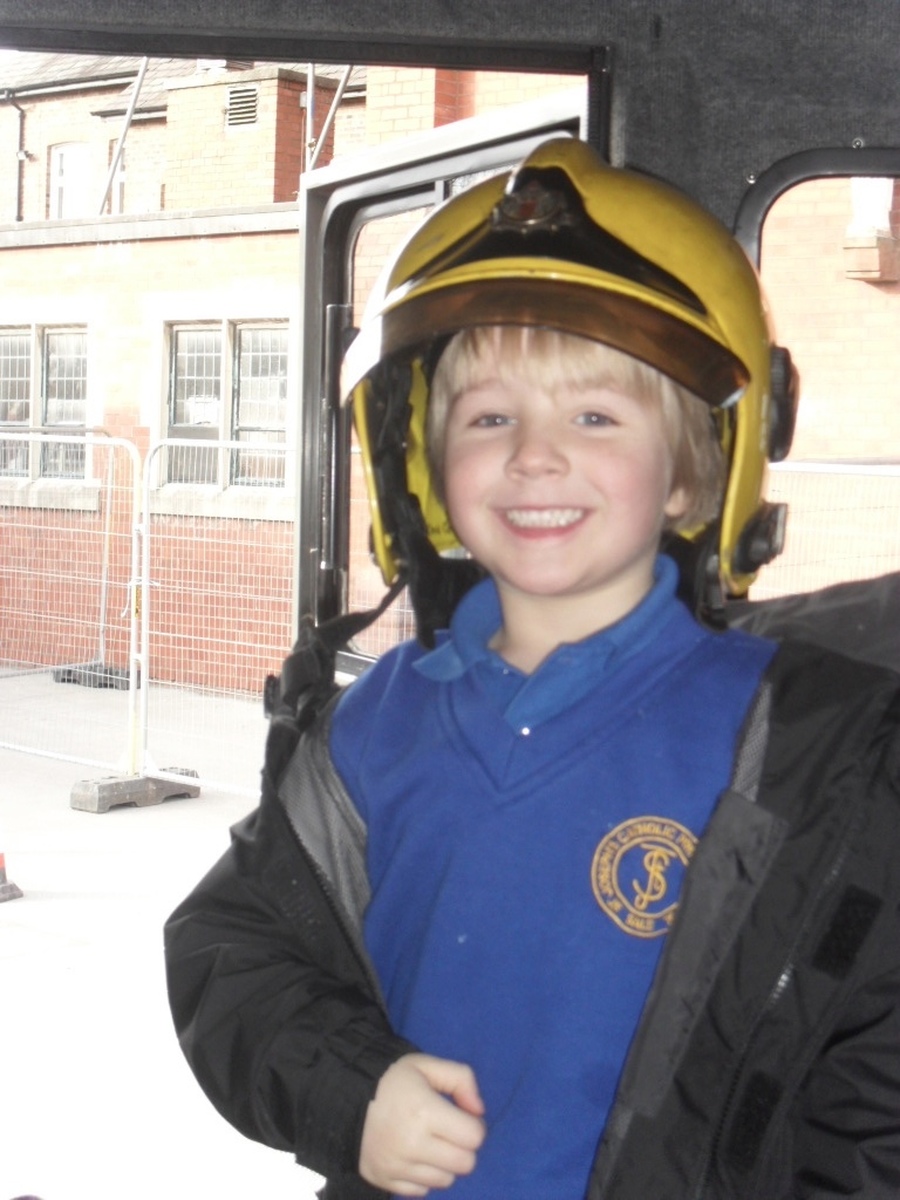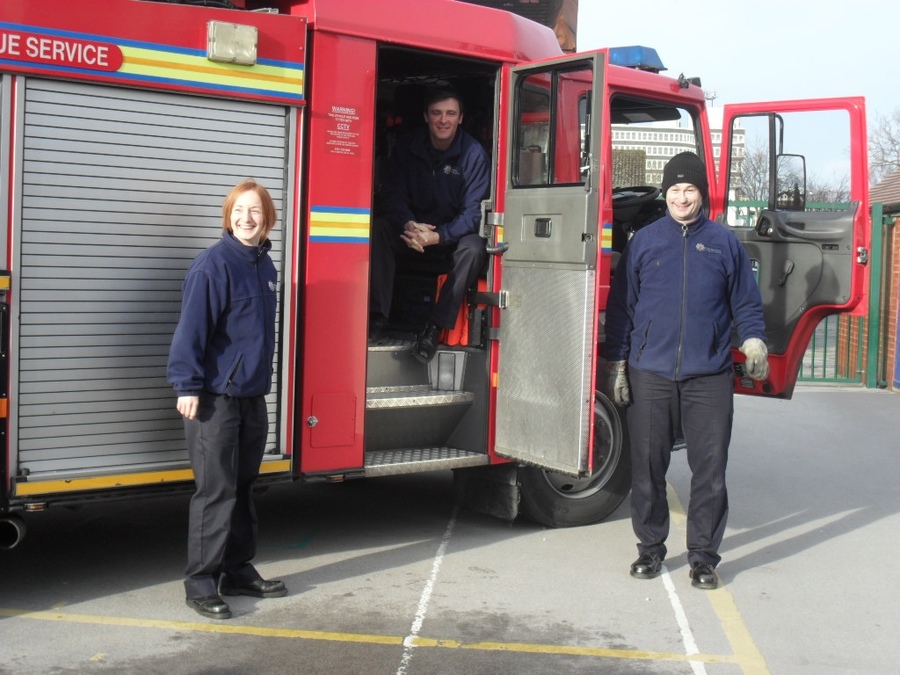 We have been doctors and nurses.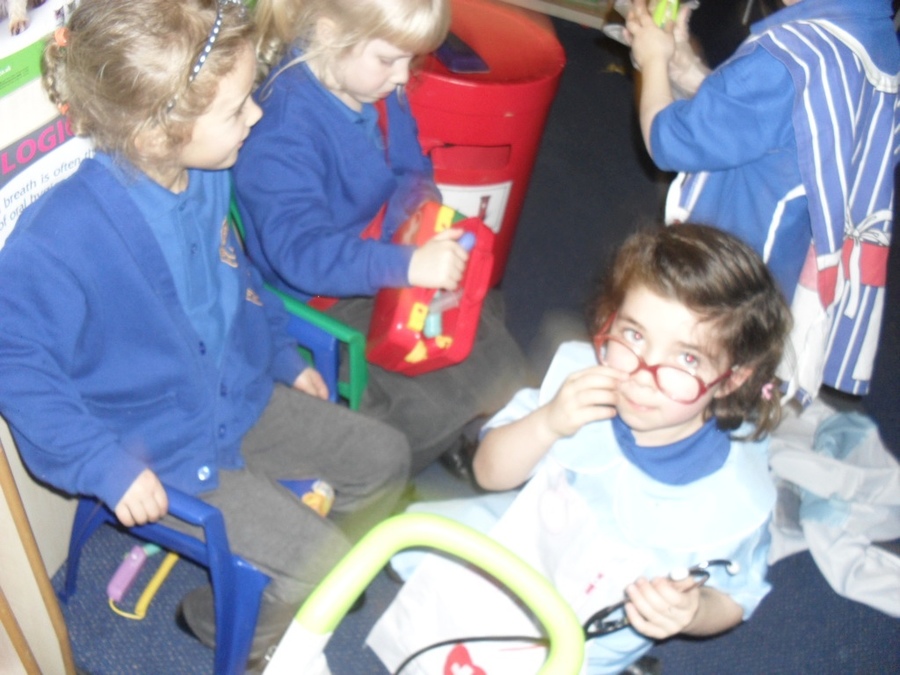 Mr.O'Neill is a paramedic. We had a fantastic time looking at all the equipment in the ambulance
The Paramedic - Our very own Mr.O'Neill!!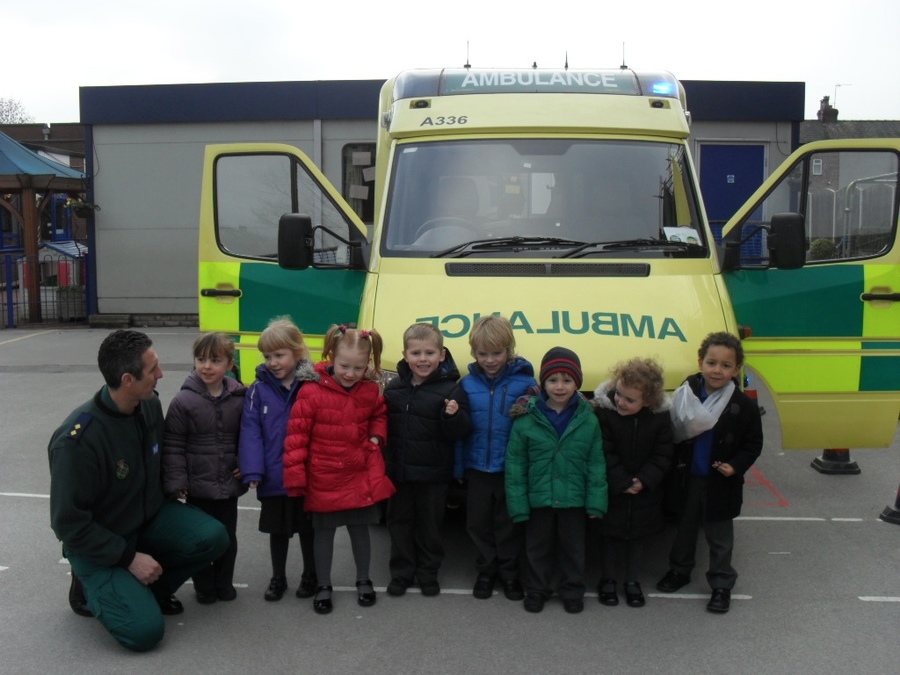 We found out how to put a sling on.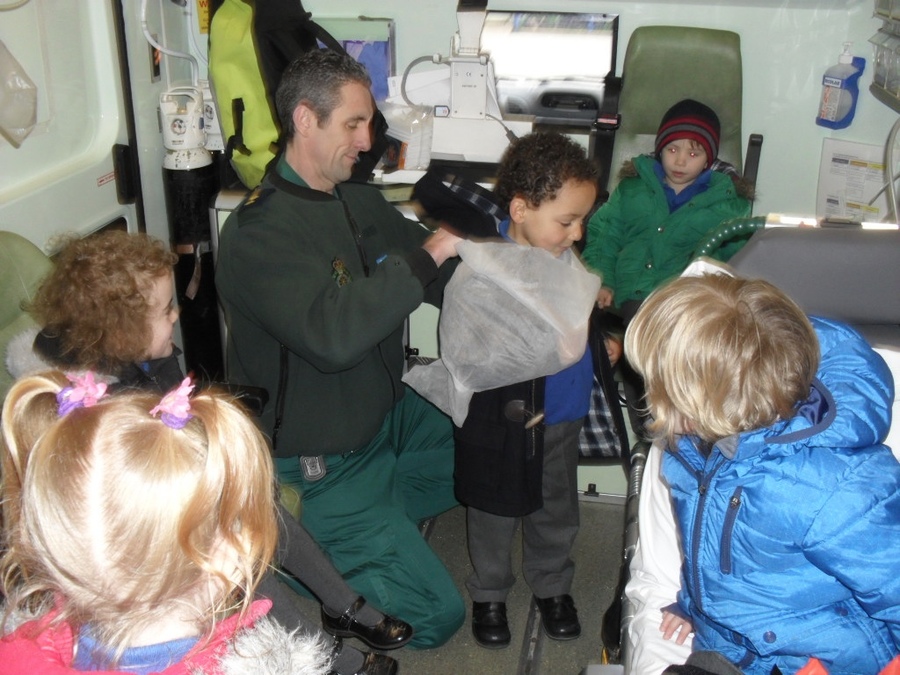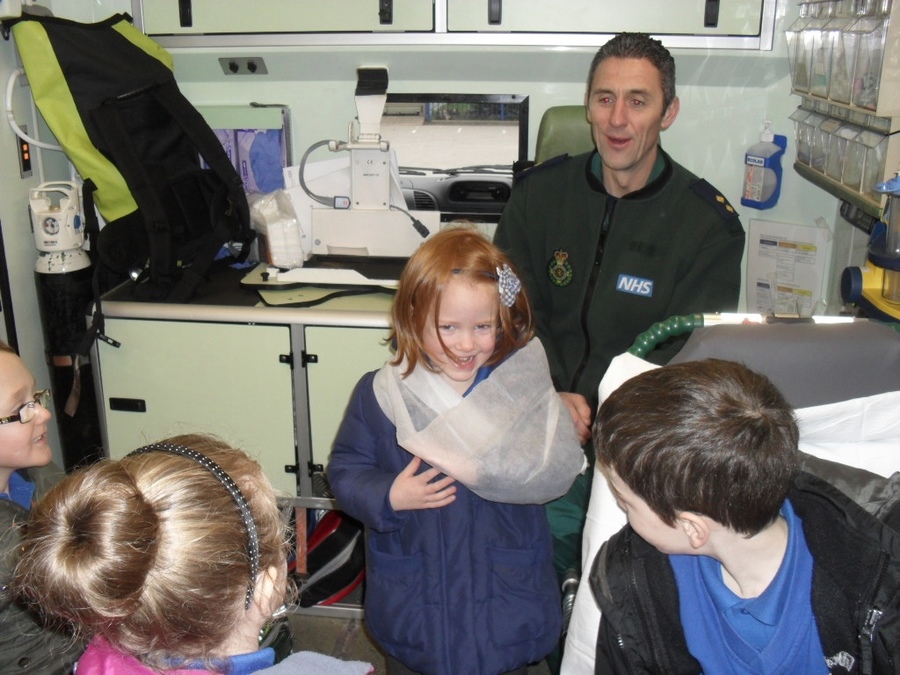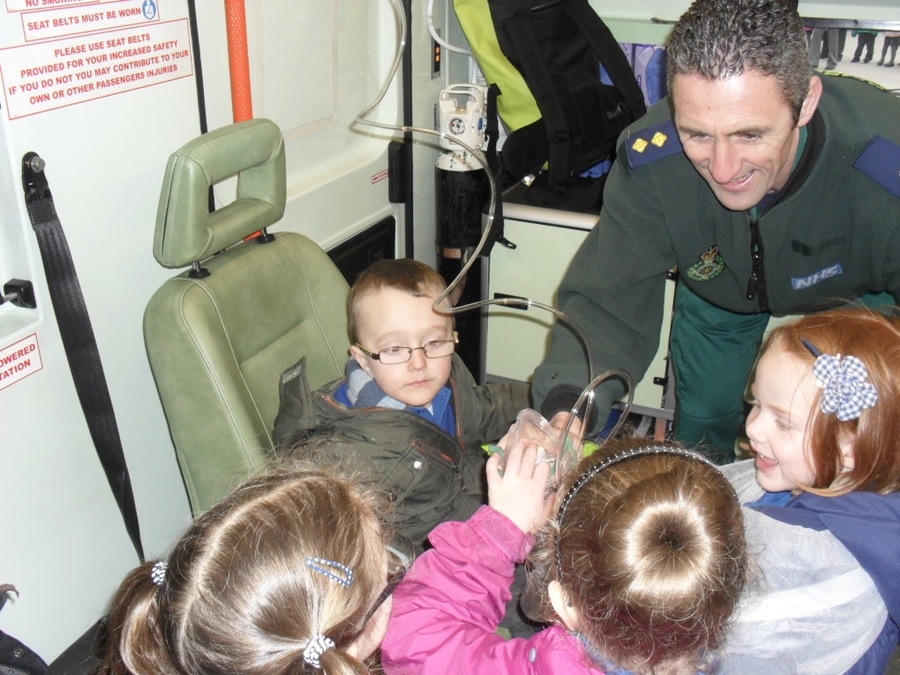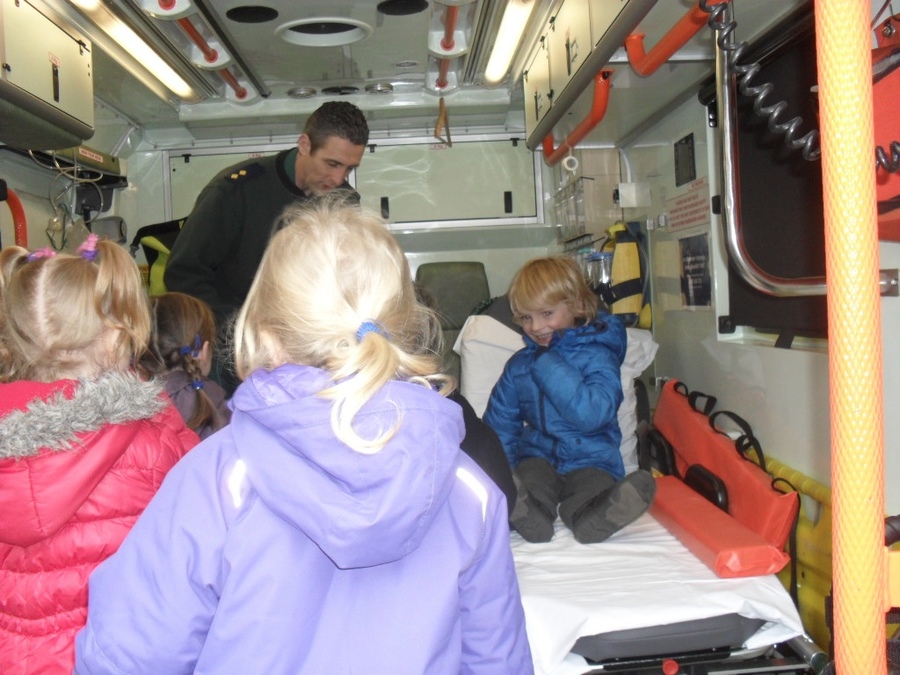 Our special friend Mr. O'Neill brought his ambulance to show us. He got up at 5o'clock in the morning especially to get everything ready to show us. Thank you.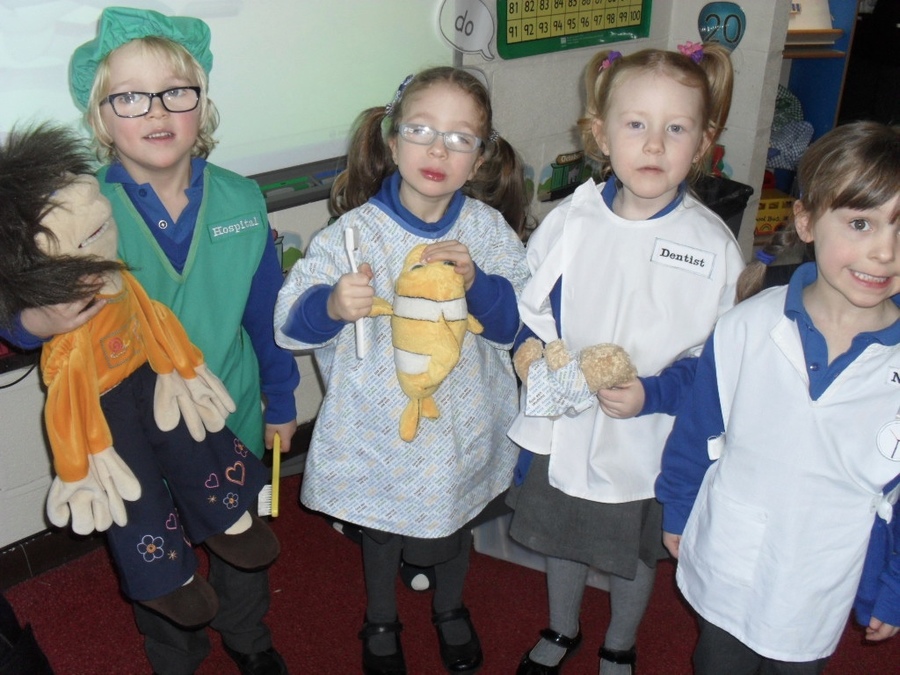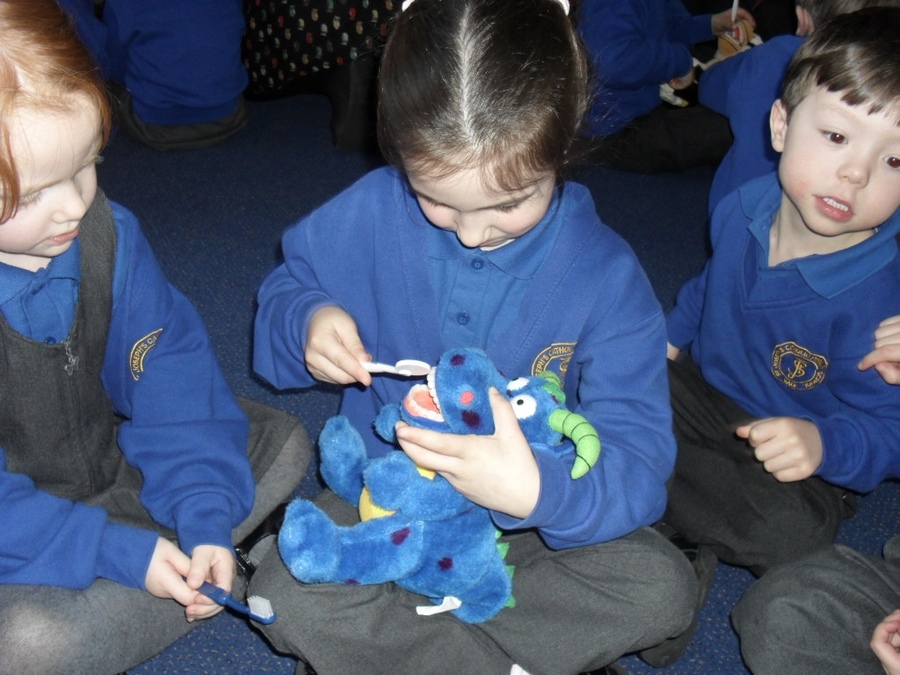 We had a visit from Dental Box. We found out all about caring for our teeth and the special chair at the dentist. Lisa brought some special friends with her and we brushed their teeth!!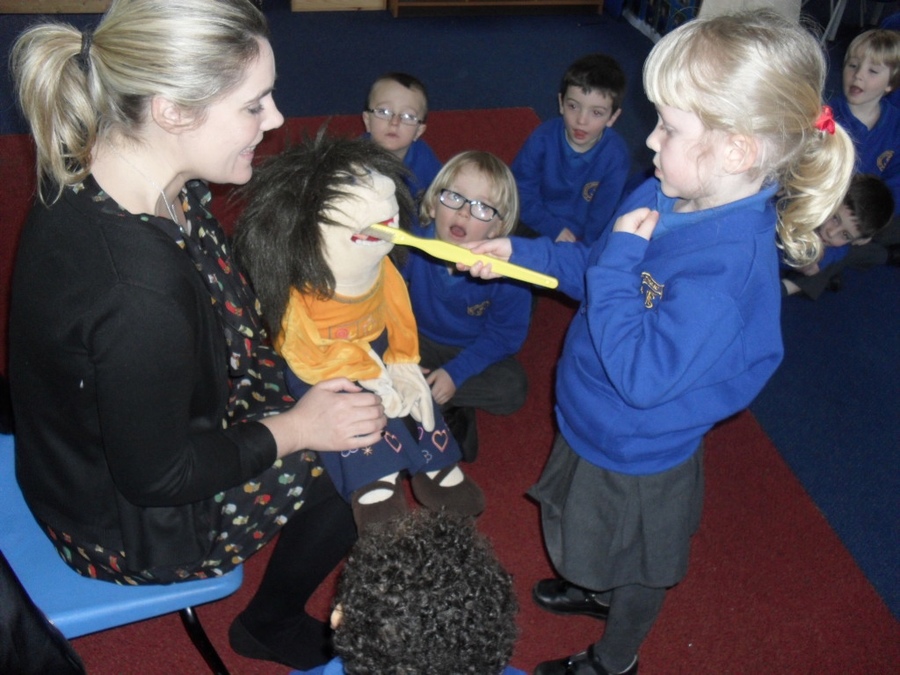 People Who Help Us
We are going to be having lots of visitors to our school to talk about their jobs. Our school cook has been to talk to us. We found out what time she has to come to school to get our lunch ready and that she has to order all the food. Terry makes homemade bread for us every day - delicious!!
The Toy Mass
We all brought a toy for a little boy or girl who would not be as lucky as us this Christmas,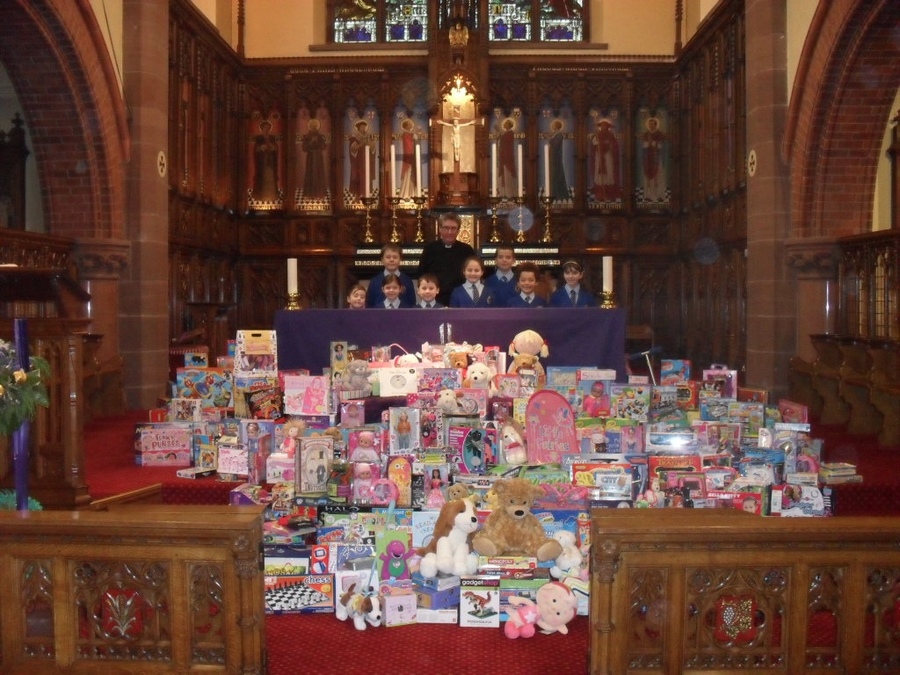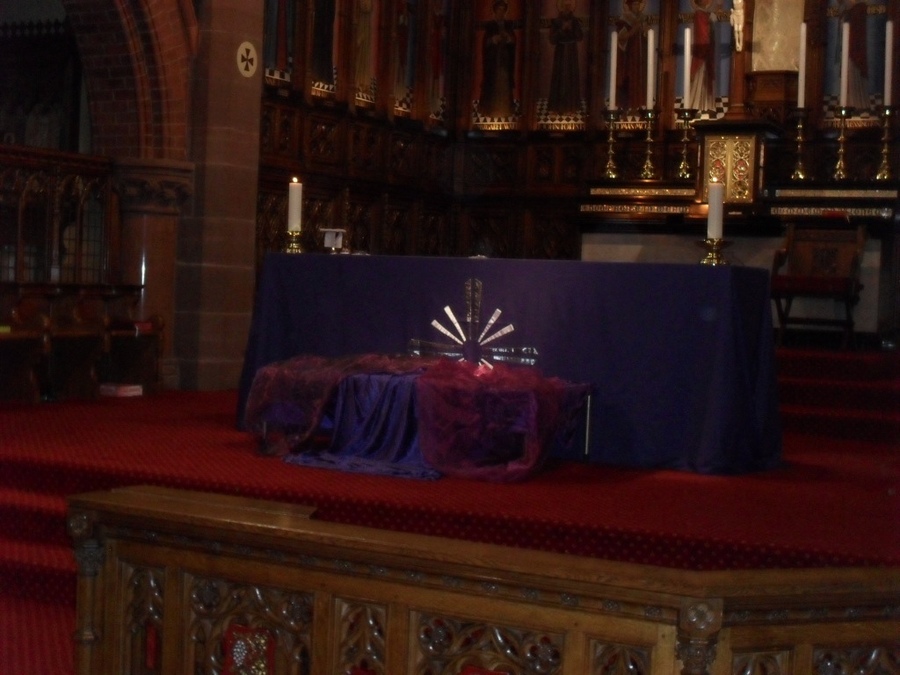 The Nativity Story was told by all the Reception children. We sang carols and songs and Father Stephen gave a blessing to all new babies.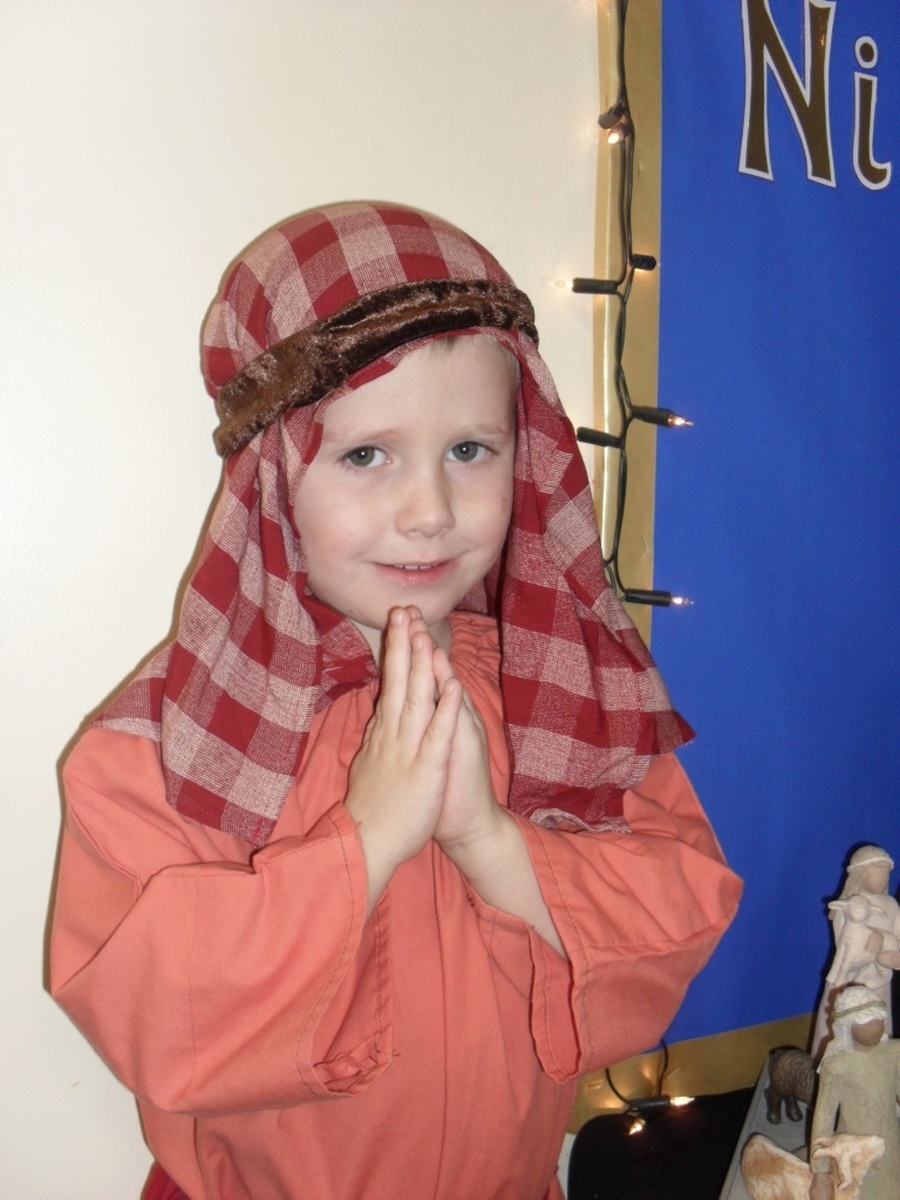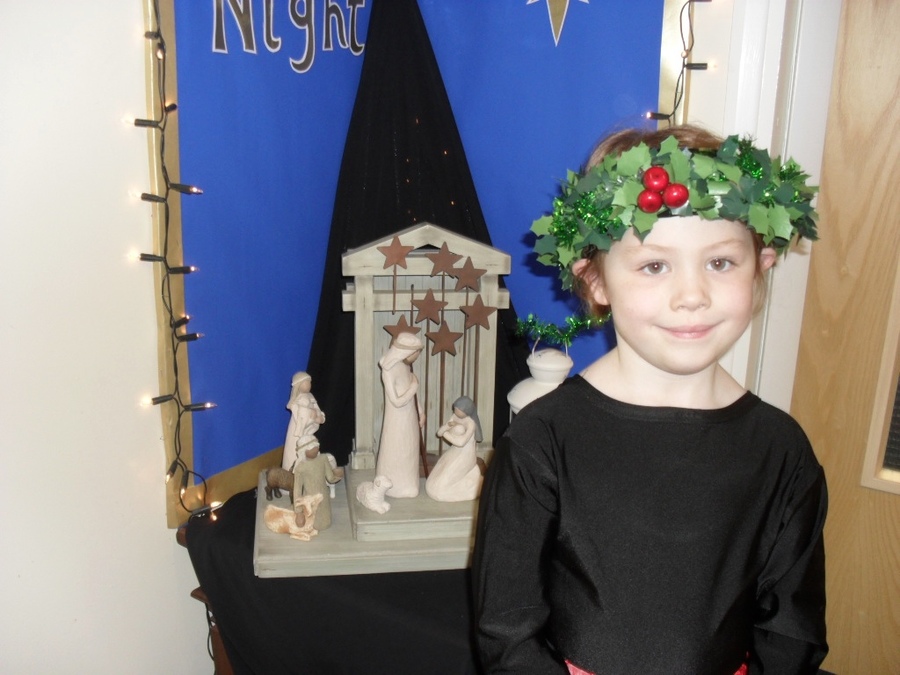 Jack and the Beanstalk
It was great fun travelling on a double decker bus to the theatre and we loved the pantomime!!
We listened to the story of Handa's Surprise. We made fruit faces and then ate them! Delicious!!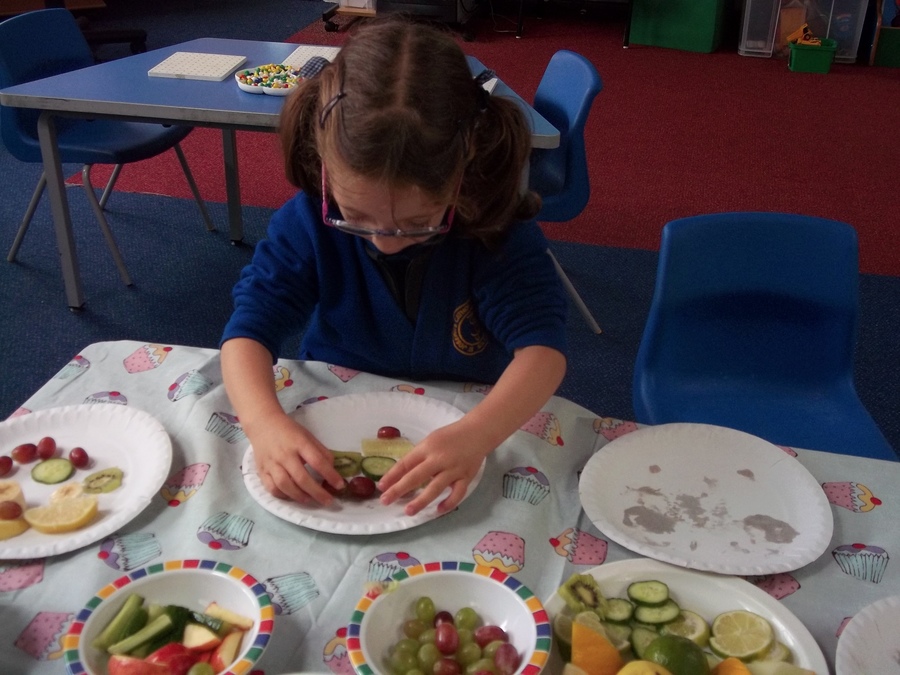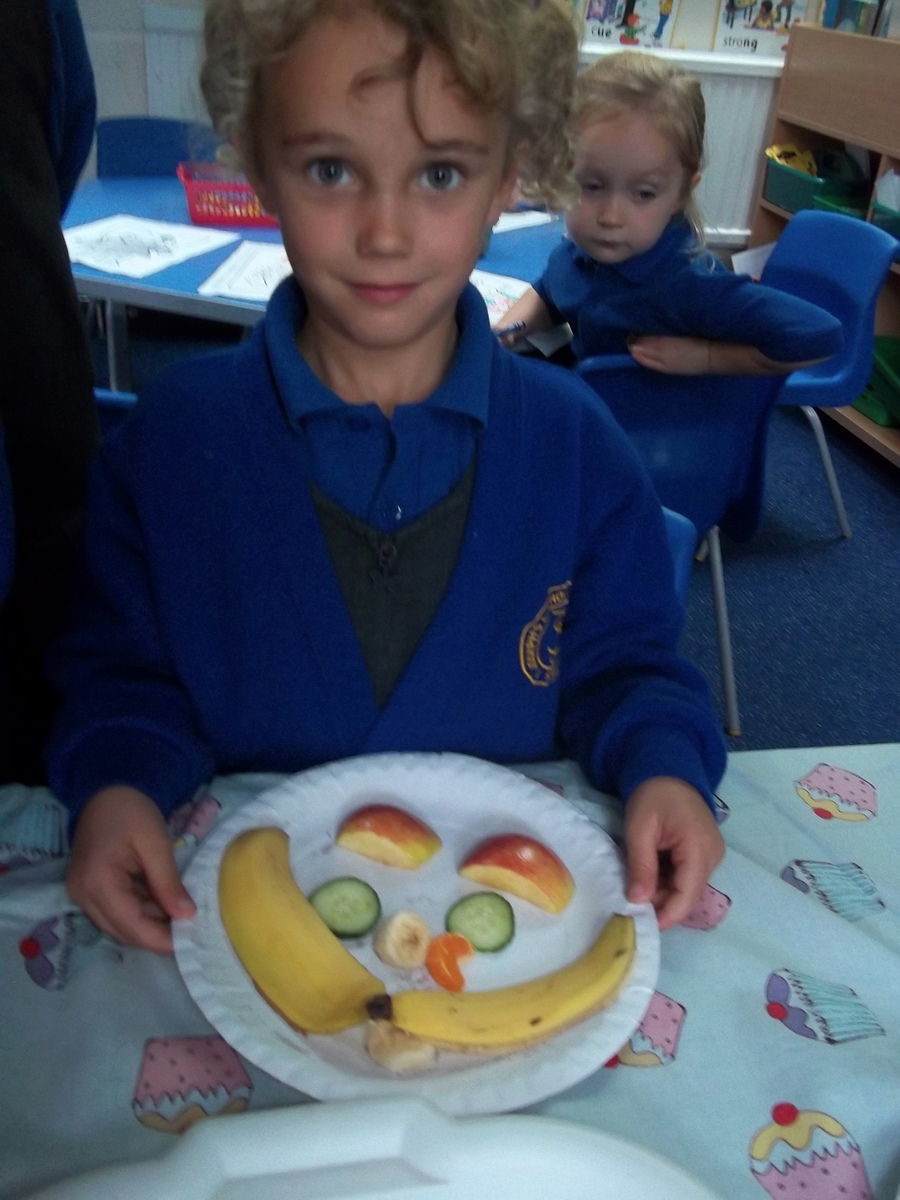 Creation
We made the story of "Creation" using fabric and props.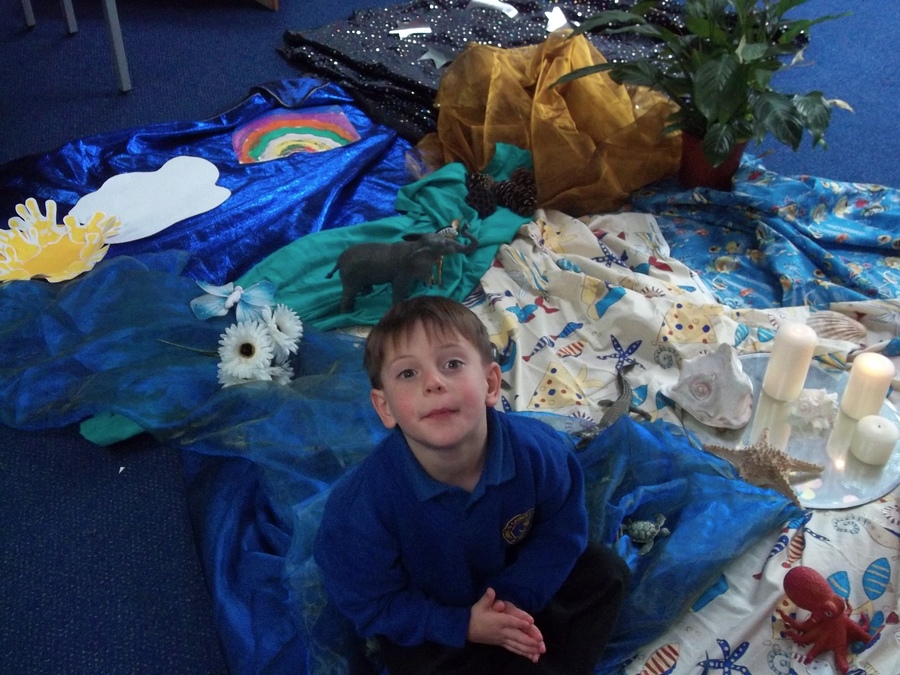 4 Little Ducks Went Swimming One Day....
We watched with awe and wonder at ducklings hatch from their shells. The first little duckling pushed his way out of the shell and even though he must have been exhausted started to scramble over the other eggs! We couldn't believe our eyes! They were yellow and fluffy and we all enjoyed carefully holding one.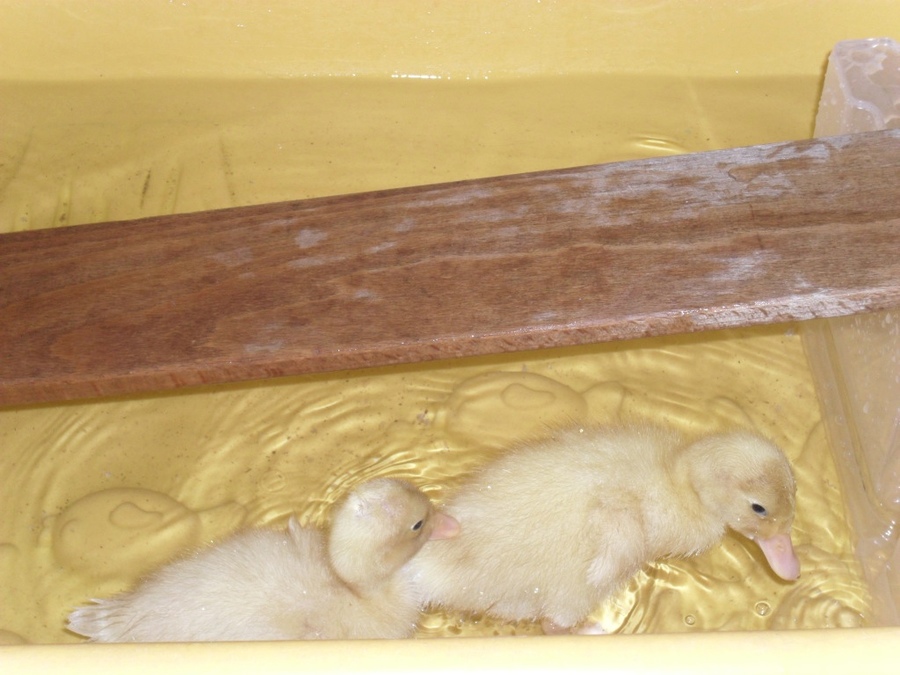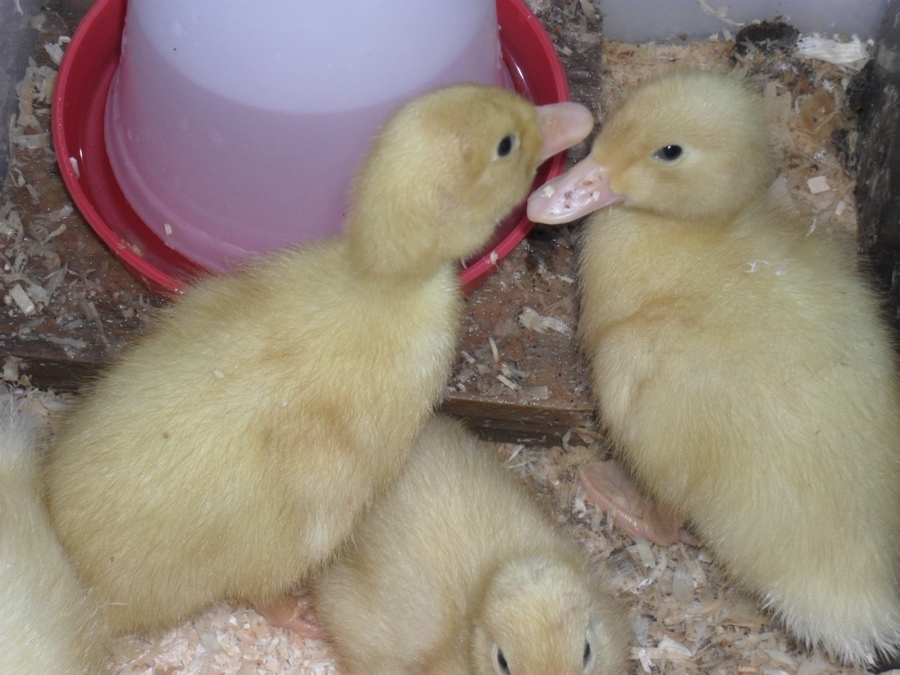 Help for Heroes
We dressed up as a hero. There were doctors, nurses, fire fighters, soldiers and even Winston Churchill. Phoebe dressed up as her mum.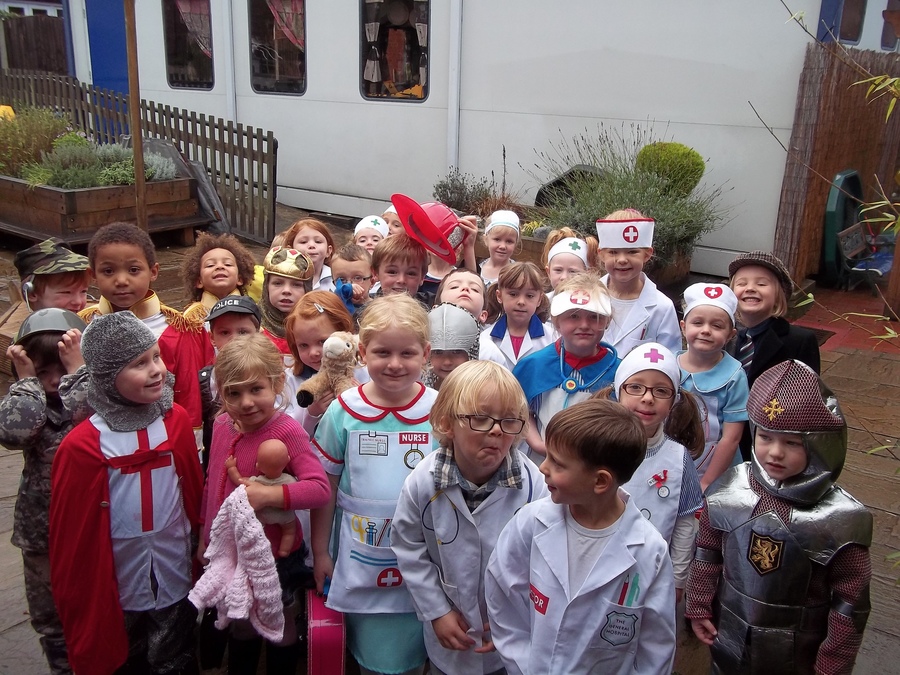 Nursery Rhyme Concert
We were amazing and looked fantastic in our costumes!!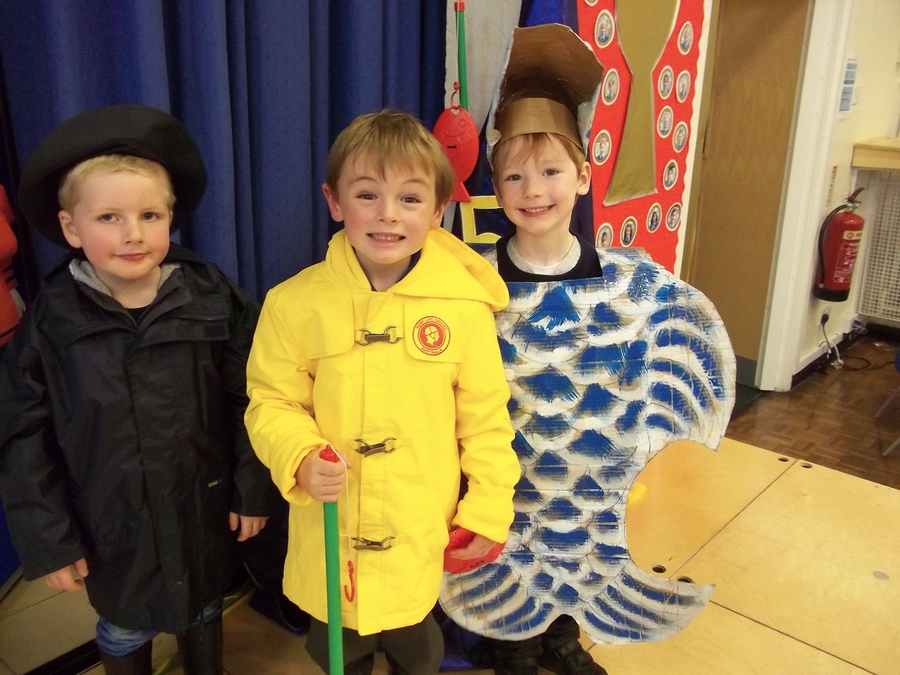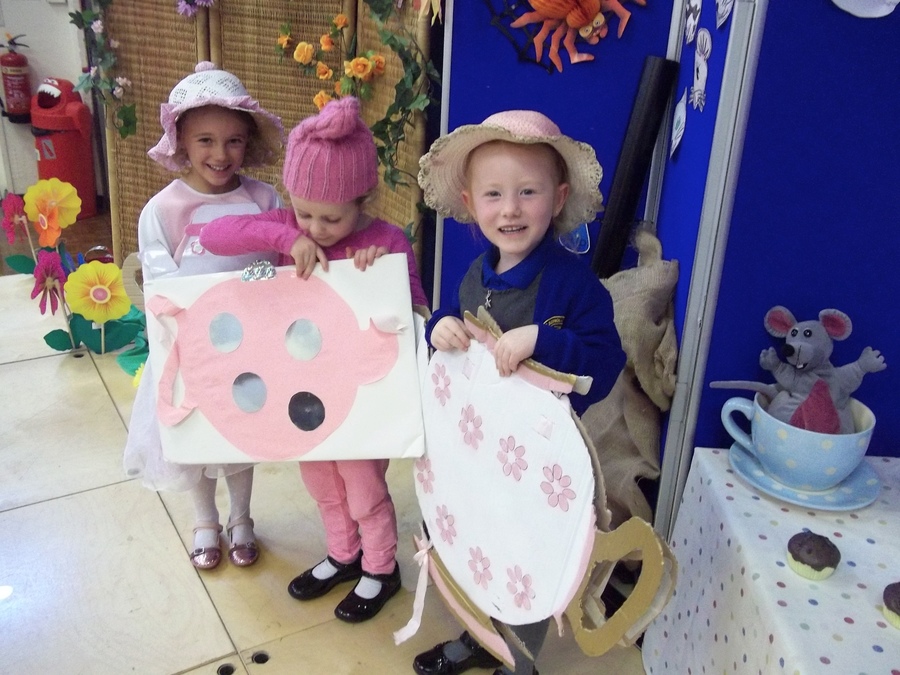 Planting Bulbs
Mr. Pickles helped us plant some daffodil bulbs. We looked closely at the bulbs and look forward to seeing them grow in the spring.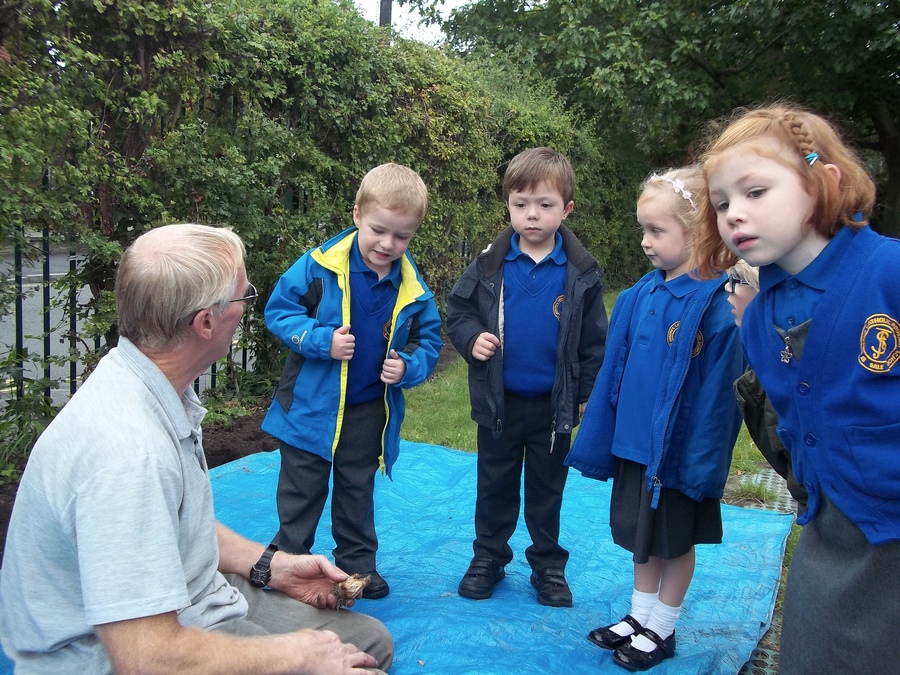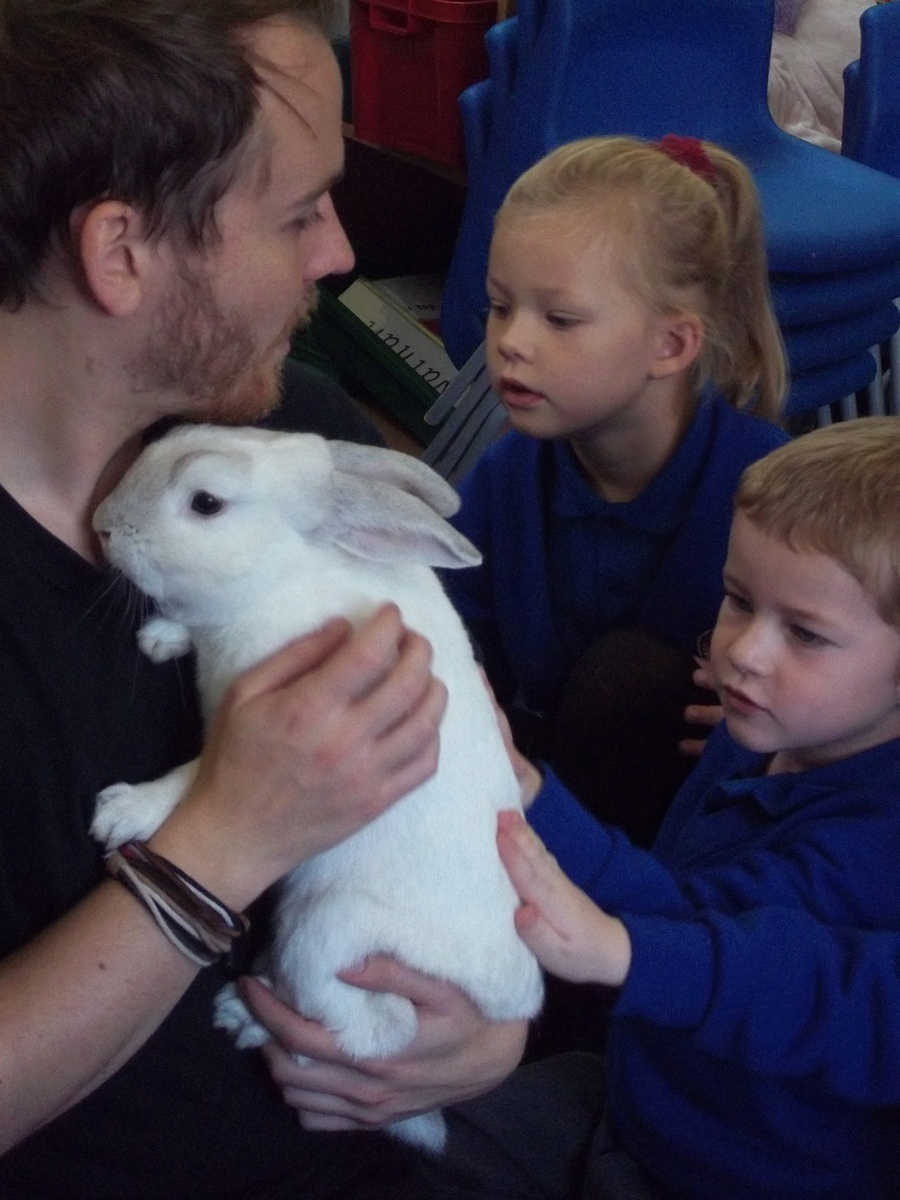 Zoo Lab
As part of our topic God's Wonderful World, we saw some of the amazing animals in God's World. Sydney the Snake, Tilly the Tarantula and a great favourite - Cuthbert, the fluffy white rabbit.
Hand Washing
We found out how important it is to keep our hands clean. The school nurse came to talk to us and we found out how important it is to wash your hands before eating and after touching pets.
We did an experiment with glitter and found out how germs spread!!!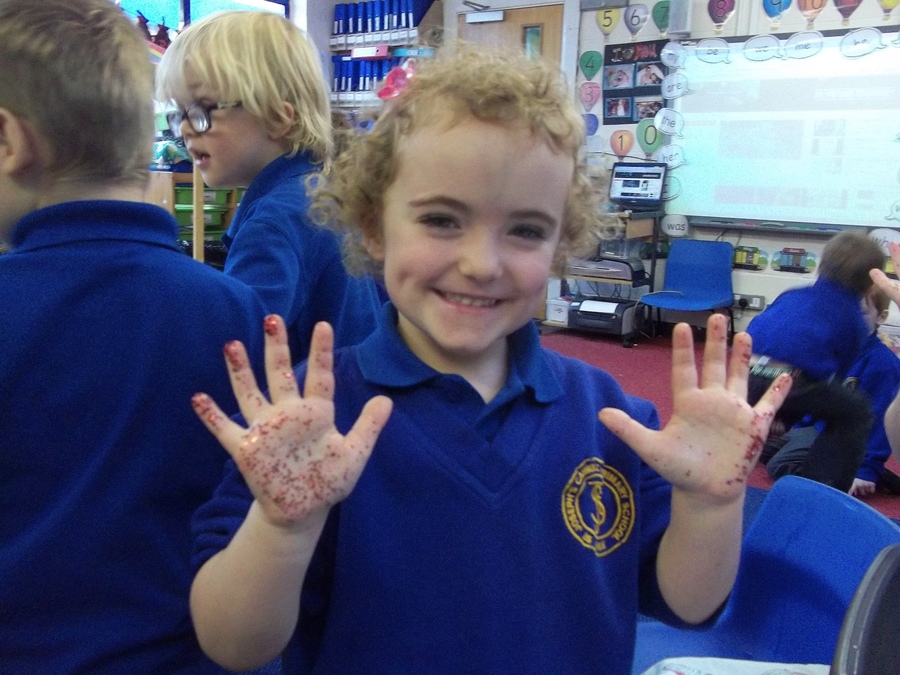 Magnificent Me
We have been painting our hands and feet. What a great time we had!! Mrs Taylor loved washing our feet and tickling our toes.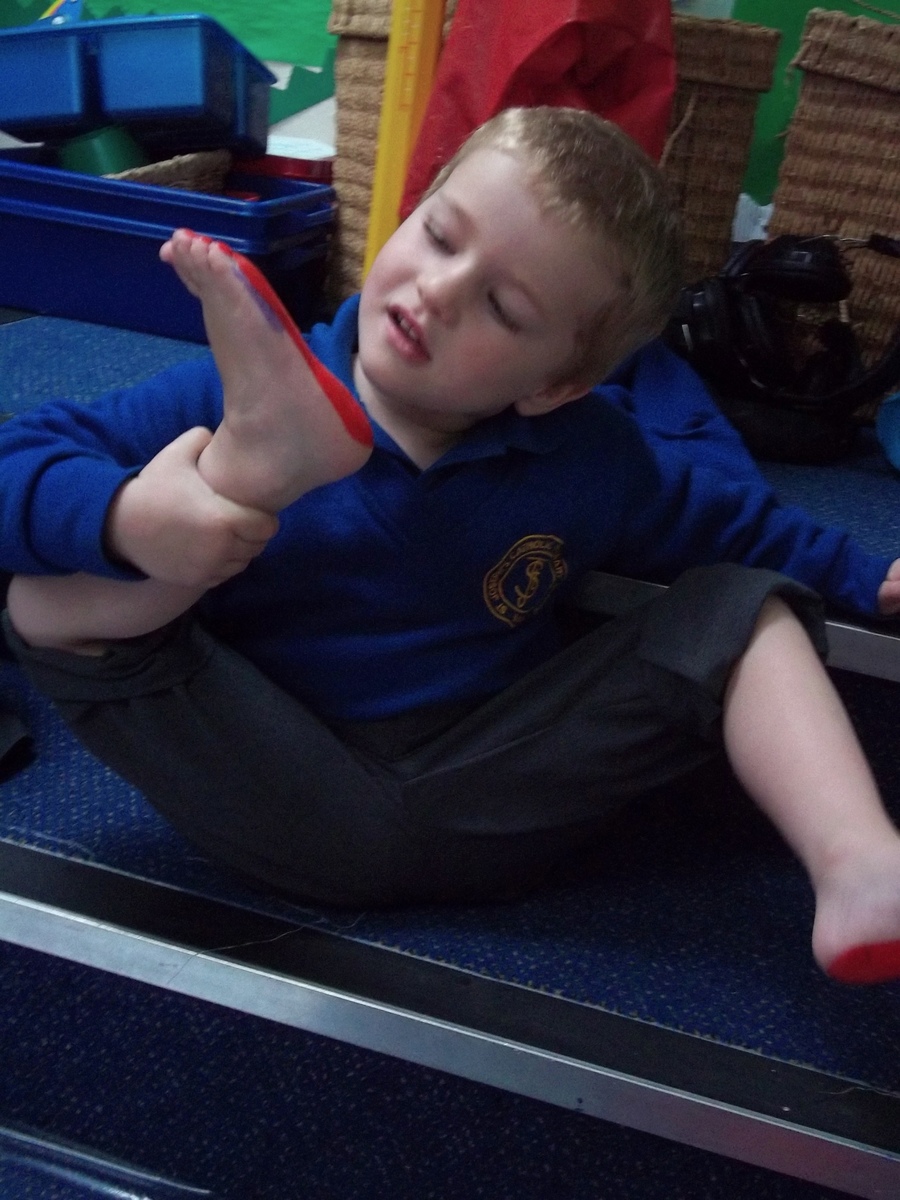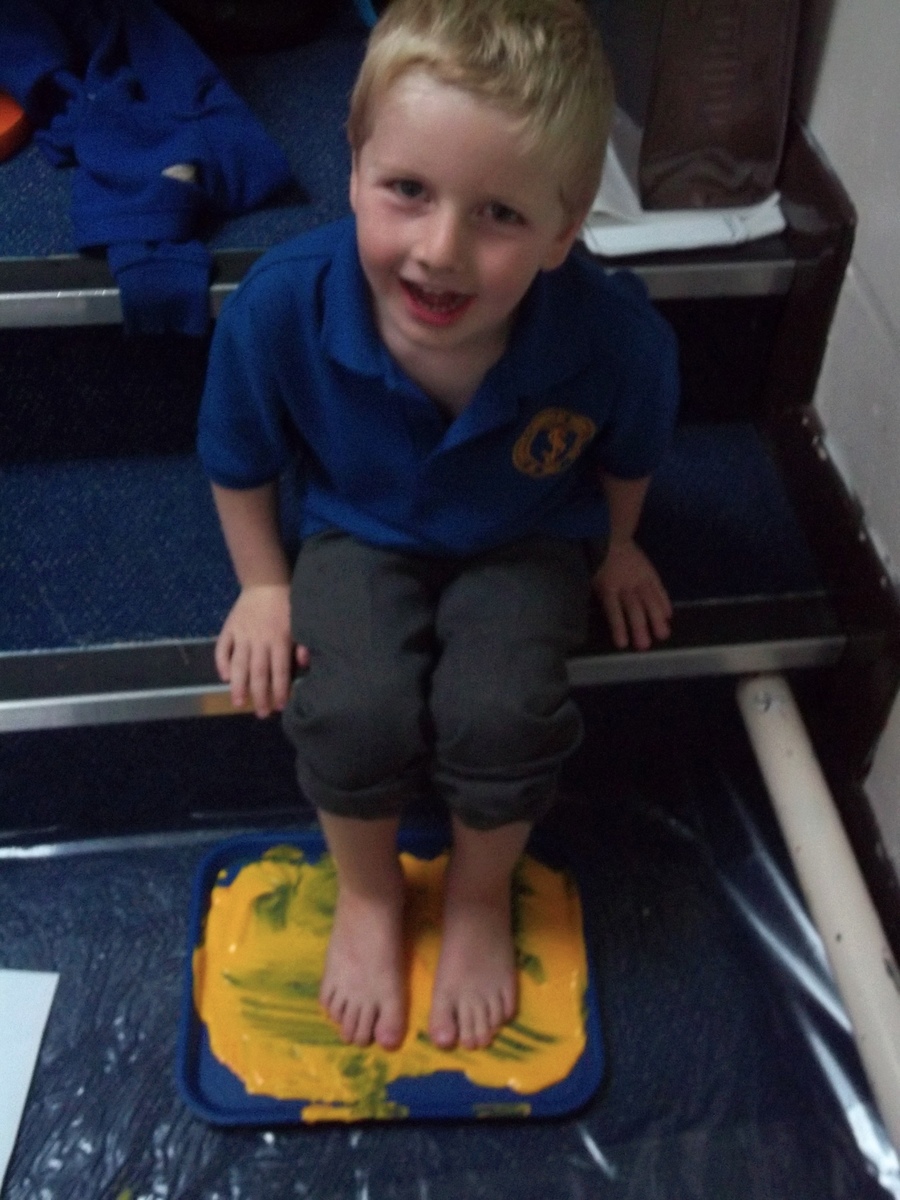 Welcome Reception Class 2013-2014
Watch this space!!!
The Reception children have settled very happily in to life at St. Joseph's and it already feels as if they have always been part of the St Joseph's school community. We are looking forward to a great year ahead with lots of fun and learning!
Reception
We have had a fabulous week watching chicks hatch!! They are so soft and fluffy. They are growing very quickly and make such a lot of noise!!
Lily's dad brought the ambulance to show us!! Some children were patients and had to wear a sling. Other children had a broken leg and wore a splint!! We had great fun!!
It is the Year of the Snake!! We found out about the race across the river by all the animals and were very shocked to find out the rat cheated!! We cooked some noodles and rice and took home chopsticks and fortune cookies. We were able to perform our own dragon dance to some Chinese music and have enjoyed playing in the Chinese restaurant.
We enjoyed making pancakes and turned the home corner into a cafe where we enjoyed being served delicious crepes by our teachers.
A police officer came to visit us and told us how the police help us. We enjoyed trying on his hat!
We loved the talk from Dental Box. Our visitor thought we were the best children ever!! She told us all about the dentist's chair and showed us all the tools and equipment and was amazed by how much we knew about looking after our teeth.
A vet came to tell us about her job and how we can be safe near animals. She told us all about worms!!!!!! She brought with her a very big dog!!
The Firefighters from Sale told us all about their job. We asked some very interesting questions and Mrs Kettle was chosen to wear the Fireman's uniform!
As part of our "Wonderful World" topic, a Ranger form Zoo Lab came to visit school.
She brought with her a large land snail from Africa, a very hoppy frog, Sid the snake and a rat!!
Lilo the rat enjoyed running up the Ranger's arm and hiding in her hoodie!!
Hooray!!!! It has been snowing - well just a flurry.......
Not quite as much as we wanted, but enough to make little snowballs and have fun throwing them. Our little hands were red with the cold, but it added to the fun.
It was a great opportunity to investigate freezing and melting. We left out the water tray and the following day had a really big piece of ice. We used a thermometre to check the temperature in the classroom and outside.
Thank you so much for helping your child get started with their "Special Memories" book.
They are fantastic!!!! We have loved looking at Christmas photographs and seeing the children enjoying being with grandparents and other family members. The children have been lucky enought to go on lots of outings including the theatre, pantomimes, the zoo and walking in the park.
Wishing you all a very Happy New Year!!!
We have really enjoyed hearing about all the lovely gifts Father Christmas brought for the children. Everyone has had a lovely holiday visiting family and friends and going out.
The children will be bring home a book to record their "Special Memories" for this year. It is a lovely keepsake and helps us to share outings your child has been on, as well as having the opportunity to talk about hobbies and achievements.
Father Stephen was delighted so many children were able to attend the Crib Service on Christmas Eve.
On Christmas Eve, Father Stephen is having a Crib Service in church at 4.00 p.m. and has invited us all to join him listening to the Christmas story and singing carols.
We are very proud of ourselves as we were all amazing in the Christmas play. We knew all our words and remembered our special dance routines. We looked fantastic in our costumes and everyone enjoyed listening to the story of the First Christmas. It was a special moment when Jacob's mummy had a special blessing from Father Stephen for the baby she is expecting next spring. We also gave a special gift to all the babies born during the last tweve months and welcomed them in to the St Joseph's school community.
Christmas is coming and we have been busy rehearsing for our Nativity Play. We are learning lots of dances and Christmas songs. Mrs Breen and Mrs Kettle have been shopping in Manchester to get material for our costumes and sorting out our props. We are all very excited
Goldilocks is a wonderful traditional tale. We were able to act out the story of Goldilocks and the Three Bears using props. We loved playing in the malleable area experimenting with the oats - (lots of dusty jumpers and cardigans). We made porridge and just like Goldilocks - we ate it all up!!
Wow!!!! We were amazed at how Andy Goldsworthy created such fantastic moveable pictures using natural materials. We had great fun making out own creations using leaves, twigs, pine cones and other autumn materials.
It has been another busy half term in Reception. We have had a splashing time when the Fire Fighters came to visit us to tell us about firework safety.
We have been enjoying our phonics lessons and love singing the Jolly Phonics songs. We know and have been revising some initial sounds and are now working on blending these sounds to make simple words.
There are some fun games to play on the Letters and Sounds website. Click here
Another useful website is Starfall to support initial sound recognition. To play these games click here
Thank you for your generous gifts for our Harvest Mass. The children really enjoyed taking up their gifts to Father Stephen. The gifts were taken straight after Mass to Cornerstones in Manchester.
This week, we are very busy getting ready for our Nursery Rhyme Concert, which we will be performing to parents. It has been very interesting to hear about the amazing costumes the children are making - clocks, mermaids and even tea - pots!!
We have loved finding out about the artist Jackson Pollock and have had a splashing time!!
The Reception children have really settled in to school life. We have been finding out about "Magnificent Me" and making a time line of how we have changed since we were babies. Baby Cecile came into school to have her morning bath and had a splashing time!
| | |
| --- | --- |
| It is a very difficult job to look after a baby. They need washing and feeding and lots of nappy changes!! | At the baby clinic! |